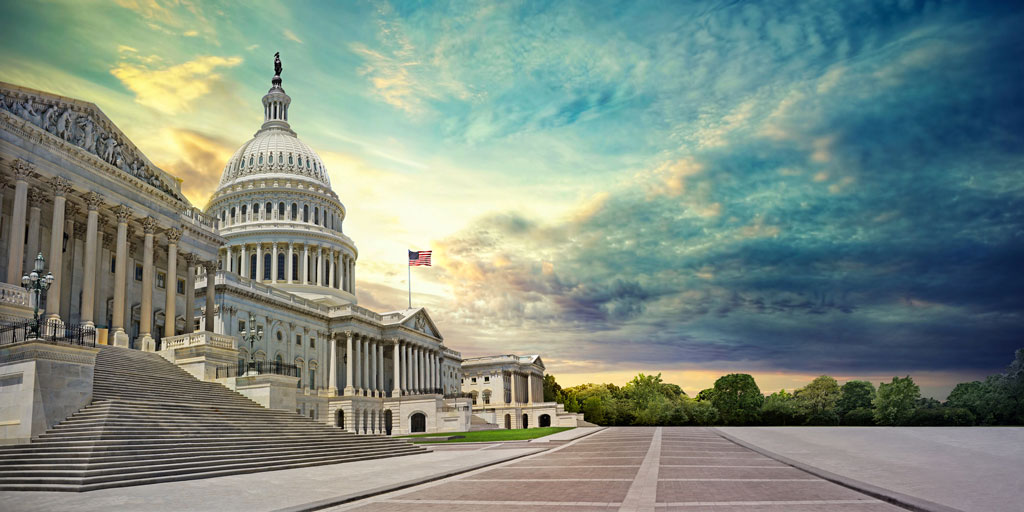 MDA's 2020 Advocacy Agenda Update
By Mark Fisher | Friday, August 14, 2020
There's no doubt that 2020 has not turned out the way anyone expected. The COVID-19 pandemic has caused all of us to rethink our plans, including MDA's 2020 Advocacy agenda. Although our priorities have shifted to accommodate the new challenges presented by the pandemic, our commitment to ensuring lawmakers hear the voices of the neuromuscular disease (NMD) community remains steadfast, especially in these uncertain times.
Here is an update on our 2020 Advocacy agenda.
MDA's response to COVID-19
Updates from Capitol Hill
As Congress began to address COVID-19 in the spring with emergency legislation, MDA and its grassroots advocates quickly pivoted to ensure the voice of the NMD community was heard. Together, we sent hundreds of letters to lawmakers, leading the effort to ensure passage of the Families First Coronavirus Response Act, a bill that included:
No-cost coronavirus testing for everyone
Increased federal support for Medicaid programs across the country
Measures that enable people to practice social distancing and provide financial support to families
Low- or no-cost-sharing in Medicare, Medicaid, or other programs for COVID-19 testing and treatment
Thanks to our grassroots volunteers, the bill passed in March. This initial victory was important; however, as the pandemic continues to spread, our work is not done. MDA advocates continue to send thousands of messages to Congress, urging lawmakers to remember the health of the NMD community in future legislation. We are asking Congress to end surprise medical billing once and for all, start an emergency open enrollment period so the uninsured can get covered, and increase vital funding for state Medicaid programs.
You can join us and make sure your voice is heard by contacting your members of Congress today.
Updates from the FDA
The US Food and Drug Administration (FDA) has given clinical trial sponsors unprecedented flexibility in continuing their trials during the pandemic. Although MDA supported this first step, we sent a letter to the FDA asking for further measures to ensure clinical trials do not fail during COVID-19. Since we sent our letter, the FDA has updated its materials to include many items MDA requested.
Also, recently FDA officials joined MDA on an Advocacy Institute webinar to answer advocate questions on how the agency is responding to COVID-19 and its effects on the NMD community. You can view that and other Advocacy Institute webinars on our Advocacy website.
We know that the work on Capitol Hill and at federal agencies moves quickly. Check out our COVID-19 Advocacy Resources webpage to get the most up-to-date information on what's happening across the federal government and how MDA is responding.
MDA's continued work on behalf of the NMD community
MDA continues our work on other major issues that affect the NMD community. This includes issues such as access to care and therapies from day one, accelerating therapeutic development, and empowerment and independence.
Here's an update on MDA's priorities.
Newborn screening program
In our quest to ensure every newborn is screened for neuromuscular conditions, MDA is working hard to pass the Newborn Screening Saves Lives Reauthorization Act, which would not only reauthorize the newborn screening program but also strengthen it. In 2019, the House of Representatives unanimously passed the bill, but now it's stuck in the Senate. It's vital that this lifesaving program is reauthorized. Please urge your senator to pass the bill today.
Even though the federal newborn screening program remains unauthorized, we've seen many exciting developments this year. Thanks to thousands of MDA advocates raising their voices, the Secretary of Health and Human Services restarted a key advisory committee in March. This ensures the newborn screening program can still continue to improve with the guidance of this important body.
In addition, many states across the country recently added spinal muscular atrophy (SMA) or Pompe disease to their screening programs. In total, 28 states screen babies for SMA and 22 screen for Pompe, which brings us closer to our goal of ensuring all newborns are screened at birth for these conditions.
Advancing therapies
In July, MDA hosted a virtual Pompe disease Patient-Focused Drug Development meeting. More than 250 people attended the event, giving those living with Pompe and their caregivers the opportunity to share their experiences with both the FDA and biopharmaceutical companies. With the lessons and takeaways from the patient community in hand, the FDA will be able to better review and approve therapies to meet the needs of the Pompe community.
In addition, MDA is pleased to see initial action on two pieces of legislation that aim to speed up therapies and cures for NMD patients: the ACT for ALS Act (H.R. 7071) and the Promising Pathway Act (S. 3872). MDA is working with sponsors of both bills to ensure that they will ultimately provide meaningful acceleration of much-needed treatments in the NMD community.
You can read more details about our direction on these bills.
How you can help
As you can see, there is a lot of advocacy work to be done, and COVID-19 is not slowing us down. From increasing access to healthcare to improving air travel, there's still so much more to do in 2020, and we can't do it alone. We need every voice advocating for these issues if we are truly going to have an impactful year. Join our grassroots network today and help us transform the lives of the more than 250,000 people across the country living with neuromuscular disease.
Disclaimer: No content on this site should ever be used as a substitute for direct medical advice from your doctor or other qualified clinician.