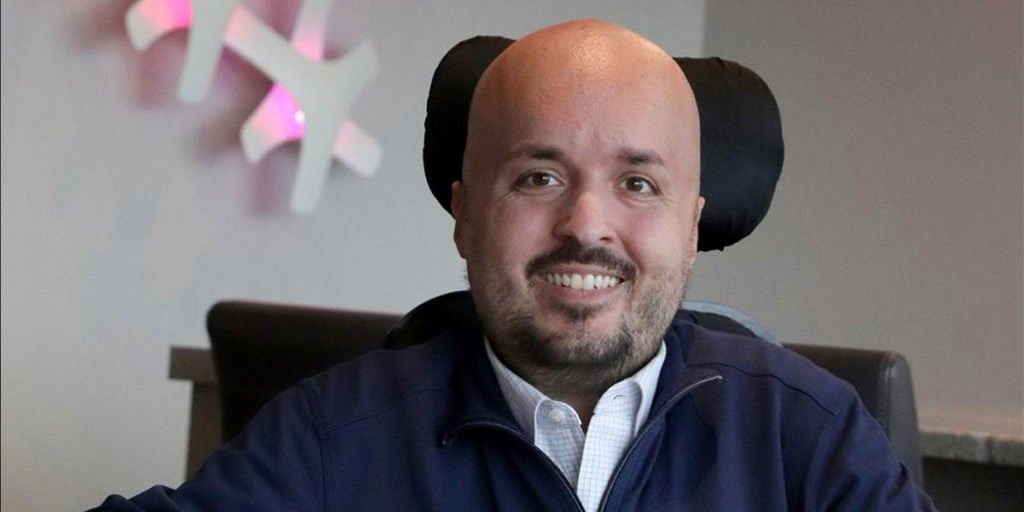 Quest for Success: Brian Chao
By Rebecca Hume | Thursday, May 26, 2022
5 Second Summary
Quest for Success explores the different paths that individuals with neuromuscular disease have taken to reach their potential and pursue dreams. This series spotlights individuals from our community and shares their journey to independence and accomplishment.
As the Muscular Dystrophy Association (MDA) continues our commitment to empowering people living with neuromuscular disease, we are excited to share our 2022 blog series: "Quest for Success".
Success looks different to everyone and this monthly blog details the different paths that individuals with neuromuscular disease have taken to reach their potential and the steps they took to get where they are today. Each month we spotlight one individual from our community and share his or her journey to independence and accomplishment. We hope that these stories empower and inspire our readers to unlock the possibilities in their own lives…because the possibilities are limitless
Chief Financial Officer Brings Skill and Passion to the Workforce
Brian Chao recognizes the importance of empowering and preparing individuals with disabilities in the workforce. The 32-year-old is the chief financial officer (CFO) for the Starkloff Disability Institute, a non-profit organization focused on helping people with disabilities who are seeking competitive employment. Born with congenital muscular dystrophy (CMD), he was once a client himself at Starkloff, where he received invaluable assistance with resume writing, interview preparation, disclosure strategies, and requesting accommodations in the workplace.
Big family, big dreams
Brian's mom and dad, a master's level early education specialist and a neonatal intensive care physician respectively, recognized early developmental delays. They brought Brian to see a variety of specialists and he received a muscular dystrophy diagnosis when he was two years old. While some experiences and barriers were different for Brian than his siblings, he was never treated differently by his family members because of his diagnosis. As the fifth of six children, he grew up watching his older siblings go to college and knew that he, too, would follow that path on his own quest for success.
He credits his parents and siblings for providing an incredibly supportive environment and encouraging the mindset that he could do anything that he chose to do. Pursuing a higher education and following his dreams were not only possible but were expected. His parents also instilled the value of advocating for himself and taking the lead when it came to expressing his needs.
Education, accommodations, and extracurriculars
Brian attended public school and his parents arranged meetings with the faculty before each school year. This is standard practice for students with disabilities and part of the IEP process. By sixth grade, he began facilitating those meetings independently, discussing his needs and sharing how his disability might impact his time in the classroom. Accommodations included assistance navigating the school, excusal from gym class, extra time to complete work and take exams based on muscle fatigue, technology to assist with limitations in writing, and alternative methods to complete certain assignments.
Brian began utilizing a wheelchair when he was eight years old. His elementary school was physically accessible. When he transferred to a private school in eighth grade, the school did not have curb cuts in certain areas or automatic doors; both modifications were requested and provided.
In high school, Brian's parents were able to purchase and modify an accessible vehicle for him to drive. Hitting the teenage milestone with his friends enabled Brian to be as independent as his peers. He could spend time with his friends, explore his surroundings, and participate in a myriad of after school activities.
Brian was the editor of his high school yearbook and class president of the student council. He also served on the honor council and managed the junior varsity and varsity basketball team. Staying busy and active in school taught Brian to be his own most powerful advocate, recognizing that he could accomplish every goal that he set for himself and that he could and should request any accommodations that he might need along the way.  He set his sights on attending Washington University of St. Louis – a school that would prove to go above and beyond to accommodate his independence.
Incredible accommodations
One of the reasons that Brian chose Washington University of St. Louis was based on geography – it was close to home. He reasoned that it would be easier to remain in his hometown where he had easy access to wheelchair vendors and accessible vehicle repair vendors whom he was familiar with, his local medical team, and his family. He applied early decision and quickly began working with the university's disability resource center and residential life department to discuss the variety of accommodations that he would need to live on campus.
Brian shares that the university did an incredible job working with him to meet his needs. His dorm building already had an automatic door at the building entrance, but they went one step further and installed automatic doors to enter and exit his suite and his private room within that suite. They provided a wireless remote and key fob for all three doors. The school also provided him with a an adjustable bed that could be raised and lowered and could sit up to an incline. They installed electric shades for his dorm room that he could put up or down with the click of a button. The bathroom had an accessible shower, and the school installed a "washlet" bidet for toileting. When he moved to an on-campus apartment his sophomore year, the university allowed him to select his ideal apartment outside of the typical student-housing lottery and then modified the apartment that he selected.
Brian developed close relationships with his counselors, deans, and disability advisors. He worked with them to procure accommodations that he needed in the classroom. The school provided notetakers for class, ensured that his classrooms were accessible, and coordinated a schedule that would provide classroom locations with ample time and short routes to travel between classes. The maintenance team was even made aware of Brian's daily routes and prioritized clearing snow and ice from his path during the winter months.
He worked with his local office of vocational rehabilitation (OVR) to gain college resources and arrange for personal care attendants at school. There are vocational rehabilitation offices in every state that offer programs to assist individuals with disabilities to pursue education and employment. OVR programs were able to help pay for his personal care attendants while in college. After college, OVR helped him obtain a new wheelchair, ramp conversion, and mobility equipment for his modified vehicle.
Postgrad interviews and the choice to disclose
While obtaining his bachelor's in business and a master's in accounting, Brian had taken advantage of career services at his university. Upon graduation he felt fully equipped to succeed in the interview process and quickly obtain employment. Instead, he noticed that he wasn't necessarily experiencing the same success as his able-bodied peers. At that time, he was not disclosing his disability to potential employers. "For me at that point in my life, I was very much aware that I had MD and would happily talk about it. But in a job search I didn't see why it needed to be relevant," Brian says. "I was supposed to be evaluated on my academic skillset."
He attended job fairs and met with recruiters. He participated in a multitude of phone interviews that went well, but when he arrived at the offices for in-person interviews he noted the surprise on the interviewer's face when he or she saw his wheelchair. Brian shares that while he had a less than ideal experience with his first efforts to join the workforce, that all changed when he enrolled in a 10-week program at the Starkloff Disability Institute's Career Academy.
An empowering agency
Participating in the Career Academy's program proved to be tremendously beneficial to Brian as he realized the benefits of developing a strong disability disclosure strategy. His new strategy included asking about wheelchair accessible parking or automatic doors when invited for in-person interviews. During interviews he highlighted the skillset that he developed as a person with a disability who hires and manages caregivers. This subtle disclosure and strength-based approach to sharing his disability showed that he was comfortable talking about it and that employers should be too.
Brian received multiple offers and accepted a position as internal auditor at a bank. He had a candid conversation with the bank regarding accommodations. They installed automatic doors, provided a height adjusted desk, and limited the amount of travel required of his position. Brian also joined the board of directors for Starkloff. While serving on the board, Brian recognized the agency's need for his skills in accounting as their business operations grew. He proposed and accepted a position as business manager and eventually became their chief financial officer. "It is incredibly rewarding to use my professional skillset every day to support a cause I am deeply passionate about," Brian shares.
Independent living
Brian lives independently in a condominium in St. Louis, drives a modified vehicle, and manages his own caregivers. He shares that he was not able to benefit from Medicaid or Medicare programs due to income limit thresholds – a serious issue for which Starkloff is actively advocating for local and national reform. Brian and his family pay for caregivers out-of-pocket, and he manages a team of 8-12 home health aides. Brian shares that living close to a college offers a huge resource for hiring aides. His aides primarily provide hands on assistance at home in the morning and evening. At work, the Starkloff team collaborates across individual abilities to support each other and meet each other's assistance needs.
"I have always had the thought that no matter how complicated something is, there is a way to work it out. I am an eternal optimist," Brian says. He advises others not to get too bogged down in the details and to talk with other people. Connecting with others, either in person or on disability advocacy social media platforms, and learning from their lived experiences is an invaluable resource. "We are all unique individuals with unique experiences, but it's important to realize people have done this before and there are ways to figure it out." He also credits OVR, Quest magazine, and the programming at Starkloff (which is now also offered virtually) as resources that helped him navigate his own independence.
When asked what advice he might provide to other individuals with disabilities who are considering their own education and employment goals, Brian shared that he hopes that others know that they absolutely have the opportunity to have an independent lifestyle and a satisfying career – and that they have the right to both.
Disclaimer: No content on this site should ever be used as a substitute for direct medical advice from your doctor or other qualified clinician.