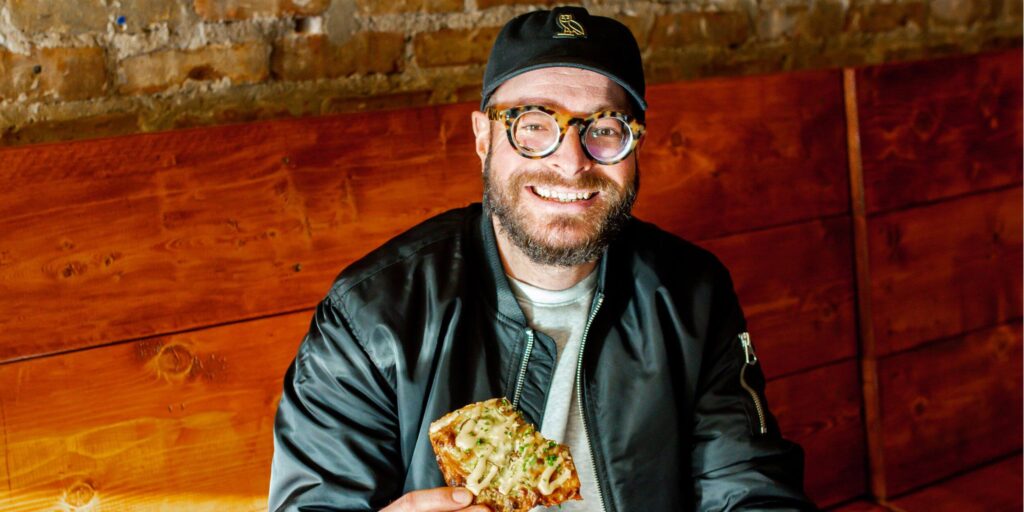 MDA Chicago Muscle Walk MC Billy Z is Changing the World One Slice at a Time
By Rebecca Hume | Tuesday, May 24, 2022
Eight years ago, if you were looking for Billy Zureikat you would find him on the basketball court. The 38-year-old, former ESPN producer and current logistics manager's passion was on the court. That all changed when years of symptoms and eventually a diagnosis in 2021 of limb girdle muscular dystrophy (LGMD) began to impact his ability to play. Deteriorating muscles, increased falls, and difficulty ambulating forced Billy off of the court and into the uncharted territory of living with a physical disability. But as anyone who has met Billy can tell you – when he falls down, he gets back up again.
During the COVID-19 pandemic, as his symptoms became more noticeable and quarantine further limited social and physical activity, Billy focused on another one of his passions: cooking and baking. Billy gained interest in cooking when he was in his 20s and frequently watched cooking shows on Food Network.  As his symptoms progressed through his 30s, he began to focus more on cooking as both a pastime and an opportunity to create, learn, and grow. He describes himself as someone who goes 1000% on projects – and cooking became that project. He hung up his jersey, tied on an apron, and quickly threw himself into becoming a home chef and baker.
Eager to add purpose to his passion, Billy began thinking of ways that he could advocate for others with disabilities. When Billy was first diagnosed, he recognized that living with a rare disease created a space for him to utilize his talents and connections in order to speak up and make a difference for others. But he was also personally struggling to accept his diagnosis and work through the stages of grief. The juxtaposition of wanting to advocate for others while also wanting to hide his disability from others came to a head when he fell on a busy sidewalk and a woman walked right past him without even acknowledging him. In that moment, something shifted inside of Billy. He realized that his passion for food and his neuromuscular disease diagnosis created a unique opportunity not only to share his story, but also to advocate for others, raise money for neuromuscular disease, and make a difference in the world.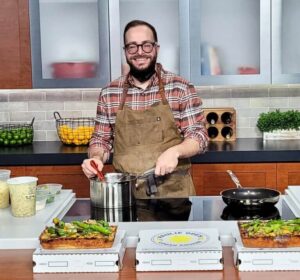 Billy had recently participated in a charity event for No Kid Hungry hosted by local pizzeria, Paulie G'ees. Billy served as a guest home-chef for the event and his creation "Sheesh, That's Corny" was so well-received that the restaurant opted to feature it as a month-long special.  After his epiphany that he wanted to share his story, he went home, called the owner of Paulie Gee's, and asked to rename the pizza "Trippin Billy."
Billy shared that he has a form of muscular dystrophy that causes him to trip and fall frequently. He told the owner that he wanted to use the pizza as vehicle to share his story with others. Billy also requested that proceeds for "Trippin Billy" sales be donated to MDA. The owner quickly got on board with Billy's goal of raising awareness and funds.
While facing the challenges of accepting and overcoming the loss of his own muscle use, Billy realized that through loss there is the opportunity to do great things and re-invent yourself. He recognized that through his talents as a home chef and his myriad of connections, he could create something beautiful and empowering with food. He reached out to newspapers and radio stations seeking to promote the pizza and share his story. A story that quickly gained momentum and opened a multitude of doors.
Billy hosted a live cooking demo to promote the pizza and his MDA fundraiser.  He started a grassroots campaign on social media with his IG account @therealbillyz. He reached out to other pizza shops and invited them to join his cause, thus creating the "Trippin Billy Chicago 22 Tour"; a tour that now includes 15 of the most prominent pizzerias in the Chicago area. Each shop now features their own version of Billy's pizza and donates proceeds to MDA. The tour has already raised $9,000. He collaborated with popular, Chicago sandwich shops Spinning J, JP Graziano, Tempesta Market, and Split Rail to develop a specialty rolls. He connected with local brewery, Odious Cellars, to create a microbrew named "Reanimate" that will be released in June. He signed on to host his own channel on KITTCH, a new culinary platform that will livestream cooking shows and procure donations from viewers. Viewers can create a free log-in and search for chefs by name to view their channels.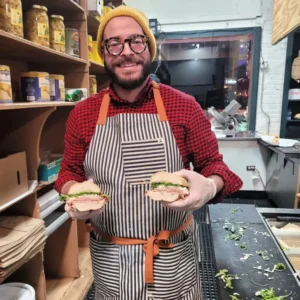 "I essentially want to become the voice of the voiceless. Be a voice that a lot of people in our position that have rare diseases, rare diseases don't really have a platform or don't feel comfortable talking about their disease. I have both of those and I want to become that voice that maybe people can rely on to give them that extra strength when they need it, Billy says. "I want to show them that while we struggle with some really heavy stuff, we can still do good and joyful things. And I want to push to make, changes because there are a lot of changes that need to be made to support people in our position."
Food has always been an intrinsic part of Billy's life; but using his passion for food to ignite social change and increase funding for crucial medical research has given Billy's life a new purpose.  And the world is paying attention! Billy has had nearly a dozen press interviews, has been a guest on popular radio shows, and will soon be featured in the Chicago Tribune.
The MDA invited Billy to MC the upcoming Chicago MDA Muscle Walk on June 4, 2022. His role and incredible contributions to MDA are spotlighted in MDA's press release for the Muscle Walk. Serving as MC is a prestigious honor that affords him even further opportunity to connect with the community that he is so passionate about.
The desire to become a force for change in this world and his passion for food motivate and energize Billy as he continues to build the incredible platform that he has created. He shares that this process has been therapeutic and enlightening. As he adjusts to navigating life with a disability, he is learning that a lot of things are not set up for people with disabilities. Billy has made it his mission to advocate for the rights of people with disabilities and to continue to raise awareness and funding for neuromuscular disease.
"Physically there is the typical stereotype of what disability looks like. I am trying to break the mold of what people think of disability," Billy says. He wants to continue to share his story with the hopes of inspiring others to overcome obstacles and challenges. A story that exemplifies the power of reinvention, the incredible impact of advocacy, and the ability to adjust and find your passion through change… and gives us just one more reason to love a good slice of pizza.
Disclaimer: No content on this site should ever be used as a substitute for direct medical advice from your doctor or other qualified clinician.