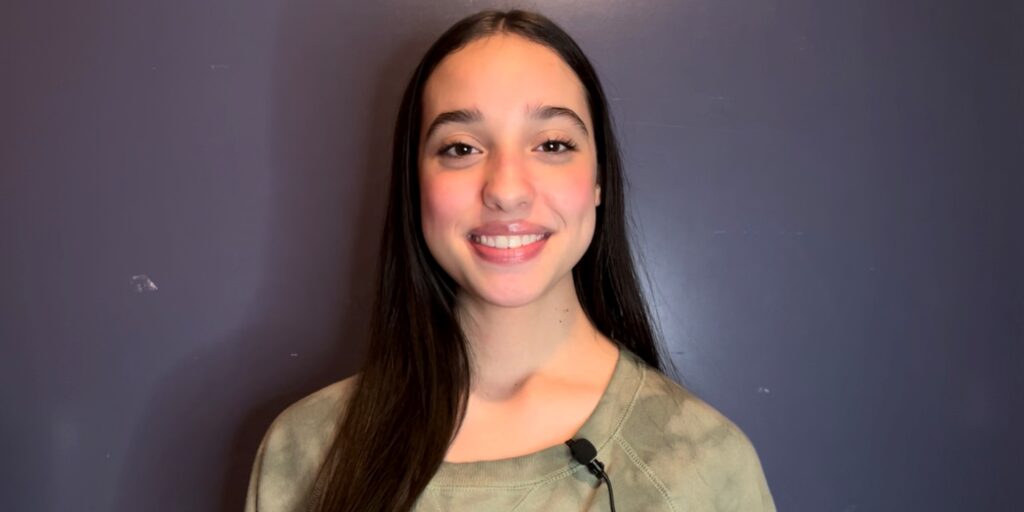 Quest for Success – High School Edition: Leah Zelaya
By Rebecca Hume | Monday, September 19, 2022
5 Second Summary
Quest for Success explores the different paths that individuals with neuromuscular disease have taken to reach their potential and pursue dreams. This series spotlights individuals from our community and shares their journey to independence and accomplishment.
As the Muscular Dystrophy Association (MDA) continues our commitment to empowering people living with neuromuscular disease, we are excited to share our 2022 blog series: "Quest for Success". This month, we celebrate back-to-school with a special, high school edition installment. 
Success looks different to everyone and this monthly blog details the different paths that individuals with neuromuscular disease have taken to reach their potential and the steps they took to get where they are today. Each month we spotlight one individual from our community and share his or her journey to independence and accomplishment. We hope that these stories empower and inspire our readers to unlock the possibilities in their own lives…because the possibilities are limitless.
Teenage Actress, Model, Dancer, Athlete, and Advocate Shines Bright for Others
High school student Leah Zelaya is a talented contender in the world of performing arts. An established actress, model, athlete, and dancer, her myriad of talents lend to one primary goal: to advocate and raise awareness for those living with neuromuscular disease. As she shines on stage doing what she loves, she hopes that she can show others that they can and should pursue their dreams regardless of physical abilities.
Born with scapuloperoneal spinal muscular atrophy, a rare neuromuscular disease, the fourteen-year-old has a keen understanding of living life with a disability – and an even better understanding of the power of believing in herself and breaking barriers. As a child, Leah was told by medical professionals that she might never walk. Through hard work, strenuous physical therapy, and an unshakable determination, Leah began walking with bilateral leg bracing and a walker. She eventually graduated to a pair of forearm crutches for shorter distances and a manual wheelchair for longer distances. She continues to work hard to improve her ability to ambulate through a variety of physical activities. That same determination is evident in the wide array of incredible accomplishments that she has already achieved at a young age.
Making her mark
An avid and passionate dancer, Leah has performed in nine public shows and continues to participate in classes and performances with a non-profit organization called Dancing Dreams. She walked in New York Fashion Week for Lulu Et Gigi and in the ROD Fashion Virtual Show for Runway of Dreams. In addition to modeling, Leah is a competitive athlete. She won first place in the Adaptive Sports Foundation's "Hartman Race" skiing competition and is a member of a hand-cycling team. As an actress and writer, she has created and starred in three short films and has been featured in Sesame Street. In one of her most notable roles to date, Leah made her feature film debut in the Universal Pictures' movie production "Marry Me", starring Jennifer Lopez, Owen Wilson, and MALUMA.
Pursuing what she loves, across all avenues, has allowed Leah to discover and cultivate her many unique talents. When discussing her multitude of accomplishments, she credits her personal belief that nothing is impossible and is quick to share that empowering other people is a key motivating factor in her quest for success. Leah also serves as an MDA Ambassador and values the opportunity to act as an advocate – both by serving as a role model to others through her own actions and by actively speaking to senators and congress representatives of New York State about the need for change for individuals with disabilities.
Leah participated in an Open Style Lab (OSL) summer program where she collaborated with OSL fellows and MDA to develop innovative options for accessible fashion. She was part of a team that created the "Easy Zip," a functional hand tool that assists individuals with limited range of motion or dexterity to more easily zip and unzip garments. Leah was featured in an article in Elle Magazine about the Easy Zip.
As she continues to discover and pursue a wide variety of passions, Leah shares that the secret to her success is doing what you love while utilizing your talents to help others. "The most important thing that has created a level of success for me is that everything I'm doing, I do love, but I have the mindset of doing it for others," Leah says. "And the mindset that what I am doing can help people feel confident about themselves and see that they can be an actor or dancer or an advocate for people."
Balancing it all
Between her involvement in so many areas of interest, completing high school course work, managing medical appointments, and just being a teenager – Leah is a busy person. She shares that the support that she receives from her family makes it all possible. Leah lives with her parents and two brothers, all of whom offer support and assistance in any facet that she requires. Her father, Jaime Zelaya, also lives with scapuloperoneal spinal muscular atrophy and is an advocate, athlete, and "Daddy Uber". Her mother oversees her homeschooling and is affectionately referred to as a mom-ager for Leah's many career endeavors.
Leah credits her family members as serving as her role models, inspiring her to pursue every goal that she can dream of achieving. The goal to help others is something that her parents instilled in her at a very young age. Leah considers the publicity that dancing, modeling, and acting have afforded her to be valued opportunities for advocacy and a platform on which to raise awareness.
Accommodations and accomplishments
As a homeschooled student, Leah's schedule allows the flexibility required to audition and act in various roles and productions. She is able to bring her schoolwork with her and can keep up with coursework while pursuing her dreams. When she is not on site for a job, her parents teach her at home where everything is already accessible for her. While she has never had to request an accommodation for school, she shares that every company that she has worked with has been receptive and proactive in ensuring that her needs are met.
In her widest-reaching role to date, Leah required a few physical accommodations on the set of the feature length film "Marry Me". Her agent and mother spoke to the head of accommodations regarding Leah's needs and Universal Studios quickly provided an accessible parking space and a dressing room close to production to limit the distance that Leah would have to walk and without stairs to allow for easy access.
Because "Marry Me" was actively seeking someone with a disability for the role that Leah landed, whether or not to disclose her disability prior to audition was not a decision that she needed to make. Leah learned of the role through the Easter Seals Disability Film Challenge. The casting of individuals with disabilities in major motion pictures is a practice advocated for by those championing for more inclusion in the entertainment world. Leah talks about the inclusion, accessibility in entertainment, and her role in "Marry Me" on the Quest podcast episode "Lights, Camera, Action…and Accessibility: Part 1."
Leah believes that the opportunity to openly share her disability while confidently celebrating her abilities on the big screen is a powerful medium for change. Incredible experiences like working with Jennifer Lopez, Owen Wilson, and MALUMA and honing her own skills have enabled Leah to gain confidence. She believes that those experiences and opportunities exist for her because she has made the choice to chase her dreams despite her diagnosis.
"I believe that everyone is insecure about something – if you are disabled or not. I know in my own experience when I was younger, I used to try to cover up my braces because I was shy about my disability and didn't want people to look at me and see my disability," Leah says. "As I got older and started to become more confident in myself and not covering up, people were able to see my personality more than my disability."
The sky is the limit
Leah shares that being born with her disability and having a parent who also lives with a disability has shaped her perception in an empowering way. "I am so used to living with it that I don't focus on what I can and cannot do," Leah says. Instead, she focuses on what she wants to do and then determines how she will do it.
As Leah continues high school and moves into adulthood, she says that no matter what she does professionally, her goal is to show others that they can do anything that they set their minds to. The desire to serve others and to be a champion for the rights of people living with disabilities is the driving force behind her many ambitions. Ultimately, she would love to use her gifts in acting, dancing, and athletic competition to reach individuals on a global level. She shares that her biggest dream is to be able to reach people in other countries who are living with a disability but may not have the resources or role models to recognize their abilities.
"I believe when you have the mindset of doing things for others and not the mindset of doing everything for yourself, that is how you build a level of success," she says. She believes that nothing should stand in the way of someone's dreams, and she certainly won't allow anything to stand in the way of hers.
---
Next Steps and Useful Resources
Dancing Dreams (a non-profit for children/teenagers with disabilities that provides dance training and skills training to increase independence)
Disclaimer: No content on this site should ever be used as a substitute for direct medical advice from your doctor or other qualified clinician.