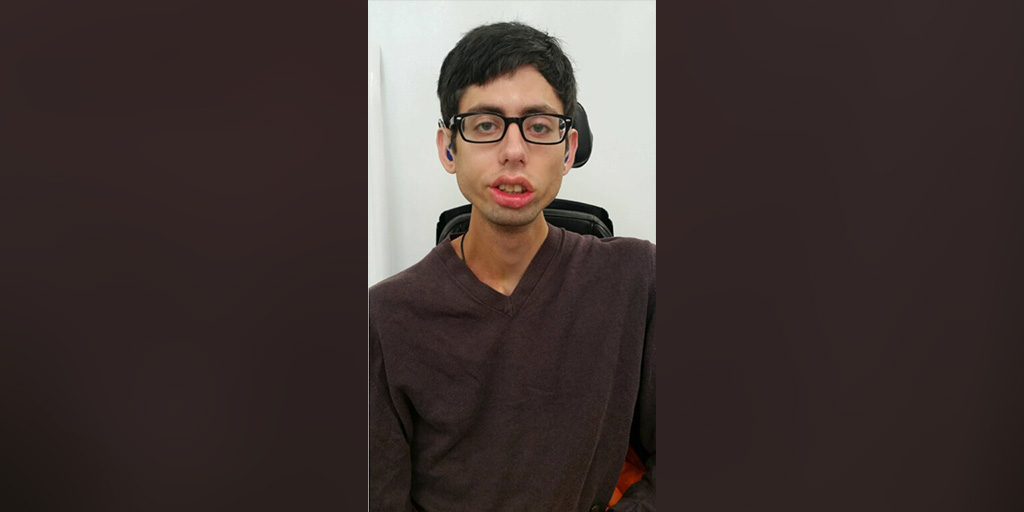 Researcher with FSHD Awarded MDA Funding to Discover New Therapies for the Disease
By Jeanene Swanson | Wednesday, June 19, 2019
Like many pre-medical students, Justin Cohen discovered along the way that what he really liked was research. However, unlike others who exchange the stethoscope for a microscope, Justin had a strikingly different motivating factor — he has been living with the disease he studies, facioscapulohumeral muscular dystrophy (FSHD), for almost as long as he can remember.
Upon enrolling as an undergraduate in pre-med at Tufts University in Boston, Justin wanted to be a neurologist. A research internship at the Boston Biomedical Research Institute (BBRI) opened his eyes to the possibilities of using his background to study FSHD.
"When I got into research, I realized I was much more into discovering the causes of the disease and figuring out a way to develop a treatment for it instead," he says. While at the BBRI, he was able to interact with scientists at the Senator Paul D. Wellstone Muscular Dystrophy Cooperative Research Center for FSHD, which used to be located within the BBRI before the institute closed its doors. The Wellstone Center, which is now located at the University of Massachusetts Medical School, aims to understand the causes and pathology of FSHD. Its large muscle tissue and cell repository and biomarker database are resources available to scientists conducting FSHD research and clinical trials.
Although Justin has never known life without the symptoms of FSHD, he hasn't let the disorder get in the way of accomplishing his goals. Instead, his desire to work on his disease led him to Yale University, where he is now completing a postdoctoral fellowship in the lab of Monkol Lek. Recently, Justin was awarded an MDA development grant of $140,000 over two years to carry out research studying potential therapeutics for treating FSHD. The award was made in conjunction with a grant from the Chris Carrino Foundation for FSHD.
Growing up with FSHD
Justin was born and raised in Kingston, N.Y., a small town tucked snugly into the leafy Hudson Valley region of upstate New York. It wasn't until Justin, who is now 28, was about 4 years old that he experienced his first symptom of FSHD, hearing loss. FSHD is a genetic muscle disorder that leads to progressive degeneration of muscles, with the most pronounced effects appearing in muscles of the face, shoulder blades, and upper arms. Around that time, his parents started looking into what could be the cause. Even though he was still able to walk normally, he had some muscle weakness, especially in the face. His parents took him to see a neurologist, who eventually diagnosed Justin with FSHD. It was later confirmed with a genetic test.
At around 12 years old, he "really started to get a limp in my leg," and by the time he was in high school, Justin was alternating walking with crutches and using a wheelchair. By the time he graduated, he had lost much of his ability to walk and was using a wheelchair almost all the time. That didn't affect his love of science — in fact, it made the obstacles worth overcoming.
"I was really into the sciences when I was growing up, very interested in biology," he says. Once he started taking higher-level biology classes, he was able to understand his disease more. "I was tired of gradually losing my ability to do simple tasks, and I wanted to do whatever I could to develop treatments for FSHD."
Life in the lab … with FSHD
A medically oriented career might just run in Justin's family, with his dad being a cardiologist and his mom, a cancer nurse. However, it was Justin's desire to make a lasting impact on the field that led him to Tufts University in Boston, where he received his bachelor's degree in biology and psychology in 2012. He then went on to Drexel University College of Medicine, where he finished his doctorate degree in 2018 in molecular, cell biology, and genetics working under Claudio Torres, PhD, associate professor of Pathology & Laboratory Medicine. He has recently started a postdoctoral fellowship in the lab of Monkol Lek, PhD, assistant professor of Genetics at Yale University School of Medicine, who shares a similar passion for the work: Dr. Lek, too, is researching a neuromuscular disease with which he's been diagnosed.
As Justin's FSHD has progressed, he has lost the ability to walk, feels weakness in his arms to where he can't raise them above a certain height, and has issues gripping things. When he was at Drexel, he was provided an accommodation in the form of a technician who assisted him with his experiments. Justin gave step-by-step instructions at the side of the lab tech, who then manipulated the lab equipment for him.
"I was looking to have a similar sort of setup at Yale and needed a little help to get some of the funding," Justin says. He joined Dr. Lek's lab in April, and "[Dr. Lek] is a big reason why I was able to start at Yale. He has his own type of muscular dystrophy, and he was able to deeply empathize. He is very accommodating to make sure that I have everything I need."
To that end, MDA's funding will be to provide Justin with a lab technician, who will work alongside him to perform the benchwork for studies that Justin designs.
"While I have ultimately been successful with my accomplishments, it hasn't been easy," he says. "I have had to fight every step of the way in order to get the accommodations I needed. Since it takes me longer to do anything, I also had to get really good at time management to maximize what I can do before I get too tired."
Identifying therapeutic compounds for FSHD
As a PhD student in Dr. Torres' lab at Drexel, Justin studied how the biology of aging relates to the pathology of neurodegenerative diseases. Specifically, his doctoral work focused on discovering the causes of the neurological deficits seen in HIV patients. He will able to apply his knowledge of the biological pathways involved in neurodegeneration and his years of practice working on many different types of cell lines to his postdoctoral research, in which he will perform functional assays on muscle cells.
FSHD is caused by abnormal expression of double homeobox 4 protein (DUX4), which leads to the production of toxic proteins and muscle cell death. With this new funding, Justin will identify biological pathways that contain therapeutic targets for FSHD and validate related genes among the pathways. He will then test drugs that target these pathways, with an emphasis on those that are already FDA-approved, for their ability to reduce both cell death caused by toxic DUX4 and biomarkers of FSHD.
"By emphasizing testing of FDA-approved compounds, the clinical trial pipeline can be sped up, reducing the wait time for any potential treatment," he says.
Overcoming obstacles
Justin says that Dr. Lek is helping him gain independence as a researcher by teaching him computational biology. While he's grateful for Dr. Lek's mentorship, "it's very different than what I'm used to doing," he says. "It's really a different way of thinking." It's too early to tell if he'll eventually move in that direction, though, "ideally, I would like to do a bit of both because I still like the benchwork."
Like many researchers, and especially a researcher with a neuromuscular disease, Justin has undoubtedly faced challenges. He credits his family and his own stubbornness for his perseverance.
"It is largely because of my siblings and parents that I have been able to accomplish what I have," he says. "They don't let me use my disease to make excuses or give up on things."
The best advice he can give to others in his shoes is to not get disheartened by obstacles in the way.
"Stubbornness is not a bad thing — a lot of what I've accomplished has happened through sheer stubbornness and force of will," he says, adding, "[but] don't be afraid to ask other people for help."
Disclaimer: No content on this site should ever be used as a substitute for direct medical advice from your doctor or other qualified clinician.