Sparking the Live Unlimited Spirit
By MDA Staff | Friday, June 30, 2017
At MDA, we believe our limits do not define us. Limits are meant to be overcome. Turning perceived limits into unlimited opportunities means different things to all of us. For some, living unlimited means taking on an extraordinary challenge, like summiting a mountain or skydiving. For others, it means making a new friend, going to college or pursuing a career goal. What these moments have in common is a sense of confidence and a willingness to live beyond what some may see as physical or societal limits created by living with a neuromuscular disease.
For many MDA families, the drive to defy limits begins at MDA Summer Camp. Campers often credit the experiences they have at Summer Camp with helping them gain the self-confidence and independence they need to take on everyday challenges as they grow older.
Right now, thousands of kids with muscular dystrophy and related diseases are at MDA Summer Camps across the nation, enjoying adventures like horseback riding, swimming and fishing. MDA's weeklong camps affect not just the children who attend, but the family members and counselors who watch them grow and thrive in an environment without barriers.
Here, current campers and their families, camp alumni and counselors share in their own words how MDA Summer Camp has encouraged them to live unlimited every day.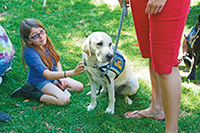 Leila, age 13, current camper
Leila, who is living with central core disease, is attending MDA Summer Camp for the fourth year. Leila has had 20 surgeries, and her mom, JoAnna Noble, discusses how camp has impacted her daughter's life.
"Leila has a very independent and determined soul, and it shines the brightest when she has found a way to get around whatever obstacle she is facing. We have a saying in our house, 'when there is a Leila, there is a way,' because when she puts her mind to it, she will figure out how to do it no matter what. Like when she told me in the fourth grade, 'Mom, I'm going to do my hair by myself because I need to figure it out for myself and if it's not perfect that is fine. I'm learning, and if someone has a problem with it, they can just go away.' Yes, she went to school with her hair in a messy ponytail and said it looked fabulous.
"I think a big part of why Leila loves MDA Summer Camp is because it gives her a sense of independence that she doesn't get the rest of the year. It's hard for kids who have limitations because they are often very physically dependent on their family members, even when they don't want to be. MDA Summer Camp proved to Leila that she wasn't alone in the world when it came to having a disability."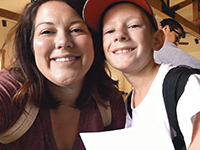 Emily Garcia, 10-year camp counselor
As a young girl, Emily heard the stories her sisters, Cynthia and Ashley, who live with a type of congenital myopathy, brought home from MDA Summer Camp, and she always wished she could go with them. When she was asked to volunteer, Emily jumped at the chance. 
"I get to meet so many amazing campers each year. While there are so many stories of kids finding their true selves at Summer Camp, one very important moment stands out to me. I was lucky enough to be the counselor for two amazing young women, Holly and Abigail. It was Holly's last year of camp, so Abigail and I kept encouraging Holly to participate in the talent show. Holly has such a beautiful soul and an amazing voice. She debated all week whether or not to participate. Come talent show night, Holly and Abigail got on that stage together and performed their hearts out. I know how amazing both these young women are, and that night the rest of the camp knew, too.
"MDA Summer Camp is a place where you can just be yourself, where there are no limitations, and it's an experience you will never forget."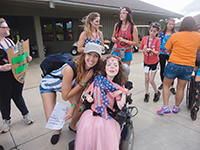 Reese, age 8, current camper
Reese, who is living with a form of congenital muscular dystrophy, was a first-time camper in 2016 and received the Female Rookie Camper of the Year Award. Her mom, Kim Strayer, shares how camp has changed their lives for the better.
"Children with muscular dystrophy have limited mobility, but it doesn't limit their ability to live life to the fullest. Reese is such an amazing example of that. MDA Summer Camp instills confidence in Reese, who knows she can do anything she puts her mind to. She doesn't walk, but she scoots and gets around in her wheelchair."
Amanda Zurek, age 19, camp alum
Amanda, who is living with spinal muscular atrophy (SMA), is an honors student studying cell biology and neuroscience at Montana State University.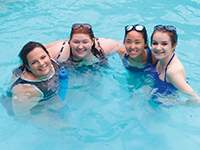 "When I first came to camp, I thought I was alone. I didn't think there were many people who had muscular dystrophy. As much as I love them, not even my parents could genuinely understand the challenges I faced. Because of this, they couldn't really help me find ways to adapt and move forward. I didn't have great confidence, so I always was in the background until I walked into my first MDA Summer Camp. Boy, did that change my life! I felt special. I felt empowered. At camp, I could be myself and people understood. They showed me all the wonderful qualities that I possess and how I could tailor those to make life work for me. They challenged me. They laughed and cried with me. They shared life with me. They gave me life.
"I graduated from camp in 2015, but everything they've taught and given has stayed with me and helped me become my own person and live life to the fullest. Before MDA entered the picture, I wasn't really involved in my life; I just let it happen around me. Now, I am making my life my own in the way I know how – by helping others. Next year, I will be working in a lab that studies familial dysautonomia, a neurodegenerative disease similar to SMA. I will actually be conducting my own experiments in the lab. Everything MDA has taught me has set me up for an amazing future, and I can't wait to see what lies ahead."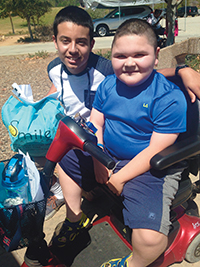 Christopher, age 11, current camper
Christopher, who is living with Duchenne muscular dystrophy (DMD), is attending MDA Summer Camp for the sixth time in 2017. His mom, Sima Perez, shares what camp means to their family.
"Christopher's live unlimited moment was when he zip-lined and thought for a moment that he could fly. He felt empowered and free. He doesn't feel different because he is in a wheelchair. MDA Summer Camp has given Christopher the ability to interact with other kids as special as he is.
"Christopher is a fighter. He continues to live a full, happy life. What we sometimes take for granted, he enjoys to the fullest. He loves to give us hugs, crack jokes and be silly. He defies limits because he doesn't like to be restricted."
Luda Gogolushko, camp alum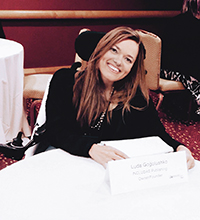 Luda, who is living with SMA, runs a diversity press called INCLUDAS Publishing. It represents authors and illustrators with various abilities, as well as fictional works about characters with disabilities.
"MDA Summer Camp helped prepare me for the next chapter in my life by helping me to not be afraid to be myself. I had always struggled with how people saw me. Camp helped me embrace myself, and it taught me that whether I am in a wheelchair or not, I can still live life in my own way. When I started camp, I was a pretty shy kid, but I did everything because I knew it was only a week, and I wanted camp to last a lifetime. Putting myself out there and participating in everything was the best decision I could have made, because I got to Jet Ski and do funny skits and eat s'mores and laugh like I'd never laughed before. Sometimes life is hard, but camp takes me to a place where none of that matters because the focus is on enjoying life, whether it's dressing up as a dragon or creating the best team flag.
"Camp is always a reminder for me that I can live unlimited, because it was the first place that I realized I wasn't the only kid in a wheelchair. Being in a wheelchair isn't my entire life; it's just part of my life. I am still the same person who has dreams, feelings, aspirations, fears and pain like everyone else."
Mason, age 8, current camper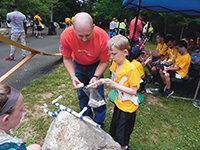 Mason, who is living with a type of congenital myopathy, is attending MDA Summer Camp for the second time in 2017. He and his mom, Alicia Miro, are members of MDA Team Momentum. 
"Going away from home [to MDA Summer Camp] was new for him, and it was the best experience to help boost his confidence, freedom and independence. He came home more outgoing, able to talk to people he would normally be silent around.
"Mason is a marathoner, a trooper and an inspiration to me. He does not let his disability slow him down and he will not let his disability define who he is. Mason decided that he wanted to run a half marathon with MDA Team Momentum while looking through a Quest magazine. He asked if we could, and I couldn't tell him no. We participated in the Boston Half Marathon in September 2014 and didn't stop there. Since then, Mason's Movers has raised more than $25,000 for MDA while participating in three half marathons and the Marine Corps Marathon in October 2016. MDA Team Momentum has let Mason participate in events that normally he would not be able to accomplish on his own. It's inspiring watching him get out of his push chair, hold my hand and cross that finish line with me, because he is what gets me through those miles."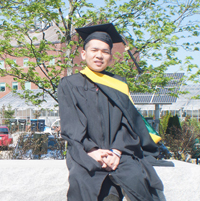 Tandin Dorji, age 25, camp alum
Tandin, who is living with SMA, graduated this summer from the University of Vermont with a Master of Science degree in biostatistics. He's accepted a fellowship with the Centers for Disease Control and Prevention (CDC) as a research statistician.
"MDA [Summer Camp] has given me the opportunity to go out in the world and not be afraid of my disability. I have always been interested in improving public health through studying infectious diseases. During my third semester of my graduate program, I was able to work with a faculty member in the biology department to research antibiotic resistance. This experience made me realize the many different areas of public health and how my skills in statistics can contribute to the overall goal of reducing infectious diseases. My ultimate goal is to work for the CDC as a public health statistician. This fellowship will allow me to improve and grow my skills to be a more proficient research statistician. Eventually, I would like to contribute to my home country of Bhutan to help improve public health and expand the knowledge on controlling infectious diseases. Moving to Atlanta will definitely be a huge challenge to overcome since I am getting weaker, but that will not stop me."
Payton Rule, age 18, camp alum
Payton, who is living with Charcot-Marie-Tooth disease (CMT), graduated from high school this summer and will be taking a gap year to train and bond with her new service dog. She will attend Washington University in St. Louis in fall 2018.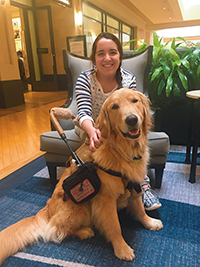 "MDA Summer Camp has given me confidence and perspective I will carry with me into college, the work force and beyond. When I first started camp, I was 7 years old, and I viewed my disability as a bad, limiting thing and focused on what I couldn't do. Throughout my time at camp, I have met so many incredible people and had experiences that have changed my perspective and taught me to focus on my abilities and truly strive to live unlimited. This change in mindset has allowed me the freedom to try new things and accomplish obstacles that before I never would have thought possible.
"Camp taught me to have gratitude for my abilities and not to be afraid to step out of my comfort zone and do the things I want to do. That contributed to my decision and determination to do a half marathon. I didn't believe I would ever be able to complete a half marathon; it wasn't possible with my weak muscles. After my experiences at camp and hearing about my fellow campers overcoming obstacles, I realized I no longer had any excuse not to participate in any activity as other people with neuromuscular disease were overcoming difficult obstacles every day. I started focusing on my ability to walk. I spent the next seven months training. My first day, I walked two miles and couldn't imagine walking another 11. However, the determination and mindset I gained at MDA camp helped me push through, and I gradually started increasing my distance. A little over a year ago, I finally competed in my first half marathon in Carlsbad, Calif., with my family. It was such a freeing experience to overcome obstacles I never imagined possible.
"Camp also laid the groundwork for my passion for medicine. I hope to one day become a neurologist specializing in neuromuscular disease or an occupational therapist. I want to enter this field so I can help people do the things they want to do, just like Summer Camp taught me."
---
Making Anything Possible: The Lasting Impact of MDA Summer Camp
MDA Summer Camp offers a world of possibilities to kids with neuromuscular diseases. Campers have the freedom to discover new interests in a safe, healthy and enriching environment while gaining self-confidence and making lifelong friendships.
This data from an online survey sent to parents of 2016 campers helps show how MDA Summer Camp impacts the lives of kids and helps them learn valuable life skills that prepare them to advocate for their needs, become independent and live beyond limits.
99 percent of parents appreciate the activities their child is able to experience at MDA Summer Camp.
90 percent of parents agree that MDA Summer Camp has motivated their child to try new things outside of camp.
97 percent of parents agree that MDA Summer Camp has increased their child's confidence.
93 percent of parents believe MDA Summer Camp has helped their child become more independent
Disclaimer: No content on this site should ever be used as a substitute for direct medical advice from your doctor or other qualified clinician.