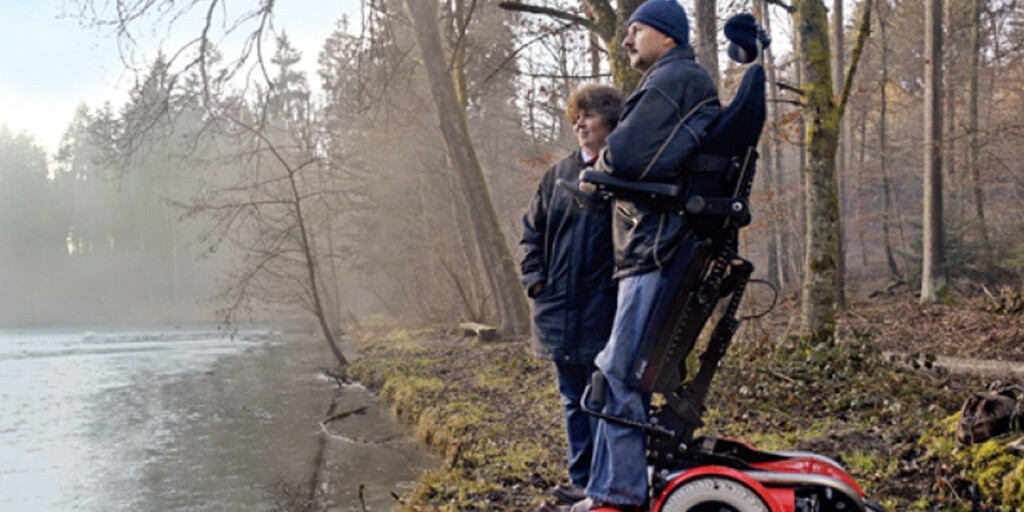 Stand Up and Go with Mobile Standers and Standing Wheelchairs
By MDA Staff | Friday, December 31, 2010
Mobile standers and standing wheelchairs are for people who want to stand without having to stand still.
Medical professionals agree that standing is good for the musculoskeletal system, and most experts recommend standing 30 to 60 minutes a day, depending on users' level of tolerance. (Note: Always consult a doctor before starting a standing program.)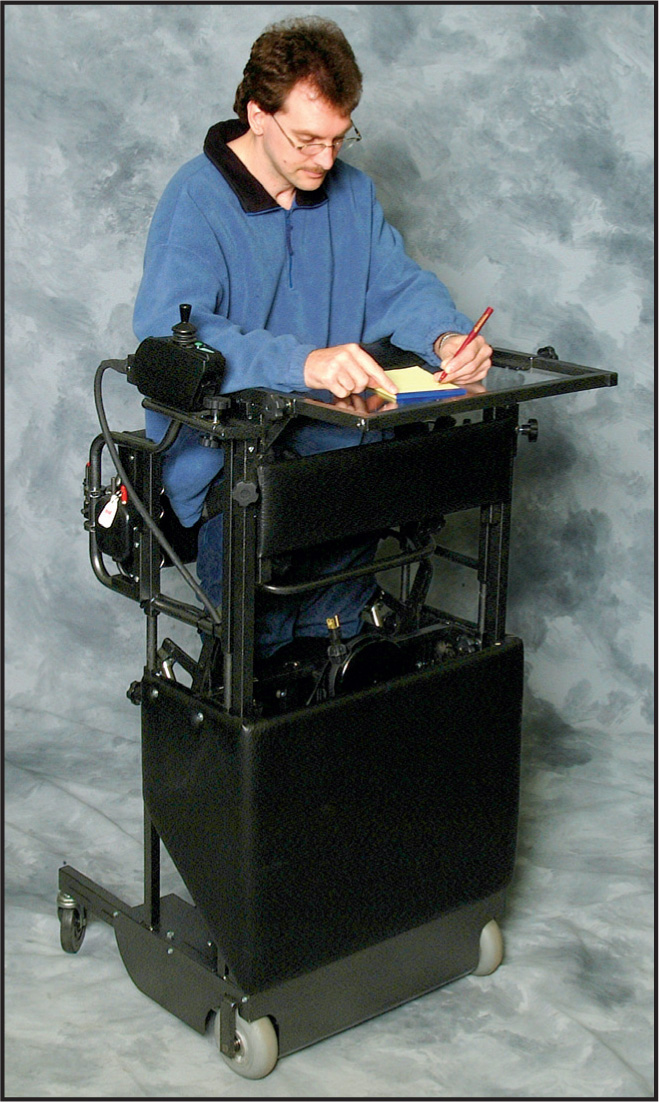 Because muscles and joints tend to stiffen if they're not used, long-term sitting can lead to contractures of the ankles, knees and hips, says Kerry Duffy of the MDA/ALS Clinic at Carolinas Medical Center in Charlotte, N.C., who's been a physical therapist (PT) for 17 years. A doctor-approved standing routine can help prevent contractures by putting muscles and joints through a full range of motion.
While it hasn't been conclusively proven that standing increases bone density, Duffy notes that it can help slow the deterioration of bone density that occurs with constant sitting. Standing also may help prevent pressure sores and can have a positive impact on bodily systems that depend on gravity to function correctly, such as blood pressure, breathing volume, and the digestive and urological systems.
There are also many psychological benefits of standing, says Bryanne Freitag, marketing assistant for Altimate Medical, a stander manufacturer in Morton, Minn.
"Many customers enjoy standing because they can interact with their friends and family, give hugs and see each other eye to eye," she says. "They enjoy seeing the world from a standing position versus sitting, and love feeling taller!"
But reaping the physical and psychological benefits of standing can come at a price — loss of mobility. Mobile standers and standing wheelchairs get around this problem by offering users the ability to still have access to their environment.
Mobile standers
Similar in appearance to the average stationary stander, mobile standers have wheels and can be driven indoors while in use. They are either manually propelled by users with sufficient arm strength to propel a manual wheelchair, or they are power driven.
Two companies offer manual-drive mobile standers for adults: Altimate Medical and Prime Engineering (see Resource list at bottom of page). The standers are moved by pushing on the wheel push rims located at arm level.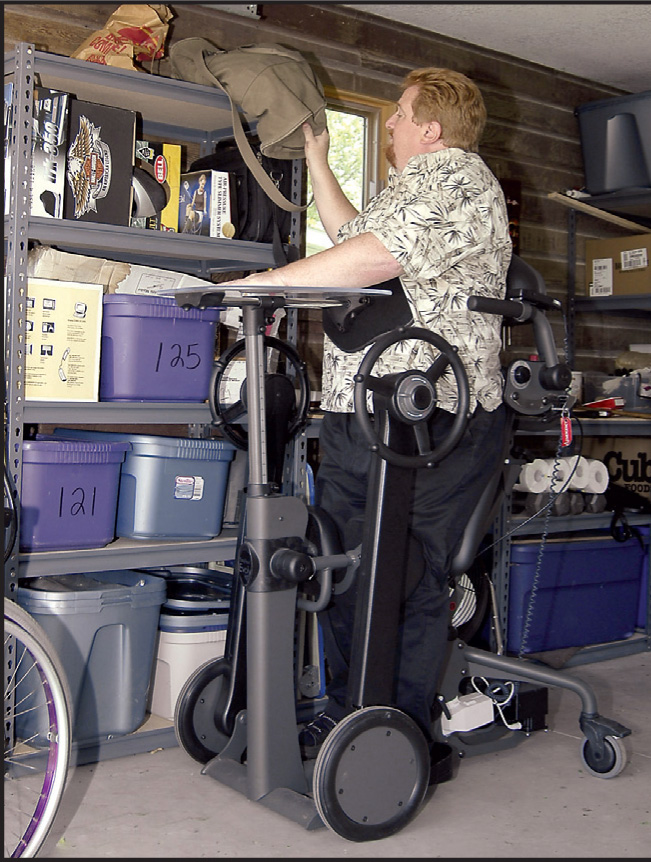 To raise users from sitting to standing, these standers come with either a manual hydraulic lift system or a power lift system.
Some models require users to transfer into the device's seat before standing, while other models allow individuals to roll up in their wheelchairs, line up their knees with the kneepads, put the lift sling under their bottom, attach it to the lift and stand up.
One manually propelled mobile stander is the EasyStand Evolv Mobile from Altimate Medical. The push rims are close to the user for easy propulsion and steering, but move forward when the kneepad is flipped up to allow more room for transfers. The Evolv Mobile retails for approximately $4,000, but a kit can turn an existing stationary Evolv stander into a mobile stander for about $1,500.
Of course, many with neuromuscular diseases have limited arm strength and would have difficulty self-propelling a manual stander.
Stand Aid of Iowa is the only company that offers a power-driven adult stander, the Stand Aid 1503, which has a joystick-controlled power drive system, a power lift system, and doesn't require transferring from the wheelchair into the device prior to standing. It retails for $9,300, or mechanically inclined individuals can purchase the mobile kit to add on to their existing Stand Aid 1501 for $3,200.
Standing wheelchairs
Why be limited to standing or sitting when you can do both?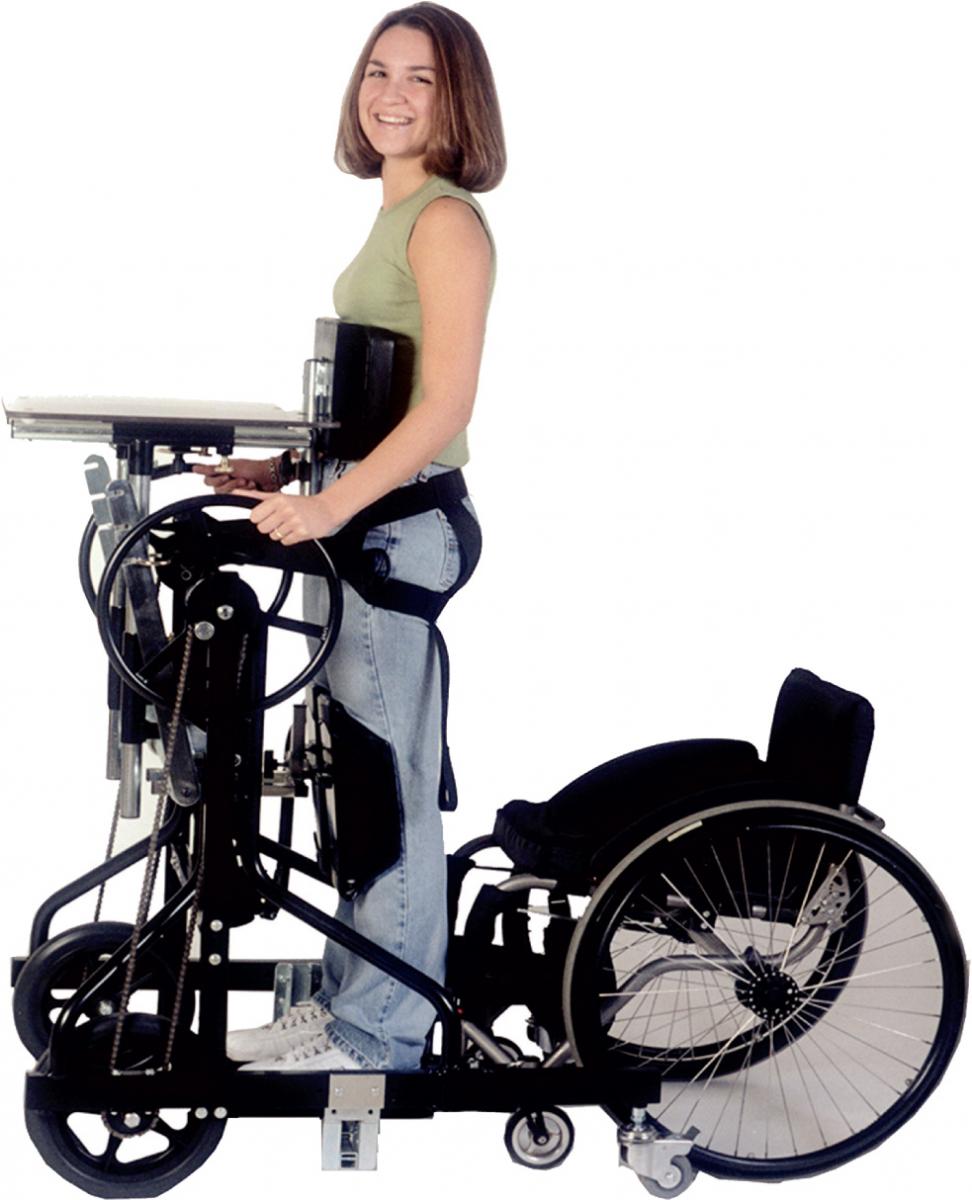 Standing wheelchairs offer the ability to rise into a standing position when needed and then return to a seated position at any time.
This feature is especially helpful at work, says Bob Bolles, who has type 3 spinal muscular atrophy. For the past five years, Bolles, 60, of Livingston, N.J., has enjoyed the freedom and independence afforded by his Redman Chief 107 ZRx power standing wheelchair.
An office manager for a compressed gas distributor, Bolles says "it's nice to meet with customers on an eye-to-eye basis, and then be able to sit down at my desk and use my computer." He appreciates that he can reach things without asking for help, "plus the health benefits f positioning, stretching and just being more independent are the best."
Bolles knows what they say about all work and no play. Thanks to his standing wheelchair, he says he can stand up and cheer with the rest of the crowd at baseball games and concerts, or take in the sights while traveling with his wife, Cathy.
Standing wheelchairs also make it easier for people to get in more standing time while going about their regular day.
Some experts suggest that standing several times during the day provides greater benefit than standing once for a prolonged period.
Power vs. manual
As with mobile standers, standing wheelchairs come in two forms: power and manual. Most can hoist users upright to a maximum of 85 degrees. Standing upright at a full 90 degrees (as can be done in a mobile stander) would throw the wheelchair off balance, although there are some power wheelchairs that stand users up to 87 degrees.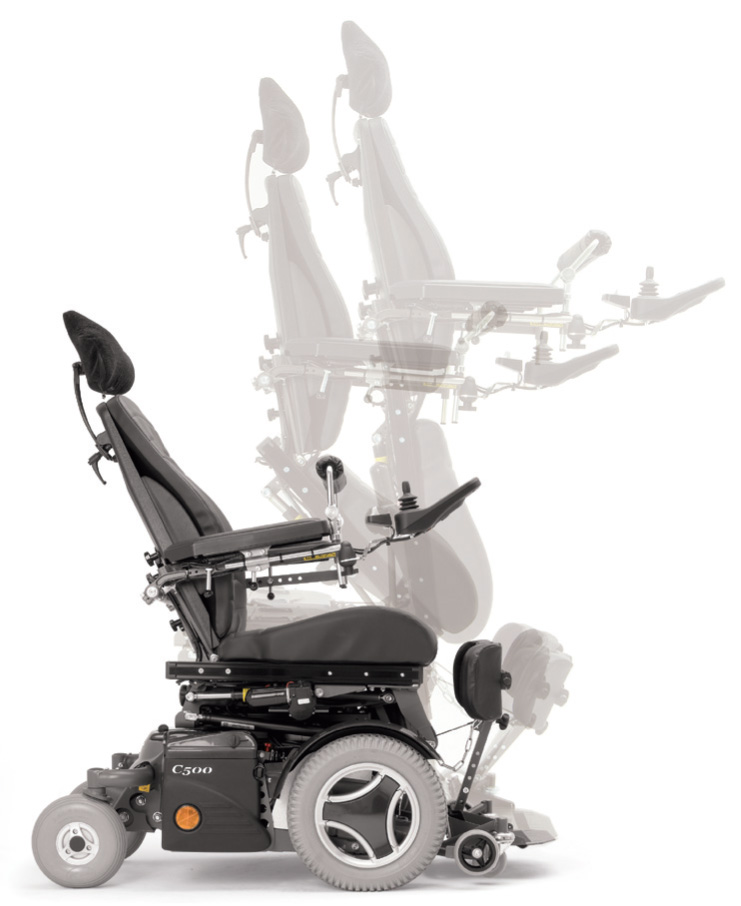 Most power standing wheelchairs can be driven while users are standing, whereas manual standing wheelchairs must remain stationary when in the standing position. But on the plus side, those who like to travel may prefer the greater portability of a manual standing wheelchair.
The Levo LAE is a lightweight (37 pounds) manual standing wheelchair with a folding backrest and quick-release rear wheels for easy transport. The LAE lifts via a gas-powered spring and allows users to lift themselves into any angle between sitting and standing with one-handed operation. It retails for $10,000 to $12,000.
Permobil's C500 VS power standing wheelchair can transform from reclining to standing at a press of a button, and remembers a user's favorite standing position. Fully drivable while standing, the C500 has an advanced suspension system that gives a smooth ride on rough terrain. It retails for $40,000 to $45,000.
The funding game
It can be hard enough to get stationary standers funded by government or private insurance, much less mobile standers, which are more expensive ($2,850-$5,000 for manual drive standers; $9,300 for power drive).
Standing wheelchairs are even pricier ($10,000-$15,000 for manual drive; $18,000-$55,000 for power drive).
Depending on the state, Medicaid may agree to fund a stationary stander, and the customer can then pay for a kit to make it mobile. Similarly, for standing wheelchairs, Medicaid may pay for only the wheelchair portion, and the standing portion would be the responsibility of the customer.
Generally, Medicare doesn't cover standers, but there have been some beneficiaries who have bought a stander and later had the cost reimbursed.
If denied by the funding source, be persistent in lobbying and appealing to change the policy. Obtain letters of medical necessity/justification from doctors or therapists, documentation, videos and even personal stories from friends, family members and caregivers. Some have contacted their congressional representatives for help.
Don't give up. Contact your MDA health care service coordinator to see if the needed item has been donated to MDA's local inventory of medical equipment and is available for your use. The local MDA office also can provide information about other resources that may be able to help, including state assistive technology programs, independent living centers, VA hospitals, churches and local clubs.
---
Standers for kids
For an article about standers for children, see Stand Up in the January-March 2009 issue of Quest.
Kathy Wechsler is a former MDA staff writer living in Tucson, Ariz. She has Friedreich's ataxia and uses her stationary stander every day.
| | | | | | | | |
| --- | --- | --- | --- | --- | --- | --- | --- |
| | Arm strength required | Choice of manual or power lift | Can be driven while standing | Can be used as a wheelchair | Easily transported | Can be used outdoors | Price |
| Manual mobile stander | yes | yes | yes | no | no | no | $2,850 to $5,000 |
| Manual standing wheelchair | yes | yes | no | yes | yes | yes | $10,000 to $15,000 |
| Power mobile stander | no | power lift only | yes | no | no | no | $9,300 |
| Power standing wheelchair | no | yes | yes | yes | yes, with a lift-equipped vehicle | yes | $18,000 to $55,000 |
Disclaimer: No content on this site should ever be used as a substitute for direct medical advice from your doctor or other qualified clinician.