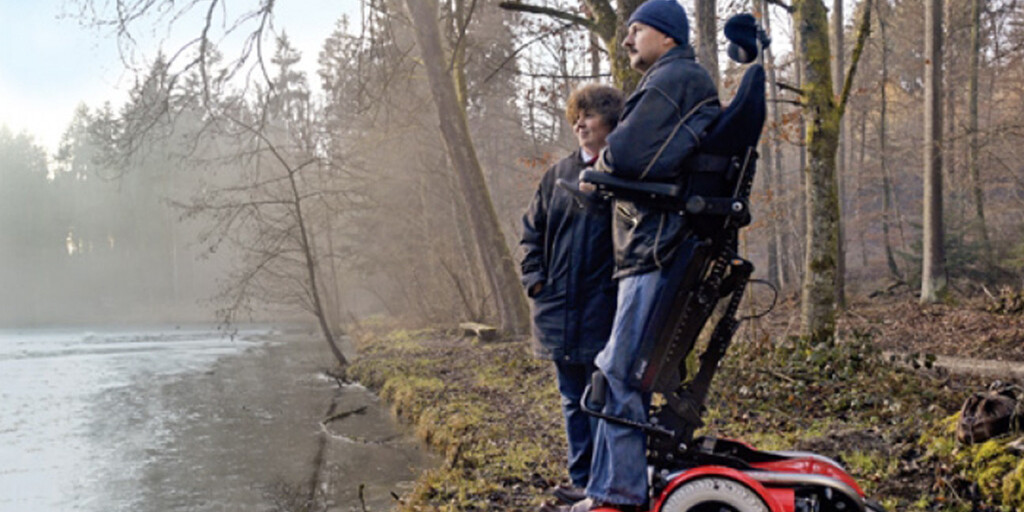 Stand Up and Go with Mobile Standers and Standing Wheelchairs
By Kathy Wechsler; updated by Joanna Buoniconti | Wednesday, July 19, 2023
5 Second Summary
Do you want to get the health benefits of standing without sacrificing mobility? Then here's what you need to know about features, pricing, and funding for mobile standers and standing wheelchairs.
Mobile standers and standing wheelchairs are for people who want to stand without having to stand still.
Medical professionals agree that standing is good for the musculoskeletal system, and most experts recommend standing 30 to 60 minutes a day, depending on the user's level of tolerance.  (Note: Always consult a doctor before starting a standing program.)
"Standing allows the individual to bear weight on their legs, which assists in building or maintaining bone density and muscle mass," says Kelly McCann, an occupational therapist (OT) who specializes in treating individuals with neuromuscular conditions in Mebane, North Carolina. A doctor-approved standing routine provides pressure relief, reducing the risk for pressure ulcers and muscle contractures by putting muscles and joints through a full range of motion.
Kelly notes that standing also can have a positive impact on bodily systems that depend on gravity to function correctly, such as blood pressure, breathing volume, and the digestive and urological systems.
There are also many psychological benefits of standing. "One of the biggest benefits is that it can increase independence and allow the individual to be an active participant in their daily routines," Kelly says.
But reaping the physical and psychological benefits of standing can come at a price — loss of mobility. Mobile standers and standing wheelchairs get around this problem by offering users access to their environment.
Mobile standers
Similar in appearance to the average stationary stander, mobile standers have wheels and can be driven indoors while in use. They are either manually propelled by users with the arm strength to propel a manual wheelchair, or they are power-driven.
Two companies offer manual-drive mobile standers for adults: Altimate Medical and Prime Engineering (see the resource list at the bottom of the page). The standers are moved by pushing on the wheel push rims located at arm level. They come with either a manual hydraulic lift system or a power lift system to raise users from sitting to standing.
Some models require users to transfer into the device's seat before standing, while other models allow individuals to roll up in their wheelchairs, line up their knees with the kneepads, put the lift sling under their bottom, attach it to the lift, and stand up.
Manual or power?
One manually propelled mobile stander is the EasyStand Evolv Mobile from Altimate Medical. The push rims are close to the user for easy steering, and they can be moved forward to allow more room for transfers. The Evolv Mobile retails for around $6,000.
Of course, many people with neuromuscular diseases have limited arm strength and may have difficulty self-propelling a manual stander.
Stand Aid of Iowa is the only company that offers a power-driven adult stander. The Stand Aid 1503 has a joystick-controlled power drive system and a power lift system, and it doesn't require transferring from the wheelchair into the device before standing. It retails for $9,500, or mechanically inclined individuals can purchase the mobile kit to add on to their existing Stand Aid 1501 for $3,200.
Using a stander
There are many benefits to allowing a person to get out of their wheelchair to stand and stretch their muscles. The key is not to overdo it, as Jose Flores learned. Jose, a corporate speaker who has spinal muscular atrophy (SMA), uses the EasyStand Strapstand for 30 to 45 minutes twice a week during physical therapy to stretch out his arms and legs and prevent the onset of muscle contractures.
Jose has been going to physical therapy and using the stander for more than a year. Before that, his wife and sons used to stretch his arms and legs.
"The first time I used the stander, it was the first time that I had stood in 23 years, and it felt amazing. When I sat down, I noticed that my muscles and my knees were a little sore, but it only lasted for 5 to 10 minutes," Jose says. "Now, when I stand, I don't notice any discomfort at all."
While standing, he likes to stretch his arms up and out. If he is short on time, he will put his phone or laptop on the built-in tray and answer emails while standing.
Standing wheelchairs
Why be limited to standing or sitting when you can do both?
Standing wheelchairs offer the ability to rise into a standing position when needed and then return to a seated position at any time.
Standing wheelchairs also make it easier to get in more standing time while going about your regular day.
Some experts suggest that standing several times during the day provides greater benefits than standing once for a prolonged period.
Power or manual?
As with mobile standers, standing wheelchairs come in two forms: power and manual.
Most can hoist users upright to a maximum of 85 degrees. Standing upright at a full 90 degrees (as can be done in a mobile stander) would throw the wheelchair off balance, although there are some power wheelchairs that stand users up to 87 degrees.
Most power standing wheelchairs can be driven while users are standing, whereas manual standing wheelchairs must remain stationary when in the standing position. However, those who like to travel may prefer the greater portability of a manual standing wheelchair.
The Levo LAE is a lightweight (37 pounds) manual standing wheelchair with a folding backrest and quick-release rear wheels for easy transport. The LAE lifts via a gas-powered spring and allows users to lift themselves into any angle between sitting and standing with one-handed operation. It retails for $4,800 to $19,000.
Permobil's F5 Corpus VS and the M Corpus VS offer the ability for the individual to stand at various degrees. The F5 Corpus VS can achieve up to 80 degrees of standing, while the M Corpus VS can achieve up to 70 degrees of standing. These power standing wheelchairs can remember a user's favorite standing position, whether it is sit-to-stand, recline-to-stand, or anywhere in between. Fully drivable while standing, the F5 Corpus VS and the M Corpus VS have advanced suspension systems for a smooth ride.
The funding game
It can be hard enough to get stationary standers funded by government or private insurance, much less mobile standers, which are more expensive ($3,200-$9,000 for manual drive standers; around $9,500 for power drive).
Standing wheelchairs are even pricier ($7,000-$19,000 for manual drive; $9,900-$60,000 for power drive).
Depending on the state, Medicaid may agree to fund a stationary stander, and the customer can then pay for a kit to make it mobile.
In some states, standing wheelchairs are fully funded by Medicaid, and Ashley Detterbeck, a Regional Clinical Education Manager for the upper Midwest, has noticed an uptick in the number of clients requesting standing wheelchairs.
"The process to pursue standing power mobility is often a little more in-depth than pursuing standard power mobility," she says. "Often, funding sources like to see that the individual has participated in standing trials with their clinician as well as what medical and functional benefits the individual will receive from using the standing power wheelchair."
Generally, Medicare doesn't cover standers, but there have been some beneficiaries who have bought a stander and later had the cost reimbursed.
The Permobil Foundation is one funding option available for those who do not have insurance funding for their standing power wheelchairs. Often the foundation will cover a portion of the denied component, whether it is standing or seat elevation. If denied by the funding source, be persistent in lobbying and appealing to change the policy. Obtain letters of medical necessity/justification from doctors or therapists, documentation, videos and even personal stories from friends, family members and caregivers. Some have contacted their congressional representatives for help.
Don't give up. You can also contact the MDA National Resource Center at 833-ASK-MDA1 or ResourceCenter@mdausa.org. The Resource Center is staffed by experienced care specialists and has a database of local and national supports, financial resources, and durable medical equipment vendor information.
[TABLE]
| | | | | | | | |
| --- | --- | --- | --- | --- | --- | --- | --- |
| | Arm strength required | Choice of manual or power lift | Can be driven while standing | Can be used as a wheelchair | Easily transported | Can be used outdoors | Price |
| Manual mobile stander | Yes | Yes | Yes | No | No | No | $3,200-$9,000 |
| Manual standing wheelchair | Yes | Yes | No | Yes | Yes | Yes | $7,000-$19,000 |
| Power mobile stander | No | Power lift only | Yes | No | No | No | $9,500 |
| Power standing wheelchair | No | Yes | Yes | Yes | Yes, with a lift-equipped vehicle | Yes | $9,900-$60,000 |
---
Next Steps and Useful Resources
Disclaimer: No content on this site should ever be used as a substitute for direct medical advice from your doctor or other qualified clinician.