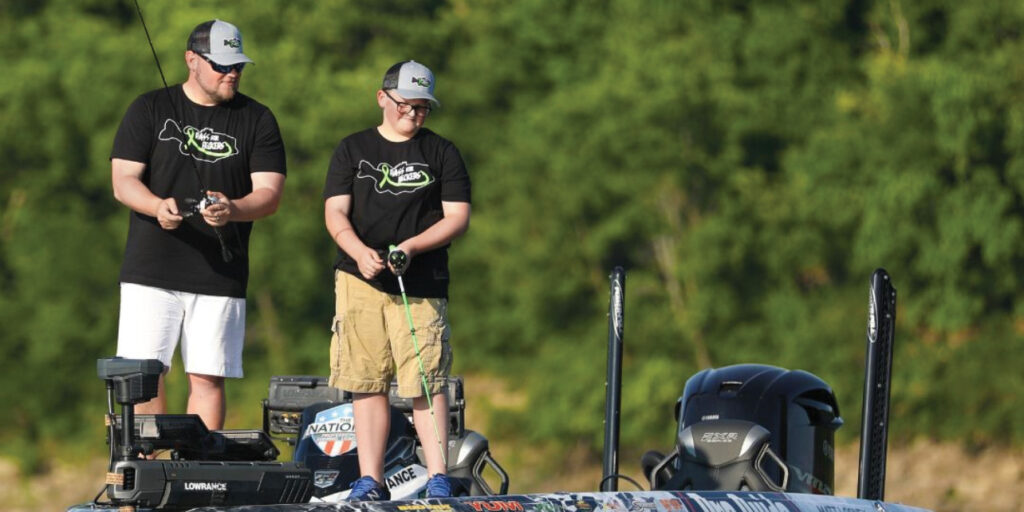 Teen Inspires His Uncles to Fundraise For MDA
By Quest Staff | Thursday, May 18, 2023
Talon Smith, 14, of Coweta, Oklahoma, is one lucky nephew. Talon, who lives with Becker muscular dystrophy (BMD), has not one but two uncles who go above and beyond each year to raise money for MDA and his favorite MDA program, Summer Camp.
His uncle Kirby Walker, a fire captain with the Broken Arrow Fire Department in Oklahoma, has volunteered at Fill the Boot events for 23 years. When Talon was diagnosed in 2017, the fundraiser became personal to Kirby, and he hopes to help other kids enjoy a week at MDA Summer Camp.
"Not only do I have a family member now affected by muscular dystrophy, but I was able to experience the happiness that camp brings to children when I attended the Fire Fighter Day at my local camp," Kirby says.
Talon's other uncle, Matt Looney, is a professional fisherman and started the fundraiser Bass for Beckers in 2019. The event sells raffle tickets year-round for a chance to win the boat Matt uses during his pro season. The proceeds go to MDA. In 2021, the event raised $20,000.
"Hosting this fundraiser to help my nephew has been a dream," Matt says. "I love that I not only get to help someone close to me, but I get to help others like him. My goal is to make it possible for everyone to enjoy a week of Summer Camp. I never want a child to be turned away from this experience."
Talon, who enjoys attending the fundraisers with his uncles every year, hopes he can pay it forward.
"Seeing my uncles fundraise shows me that they care about not only me but also others like me," says Talon. "They don't have to do these events every year, but they do, and it makes me so happy to have that special connection and understanding of why they do it."
---
Next Steps and Useful Resources
Disclaimer: No content on this site should ever be used as a substitute for direct medical advice from your doctor or other qualified clinician.