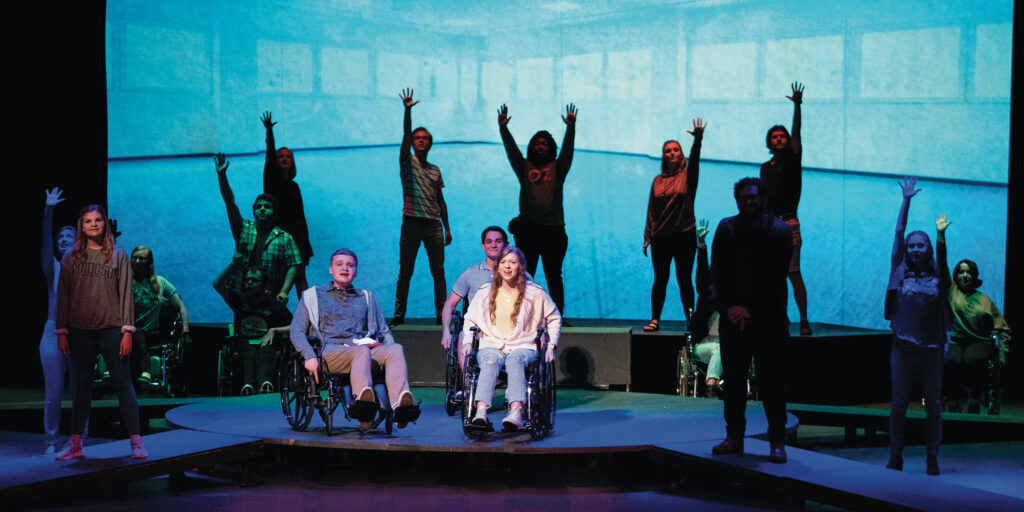 A Musical Spreads Muscular Dystrophy Awareness
By Jess Westman | Thursday, May 18, 2023
Genetic testing, heart and lung monitoring, muscle biopsy, and electromyography are all methods for diagnosing muscular dystrophy, but there's only one method for breaking the news.
"Shocked, sad, and scared," my mother recalled feeling when my brother and I were diagnosed with Becker muscular dystrophy (BMD). She and my dad pondered the unthinkable: "How can we make sure our boys will live happy, healthy, and productive lives?"
Too many parents ask themselves that question, and ironically, the answer is pain. My disease isn't a preference, but it's taught me there's more to life.
The game of pretend
I was starting preschool when my parents first put me onstage. Having recently been diagnosed with BMD, all athletics were thrown into the backseat, and my brother and I began wholesome childhoods of entertaining people. Beginning my acting career as a 5-year-old mobster in a community production of "Bugsy Malone," I'd eventually act in high school and university musicals like "Seussical," "Footloose," "Shrek: The Musical," "Anything Goes," and "Into the Woods."
Other students, over the years, suggested I pace myself, but every moment, onstage and off, was a brand-new, make-them-laugh opportunity, free from my disease. Theater was everything; I couldn't get enough. And then I turned 19.
I still enjoyed character acting, but it was taking a physical toll. My "doing too much" was adding up. At first, I was exiting the stage a little winded, but by my final year of college, I was collapsing backstage in a wolf costume.
I hated what was happening to my body, but I had no control. And then, a friend asked me why I was limping. I recall staring at them in horror. Nobody was supposed to notice. I had trained myself to correct the limp — to walk it off. But they still noticed.
I found myself at a crossroads. What do you do when you know the truth, but facing it is the scariest thing on earth? How long could I continue coping theatrically? And just like that, making people laugh meant less, and making them aware meant everything.
Making it make sense
Newly filled with a need to make my disability make sense, I decided to write a musical about someone like me, called "Wheels." I had written other plays, songs, and musicals, but I hoped that creating something honest would have a greater impact.
What I pitched to my peers as "a showcase of everyday life" grew into the story of a troubled man named Elijah, his life with muscular dystrophy, and the complex relationship between him and his caretaker, Amelia. I thought of it as a theatrical window into the normalcy of what society might consider abnormal, juxtaposed with the wheels of life — wheels that keep spinning, whether we like it or not.
The initial, tri-collegiate iteration of "Wheels: An Original Musical" premiered in Abilene, Texas, in June 2021 and was met with local acclaim. Following the production, I contacted MDA, and their PR director connected me with Tony Award-winning Broadway director and dramaturg Sheryl Kaller. I moved to New York City two months later.
When I arrived, I was expecting an indescribable, life-changing city. But it wasn't. To me, it was a tourist trap laden with physical obstacles. However, I needed to be here. If I wanted to continue dramaturgical meetings with Sheryl and truly make "Wheels" a Broadway show, I'd have to deal with the stairs and walking.
This experience taught me that I won't succeed in the entertainment industry if all I do is sulk about how hard my life is. So, anytime I'd think, "Other composers don't have to suffer like this," I'd start putting that passion into my script and songs. Suddenly, those 58 days of freelance graphic design that would get me to one meeting with a producer or a PR team were worth it. It all became worth it.
Impact is everything
New York City, though still inaccessible, is my home now. Where the stairs have failed me, the people haven't. God hasn't. My friends have become my family, I've discovered rich cultures, and I've grown in ways I couldn't have predicted. My entertainment pursuit has become a means of honestly spreading awareness, and I didn't do it on my own.
Today, "Wheels: An Original Musical" is a Broadway show in the making and a 2022 Eugene O'Neill National Music Theater Conference semifinalist. And, through musical collaborations aside from "Wheels," I've kept my passion for storytelling alive. I've learned that powerful storytelling isn't about who is telling the story, but why. Why a protagonist like Elijah, why his condition, cynicism, growth — everything? Like him, I don't like my disease, but I own it, and I try to keep learning from it.
My ultimate hope is that the truths I've shared can make a difference for anyone living with a disability they can't control. Our stories aren't just grief, hilarity, candor, and suffering — they're real. And I hope they'll teach you, as they've taught me, that there's more to life.
Jess Westman, 23, was diagnosed with BMD when he was 1 and created "Wheels: An Original Musical" at 19. He lives in Queens, New York, and blogs at JessWestman.org.
---
Next Steps and Useful Resources
Disclaimer: No content on this site should ever be used as a substitute for direct medical advice from your doctor or other qualified clinician.