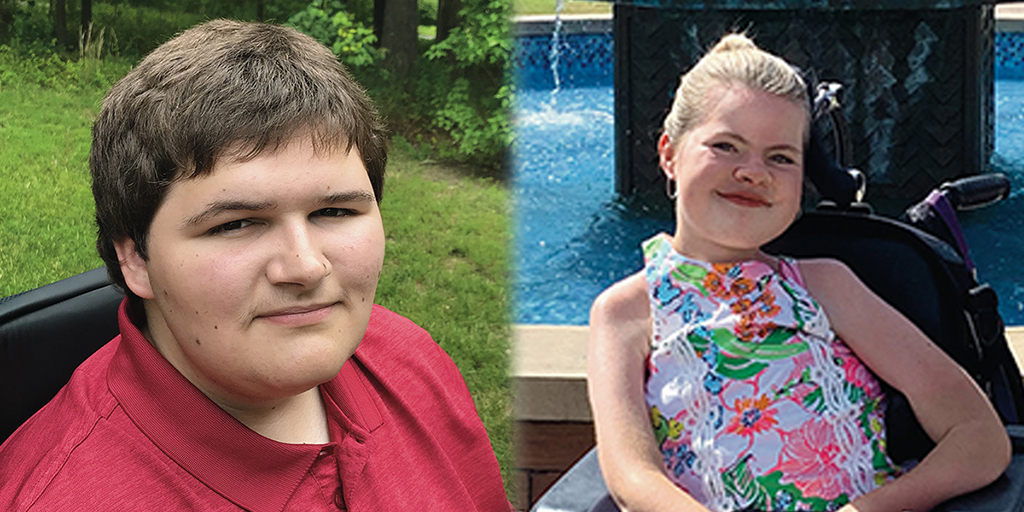 The Hidden Benefits of Volunteering
By Darlene Demetri | Wednesday, February 16, 2022
Helping others can help you build valuable skills
Blaine, a 6-year-old black lab, is assistance dog extraordinaire to Bella Andrade, 19, who lives with spinal muscular atrophy (SMA) and uses a power wheelchair. Receiving Blaine from the Minnesota nonprofit Can Do Canines in October 2017 was a life-changing gift for Bella. With a verbal command, Blaine will open a drawer, push a handicap door access button, or retrieve a dropped pen or smart phone.
This was a big change for Bella, who was thrilled with her newfound independence.
"Can Do Canines is a unique organization because all their service animals are placed with their owners free of charge," Bella says. "I wanted to give back to them because they changed my life for the better, and I wanted to help others with disabilities." She volunteered for the organization's ambassador program, which provided her with speaker training.
With Blaine at her side, Bella gave talks about Can Do Canines at the local Lions Club, children's hospital, fire department, and elementary school. In the process, she met and built relationships with people from different walks of life.
This experience ultimately gave Bella the confidence and courage to leave her home in Minnesota to attend Arizona State University (ASU), where she is a freshman studying biological sciences and genetics.
"Blaine really helped relieve my anxiety about going places on my own," says Bella. "And through the speaking engagements, I realized that I'm great at public speaking and can build connections with others, too. I came to ASU, where I didn't know anyone, and I've built a whole community of friends."
Résumé builder
Bella isn't the only one who's discovered that the benefits of volunteering go beyond the intrinsic value of giving back.
Carl Pettitt, 21, contacted MDA in January 2021 looking to satisfy a college volunteering requirement. A technology wiz who lives with Duchenne muscular dystrophy (DMD), Carl assisted with software applications, e-newsletters, volunteer training, and fundraising initiatives. After graduating from Blue Ridge Community and Technical College in West Virginia in the spring, Carl found that the time he spent volunteering had provided new skills and solid work experience for his résumé. "Volunteering with MDA has greatly assisted my job search," says Carl, who has some promising leads.
According to Alison Tibbits, senior national director of volunteerism and organizational partners at MDA, one of the many benefits of volunteering is that it can help you identify new career paths by uncovering skills and passions you didn't know you had. These skills and passions may even present you in a positive light to potential employers.
Expanding opportunities
Currently, there are many worthy organizations to volunteer for, and the need for dedicated volunteers is high. As a result, many organizations are striving to curate opportunities with inclusivity and diversity in mind. "It's no longer a one-size-fits-all approach," Alison says. "Tailoring to a volunteer's interests and skills is paramount."
In addition, the virtual landscape offers greater flexibility for volunteers and more options for organizations to reach more people.
"The COVID-19 pandemic has caused organizations to think very differently about what they can empower volunteers to do," Alison says. As with other aspects of life, tasks that involve communicating, planning, organizing, or even meeting with individuals face-to-face can be done virtually now.
"We have seen so much success when our dedicated volunteers have supported our key programs virtually," Alison says. "It really goes back to creating volunteer opportunities that are inclusive and diverse."
Darlene Demetri is a Connecticut-based freelance writer living with facioscapulohumeral muscular dystrophy (FSHD).
How to Find the Right Volunteer Opportunity 
Follow your interests. Align with a cause that's important to you or that you want to learn more about. Dedicated volunteers make a lasting impression, and, in some cases, this could lead to a job or references.
Be direct. Even if there is a volunteer sign-up portal, it's a good idea to contact the volunteer coordinator directly. Their objective is to match the organization's needs with what excites you, so be clear about your skills and interests.
Seek an inclusive environment. Look at an organization's website for information about diversity or disability. Consider asking the volunteer coordinator how they would make reasonable accommodations for your needs and for others with disabilities.
Find strength in numbers. Do you have family, friends, or coworkers also looking to volunteer? Volunteering as a team is rewarding and wonderful for community building.
---
Next Steps and Useful Resources
Resources for Volunteering
The best volunteer opportunity is one that aligns with your interests. These organizations are a good place to start looking:
Disclaimer: No content on this site should ever be used as a substitute for direct medical advice from your doctor or other qualified clinician.