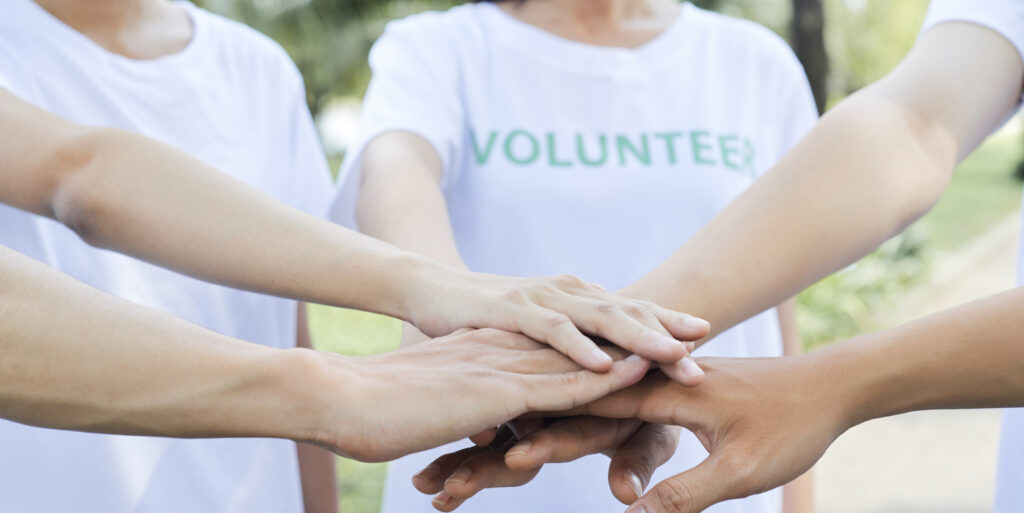 The Value of Volunteerism
By Rebecca Hume | Thursday, January 19, 2023
Volunteerism affords individuals an opportunity to progress the mission of organizations that they are passionate about. Without the valuable time and talent of volunteers, most nonprofit organizations would not be able to successfully serve their mission. At MDA, the significant impact that volunteers have across the many programs, fundraising initiatives, and community events in our organization is impressive – and immeasurable. And we know that other organizations like ours feel exactly the same way.
In addition to assisting a charitable organization to further their mission, volunteering also offers a slew of benefits to the volunteer. The many personal benefits of dedicating time to volunteerism include:
Gaining a sense of purpose
Gaining a sense of community
Meeting new friends
Increasing social skills
Improving self-esteem
Learning valuable skills
Enhancing your résumé or college application
Advancing career efforts
Decreasing stress and anxiety
In celebration of the kick-off of The Year of the Volunteer, we interviewed MDA's Senior Director of Volunteer Programs, Wendi Dressen, about what volunteerism means to her.
What is your role with MDA and how did you become interested in a career around volunteerism?
As the Senior Director of Volunteer Programs at MDA, I work to strengthen our volunteer programs and the volunteer journey with MDA – from developing best practices and consistent onboarding, organizing volunteer recognition initiatives, elevating our volunteer program to include leadership volunteer roles and group opportunities for our partners and other corporations, and engaging our volunteers year-round.
Years ago, while working in the housing and healthcare field for older adults, the facility in which I was employed wanted to start a volunteer program and they asked me to create one. That role started my decades long career in volunteer engagement. Over the years, I have loved to see the relationships between volunteers and those they have served and the impact that volunteers can have.
Volunteering can look like a lot of different things. What are all of the different ways people can get involved with an organization through volunteer work?
 A lot of people volunteer, some in formal volunteer roles and others in informal ways, like helping their neighbors or at their church.  Many not-for-profits organizations couldn't function without their volunteers, and typically there are a variety of ways to volunteer within an organization.  For example, at MDA, individuals can volunteer to assist with fund raising events like a gala or golf tournament, they can volunteer virtually by contacting our partners to support their efforts or call and thank donors, they can cheer on our Team Momentum participants, they can volunteer as an MDA Advocate, they can serve as a camp counselor, and so many more opportunities.   Most of our volunteer roles at MDA offer flexibility of timing and skills.
What are the different ways it helps an organization when an individual volunteers?
Volunteers are impact generators! This means volunteers can expand the impact of the organization. Volunteers support the staff to meet the organization's goals, they humanize the organization as they engage from the heart, they invest their social capital to spread the mission of the organization, and they improve the quality for those served.  Interestingly enough, most volunteers say they are getting more out of their volunteer efforts than they are putting in.  That is a win-win-win situation!
Do you have a favorite volunteer moment that you have either witnessed or participated in that you can share with us?
I think my favorite volunteer story is about a volunteer named Barb who visited seniors in a long-term care facility where I oversaw the Volunteer Program.  One of the residents that Barb visited was hospitalized and Barb went to visit her a couple of days into her hospital stay.  When Barb arrived and said the resident's name, the resident opened her eyes and asked Barb where she had been.  They then chatted for about ten minutes and as Barb left the resident's hospital bed, the staff informed Barb that the resident had, up until Barb's visit, been unresponsive since the time that she arrived in the hospital.
To know that I had a part in creating that bond between Barb and that resident is a pretty amazing feeling.
MDA has a strong commitment to diversity, equality, and inclusion (DEI). How is that commitment represented in MDA's volunteer opportunities?
MDA has a variety of volunteer opportunities, and we work to match people to the tasks and opportunities that best suit their skills, interests, abilities, and availability. We welcome every person who expresses an interest in volunteering with us.  As an organization that serves and empowers those living with disabilities, we want to remove hurdles so that every person can do the activities that interest and motivate them, including volunteering.
What advice would you give to someone who is interested in getting involved but might feel a little uncertain because he or she has never been a volunteer before?
I agree that it can seem daunting at first, especially finding the right opportunity.  There are so many amazing causes and opportunities to donate your time and talents to. Like your favorite pair of jeans, you want to find one that fits you best.  Look for an opportunity that makes an impact, is meaningful for you and has volunteer roles that work with your schedule.  Once you find a good fit, you will be amazed at how rewarding and fulfilling it can be, and you will look forward to the times you can volunteer.
How can someone become a volunteer for MDA?
We welcome your talents as part of the MDA volunteer family. Register as a volunteer for virtual or in person events today: www.mda.org/volunteer and dedicate your time to help empower kids and adults living with neuromuscular diseases.  MDA's grassroots advocacy team is also a great way to volunteer your time and efforts to the causes that you care about. Get involved with MDA advocacy: https://www.mda.org/get-involved/advocacy.
---
Next Steps and Useful Resources
Disclaimer: No content on this site should ever be used as a substitute for direct medical advice from your doctor or other qualified clinician.