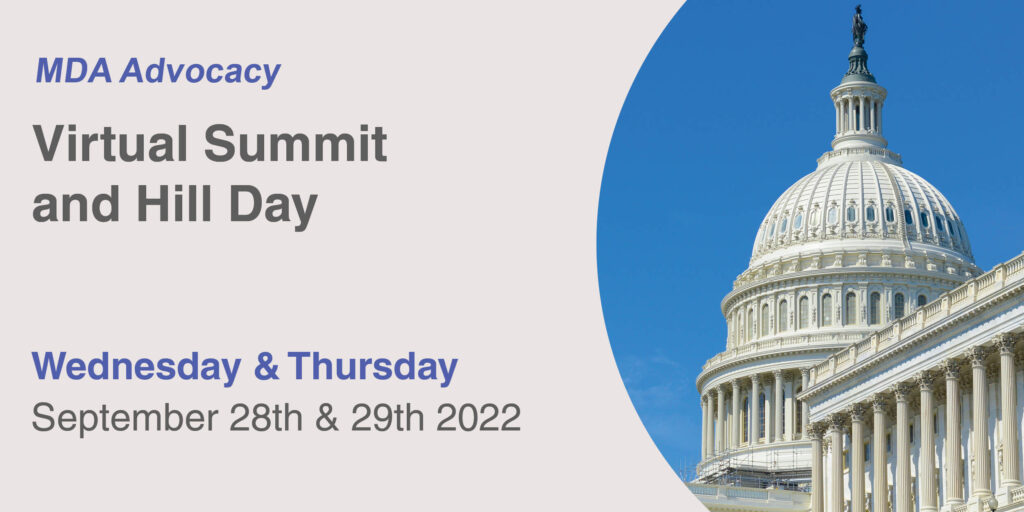 Top 5 Reasons to Attend MDA's Virtual Summit & Hill Day
By Mark Fisher | Tuesday, July 19, 2022
We're back! After a 3-year hiatus, advocates are going back to Capitol Hill, but this time virtually. We're excited to announce that the MDA Advocacy Institute: Virtual Summit and Hill Day will take place on September 28th and 29th, and we hope you can join us!
The Virtual Summit & Hill Day is the perfect way to end Muscular Dystrophy Awareness Month, which is celebrated throughout September. During this exciting event advocates will meet face-to-face virtually with your members of Congress, urge them to take action on MDA's legislative priorities, and interact with amazing fellow advocates along the way.
And we hope you to see you there (virtually!).
Need some extra convincing? Below are the top 5 reasons why you should attend this year's Virtual Summit and Hill Day.
1. Build Connections with Lawmakers
Meeting face-to-face virtually is the number one tool in an advocate's toolbox. Being able to connect with your members of Congress, share your story, and urge them to take action on important legislation is very powerful. As a bonus, these empowering meetings will help begin to build important relationships your lawmakers.
2. Perfect Your Policy Skills
You don't need to be a policy expert to participate. MDA will provide a thorough training on the key issues, provide reference documents, and give you the opportunity to practice with fellow advocates, so you are prepared for your meetings.
3. Share Your Own Personal Story
Even if you are not a policy expert, you are an expert on your personal story. Sharing your life experiences with your members of Congress is very powerful and can leave a lasting impression. Pairing a compelling story with a legislative ask is a one-two punch that is hard to beat.
4. Meet Fellow Advocates
The Virtual Summit & Hill Day is an excellent opportunity to meet members of the neuromuscular community from the across the country or reconnect with old friends. During the event, you will have an opportunity network and develop long-lasting relationships that will endure after the Summit & Hill Day ends.
5. Make a Difference From Your Own Home
The best part is you can participate all from the comfort of your own home! No need to book a plane ticket, pack that suitcase, or deal with all the hassles of travel. Attend the trainings, meet with lawmakers, and make a difference from your own computer.
So, are you ready join us? Visit www.mda.org/HillDay to learn how you can participate!
Disclaimer: No content on this site should ever be used as a substitute for direct medical advice from your doctor or other qualified clinician.