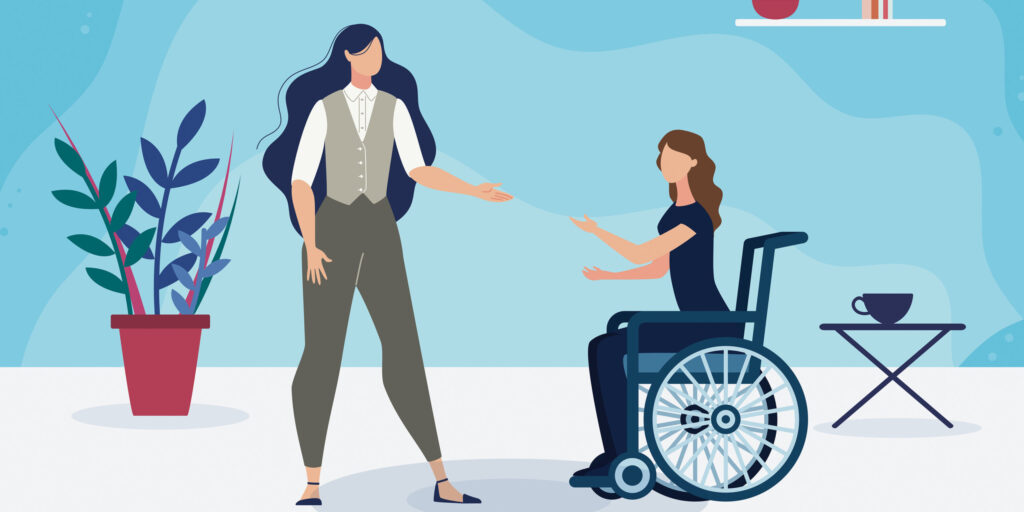 By Joanna Buoniconti | Wednesday, February 16, 2022
How to establish and maintain good relationships with personal care attendants
Anyone who lives with a neuromuscular disease that affects mobility knows that it often takes a village of caregivers to get through a week, let alone a day. For many people, personal care attendants (PCAs) provide a large part of that caregiving.
PCAs are professionals who provide home care to people with disabilities who need assistance with daily living activities. This can range from helping them get ready for the day to helping them take medication to performing chores and errands.
For Keisha Greaves, who was diagnosed with limb-girdle muscular dystrophy (LGMD) at 24, having full-time caregiving is a new experience. Her mobility declined slowly over the decade after her diagnosis, but in 2021, Keisha had a bad fall. She has not been able to walk and has relied on PCAs for daily living tasks ever since. Over the past year, she's learned that hiring PCAs, managing schedules, and navigating her own needs along with the varying personalities of caregivers is like taking on a new job. While having PCAs allows her to live independently and pursue her work as CEO of the adaptive clothing brand she founded, Girls Chronically Rock, it also is an added source of stress for her to manage.
For example, on a recent morning, one of her PCAs called a few minutes after her shift was supposed to begin to say she had injured her hand and needed to visit the doctor. Keisha managed by herself until her next PCA arrived in the afternoon.
Keisha was sympathetic to the fact that her caregiver was hurt, but also annoyed that her PCA waited hours to tell her that she would not arrive at all that day. And she wasn't sure if it was appropriate — or helpful — to tell the PCA about her feelings.
"I do get upset with my caregivers sometimes," Keisha says. "But I say to myself, 'My life is in their hands.'" She holds side by side the knowledge that she is the employer in this situation, and that she is vulnerable if her PCAs don't do their job well or decide to quit.
Navigating relationships with PCAs is a tricky balance between a professional relationship and an intimate connection. Here, people with experience working with and as PCAs weigh in on how to build good relationships with your PCAs.
What is a good working relationship?
Like every other relationship under the sun, those between PCAs and clients can be complicated. To foster any healthy relationship, both parties must advocate for their respective needs. Communication is key to maintaining a good caregiver-client relationship.
It helps to establish those lines of communication from the start. "Both the PCA and client have their roles and expectations of each other," says Ann Hogan, a former service coordinator for the Pennsylvania Medicaid Waiver Program. "It's important to break down what the roles and expectations look like for each of them and have a one-on-one conversation first to understand how to move forward."
For example, Ashleigh Peska, an MDA resource specialist who lives with LGMD and uses a power wheelchair, has been living independently with PCAs helping her full-time since she went to college in 2007. When she was a young adult, some PCAs took a "mothering" approach. She learned that one thing that's important to her is that a PCA listens to her instructions and recognizes that Ashleigh knows her care best.
From the PCA's perspective, it's helpful to know which daily tasks or routines must be followed exactly and where there's flexibility. "There's always a schedule of things, from hygiene care to medications, that I'm required to do in a shift," says Taylor Masse, who has been a PCA for more than four years while attending nursing school. "As long as everything gets done correctly, I try to make sure that my clients are in control of how their day plays out."
Having well-defined roles and routines can help both client and caregiver relax, and maybe even have fun together.
"Just having that healthy balance between me and the caregivers is important," Keisha says. "I'm still young and I like to have fun and joke around, and I enjoy doing that with my PCAs and vice versa. I am also dealing with a lot living with LGMD, so having that laughter definitely helps."
Still, boundaries must be clear. "When there's downtime, we can joke around and have fun, but when we're doing caregiving, it is important to focus on that," Ashleigh says.
Managing relationships with PCAs
Keeping a team of caregivers running smoothly can feel like a big responsibility.
"Sometimes it feels like PCAs are my number one cause of stress," Keisha says. "It's a balancing act, and that's something that I talk to my therapist about. I'm trying to work on patience and taking deep breaths when I get overwhelmed, because sometimes that helps."
Establishing effective communication, clear expectations, and predictable routines can keep managing PCAs from feeling overwhelming.
During the COVID-19 pandemic, Ashleigh's fiancé has been her primary caregiver, but when she had a team of caregivers in the past, she would arrange monthly meetings to review schedules and routines with all her PCAs at once. The added benefit was that her PCAs knew each other and could contact one another if they needed someone to fill their shift.
Using a home care agency can take some of that coordination off your plate. The agency will assess your needs and develop a care plan that includes caregivers qualified to provide those services. When you work with an agency, you can turn to the service coordinator or a supervisor if you're having trouble with a PCA. Some agencies will visit with the client in their home while the PCA is there to monitor interactions and mediate disputes.
However, whether you use an agency or hire PCAs privately, it helps to start by addressing any issues directly with your PCAs. Ashleigh found it helpful to approach these conversations kindly, explaining the harm that a particular issue can have on her health and offering an easy solution. For example, she once had a caregiver who bit her fingernails, which made her nails jagged. Ashleigh was on a blood thinner at the time and worried that if her PCA accidentally scratched her, the medicine would prevent normal clotting. Ashleigh explained the problem to her PCA and asked her to run a file over her nails before her shifts. The caregiver was able to incorporate this step into her routine.
When addressing tensions or conflicts, the PCA and client should work together toward a resolution. According to nursing student Taylor, most PCAs are open to constructive criticism, especially as they're becoming familiar with a client's needs. "I like to be told straight out what the issue is, and then focus on how we can fix it," Taylor says. "I don't like to tiptoe around things, since this is someone's life that I am hoping to enhance by assisting with their daily activities."
Having and maintaining positive relationships with caregivers can make a big difference in quality of life and maintaining independence. Good working relationships can reduce PCA turnover rates and stress levels on both parties. And, in some cases, it will lead to a long-term, rewarding relationship between an individual who wants to live their life to the fullest and a caregiver who wants to empower them to do so.
"It's about the care that you and your client have for each other," says Asia Tucker, who has been a PCA for 11 years. "I want my clients to live their life having fun, laughing, celebrating — anything they love to do, I am willing to help them do it."
Joanna Buoniconti is a freelance writer living with spinal muscular atrophy (SMA) in Western Massachusetts.
---
Next Steps and Useful Resources
How to Find a PCA
There are two ways to find personal care attendants (PCAs): use a home care agency or hire privately. Each has advantages and disadvantages.
Hiring privately provides more control over choosing your PCAs, negotiating pay, and arranging schedules. Many people find PCAs by asking family and friends for recommendations. Others post ads on Facebook forums or college campuses.
On the other hand, agencies can take some of the work off your hands by matching you with prescreened caregivers based on your needs and coordinating care schedules.
However you decide to find PCAs, here are resources to help:
Disclaimer: No content on this site should ever be used as a substitute for direct medical advice from your doctor or other qualified clinician.