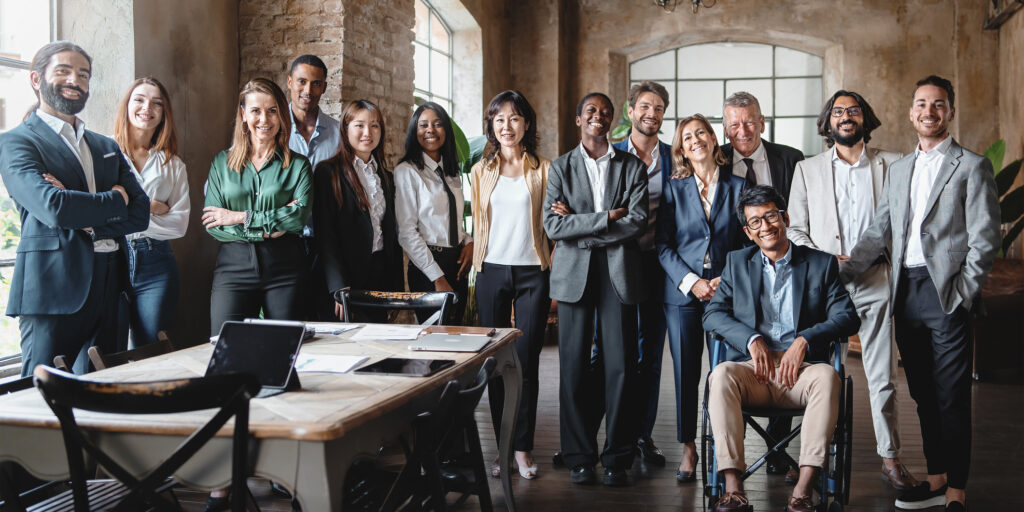 By Maggie Callahan | Tuesday, October 4, 2022
Acosta's Welcoming Environment: An Interview with CEO Brian Wynne
Since 1985, Acosta, the sales and marketing powerhouse behind some of the most recognized brands on grocery store shelves, has been a steadfast partner of MDA, raising more than $82 million through events like Aisles of Smiles. And Acosta's support for the disability community extends far beyond MDA fundraisers; it's evident in the company's dedication to creating empowering employment opportunities for people with disabilities.
In 2020, Brian Wynne, a seasoned senior executive, became Acosta's CEO. A business leader and the father of a child with a disability, Wynne shares Acosta's priorities of fostering a welcoming work environment. As we continue to celebrate the Year of Independence, MDA spoke with Wynne about Acosta's success at creating an inclusive environment, what he's learned from his son, and why fostering employee independence is essential for businesses.
Acosta is a longtime supporter of MDA. Why is this partnership important to Acosta's mission and goals?
Acosta's partnership with MDA lives and breathes every day in the work we do, and it's embedded deep and wide across our organization. Our team members have embraced MDA and its mission for years, have put their hearts and souls into it, and have seen the results of those efforts.
Acosta's purpose as a company is to connect people with the brands they love. Through Aisles of Smiles, we connect brand owners with retailers, and MDA is the connective tissue between those two parties. All three of us — the brand owner, us, and a retailer — can make a difference. It resonates deeply in the souls of our associates.
It's more than just a headquarters-based partnership for us. Our associates see the benefit of the work, which is why it has lived on and thrived through multiple generations of leaders here. I'm happy I get to pick up where others have brought this today and try to bring it into the future. The future is very bright for the partnership between MDA and Acosta.
Can you tell us about your son and what you have learned from him? 
He was born with a genetic condition that manifests in physical and intellectual challenges. One of the things he's taught me over the years is that his limitations are so narrow, and his abilities are so vast. He has many skills, capabilities, and talents far greater than those of other people I know. And I know he doesn't want to be defined by his disability. He wants to be defined by his abilities and his independence. That's why I love the Year of Independence. Because people with disabilities want to lead the life they want to lead, be independent, and be able to do what they want to do. They just want an opportunity, and my son is no different. The more we include people with disabilities, the more we open minds to seeing the much longer list of abilities rather than the disability.
How does Acosta foster a culture of inclusivity?
We are very committed to having a diverse and inclusive culture, and we honor that commitment in a couple of ways. One is through our hiring practices, by making sure we are casting a wide net in the talent pool and considering everybody who's capable of doing the job. We train our teams involved in the selection process to make sure that they see past natural human biases and focus on the critical skills and capabilities we need for the job.
Once associates are hired, we try to create an environment conducive to their success. We want a culture where people feel like they can bring their whole, authentic selves to work every day, and we provide training and development for our teams to do that. We hosted a company-wide workshop earlier this year about disabilities in the workplace. We spoke with several of our associates with disabilities who have done incredible work for our company. They talked about some of the challenges they face, the accommodations we've put in place for them, and things we can still implement to make it even more inclusive. We learned a few things that we could do better, like making closed captioning available during meetings for people who are hearing impaired. I learned about things I haven't thought of before and the easy steps we could take to improve that person's life and allow them to flourish even more.
I think it's important to engage your team and have these conversations. Tell them you want to ensure it's a great workplace for everybody. If you do that, you can make a lot of progress in making your workplace more inclusive.
Why is an inclusive environment important?
I think it's essential for companies to include people with disabilities for several reasons. First, to have a successful business, in any industry, you need the best talent available. And if you want to have the best talent, you have to make sure you're including everyone in the talent pool — all of the people who have wonderful talents, skills, and abilities, not excluding people with disabilities.
Second, there is nothing more inspiring than working alongside somebody who has had to overcome challenges and adversity and seeing how they use their talents and gifts to overcome those challenges. It creates an incredibly empowered and inspired workforce. Third, it's just the right thing to do. It's right to provide equal opportunities and reasonable accommodations for people who have the skills to do the job.
What advice would you give other businesses that want to create these opportunities? 
I would tell other companies that they will never have the best talent in the marketplace if they exclude people with disabilities from consideration. It's just a complete limiter. And I would tell them they have to talk about disabilities in the workplace and the challenges people face. With more honest communication, you get better solutions, eliminate discomfort, and expand knowledge. People become more educated, empathetic, and action-oriented in trying to help make others successful.
My son's disability has really opened my mind and my lens into looking for abilities. I don't see the disability; I see the ability, and I think when you introduce non-disabled people to people with disabilities, they think about things differently.
What challenges might companies encounter when implementing more inclusive policies, and how should they overcome them?
Start with a genuine belief that an inclusive workplace with a diverse workforce will be the most successful. I would publicly debunk the idea that hiring people with disabilities is somehow lessening the talent pool within an organization. It can be established as a business imperative rather than a social mission. I genuinely believe there's no bigger factor to a successful business than having the most diverse and inclusive workplace. If you think that, then you want to take all the steps to tap into the full talents of the marketplace. You think about what skills, insights, and competencies a company is looking for, focus on those abilities, and make minor accommodations for a person with a disability.
The second thing is to debunk the thinking that, "This is going to cost us money," or, "This is going to make life difficult or add a burden to the organization." Those things are just not true. Minor accommodations for people with amazing skills are generally easy for employers to make. It's a false dichotomy to think that hiring people with disabilities will cost money. It's not — it's going to make you money. And I saw that firsthand when Coca-Cola hired my son to be their Special Olympics ambassador for the U.S. They interviewed, hired, and paid him just like anybody else. They made minor accommodations for his particular condition, and he was able to bring them the perspective of a Special Olympics athlete. If they had not made those minor accommodations, they would have been denied his unique perspectives and gifts.
How can people with disabilities work with their employers to initiate more inclusive opportunities?
I think both parties benefit from early and open discussion. If you're a person with a disability, have confidence and talk about your abilities, the challenges you will face, and the minor accommodations that would help you overcome those challenges and help you deliver on the company's missions. Having those conversations upfront, in a very transparent way, helps make that person successful in their role and helps prevent problems in the future.
What are the biggest obstacles remaining for people with disabilities to reach complete independence?
Certain stigmas still exist, and some people and companies still have narrow-minded views. I've seen that when my son has applied for jobs, and some people have dismissed him right away. I see the horrible disappointment on his face when somebody won't interview him simply because he has a disability. Then, we have to pick ourselves up, move on, and try harder — that's what you must do. It builds resilience and toughness. On the other end, it builds confidence when you've overcome those challenges and proven that you can do it. Fortunately, I've also seen the great in people and companies who do see past disabilities to embrace their abilities and make others feel included.
I think it's important to have continued education and build advocacy and awareness. That's why I think the work that MDA does is so critical. The more you can introduce people to the talents and gifts of people with disabilities, the better it is for companies, associates, and the person with disabilities. Everyone benefits when we are more inclusive.
---
Next Steps and Useful Resources
Disclaimer: No content on this site should ever be used as a substitute for direct medical advice from your doctor or other qualified clinician.