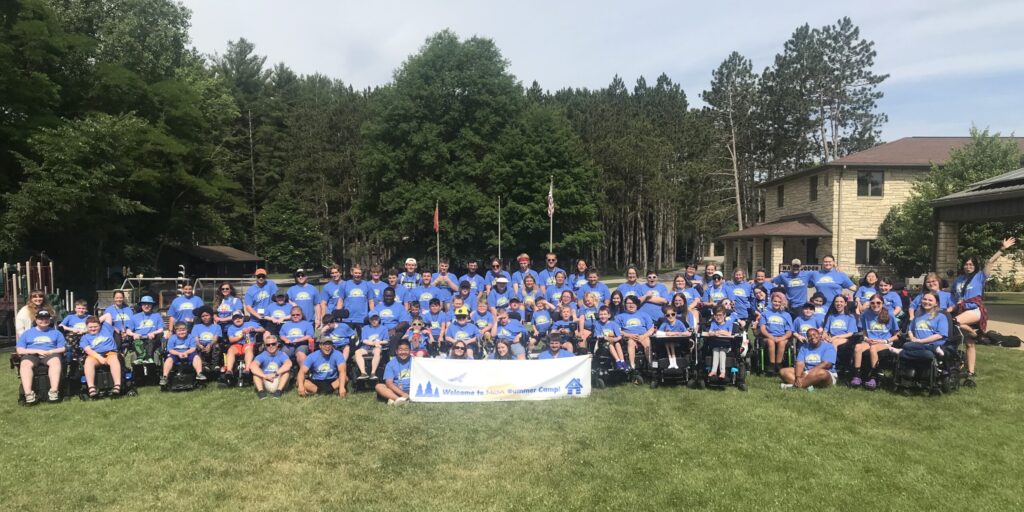 The Return of the Best Week of Summer
By Alicia Dobosz | Wednesday, October 5, 2022
Looking Back to Move Ahead
There is no better way to acknowledge The Year of Independence than taking a look back at our first in-person MDA Summer Camp sessions in two years, and the unexpected opportunities that were born out of the challenges we faced.
While the pandemic continued to impact organizations and individuals around the globe, we were thrilled to be able to explore ways to safely return to in-person Camp and resume the activities that mean so much to our Campers, while continuing to explore new adventures through virtual avenues discovered during the height of the pandemic.
So, as summer fades and we begin the next chapter, let's take a look back.
Challenges Give Way to a New Approach
Every organization had to adapt and manage through the pandemic, and MDA was no different. Our Camps returned, but with a smaller footprint and altered programs. As an organization that serves a medically fragile community, dipping our toe back in the summer camp pond meant our first priority had to be how to keep our Campers, amazing volunteers, and dedicated staff safe.
Naturally, we faced some challenges. The ongoing vaccination debate was pivotal in our planning, which was guided by our Medical Advisory Board, who gave the immediate and unanimous recommendation that all Camp participants be vaccinated. Our closed door policy limited some of our time-honored, favorite activities such as visits from fire fighters, carnival, media visits, and more. And while we missed these activities, we created new memories.
We also felt the shortage of medical professional volunteers as they navigated the healthcare crisis, with many unable to participate in Camps, putting their much-needed expertise to work in hospitals around the country, while dealing with unprecedented levels of burnout. The effects of the pandemic also impacted our non-medical volunteers, but the strength of our relationships with colleges and universities, who put the call out for qualified volunteers across their student and teacher populations, firefighters, and veteran volunteers, made it possible to staff and hold 19 of the 24 planned MDA Summer Camp sessions across the country. Prior to the pandemic, MDA operated approximately 50 camps sessions across the United States, and this year we began slowly building back.
These volunteers are truly special people, and the heart and soul of the program. They readily give their time, focus, and emotions to provide a great, safe experience for our Campers. Yet, they often feel like they are the ones benefiting from the experience.
Some of our volunteers shared what they will take with them from their time with our Campers – they really capture the spirit of the MDA Summer Camps.
"The experience was arguably the most fulfilling I've ever had. Starting from the environment created by the staff and volunteers on day 1… It was always one of positivity and excitement, there was always something to look forward to."
"I learned so many interpersonal skills, I learned more about children and neuromuscular disorders, and I gained valuable life experience that I will carry with me throughout my life. I cannot say enough good things about the MDA summer camp experience"  
For the first time in two years, our Campers were able to put down their phones, set aside screens, and interact with their peers. Campers spent time outside – they swam, fished, zip lined, learned archery, and rode horses. They indulged their creativity with arts and crafts and preparing for the talent show. They shared details of their adventures around the campfire. The dance on the final night is a rite of passage that many Campers enjoyed, especially our 17-year olds who graduated from Camp.
Our staff and volunteers are grateful to not only witness the positive impact this environment has on the Campers, but to hear the feedback directly from the families about the difference this one week makes in their children's lives is especially fulfilling.
One parent shared the impact these few days had on her daughter, saying that "MDA camp has changed her life. She desperately needed some time away from her everyday life to gain independence and confidence in herself and her capabilities, and this camp has given her that."
Knowing the positive impact Camp has on all involved made cancelling five of the scheduled sessions truly painful for our staff, Camp families, and volunteers. We knew our Campers and their families would be sorely disappointed. However, it was a decision made with the best intentions in mind to keep everyone safe and uphold the integrity of the program.
We faced some behind the scenes challenges that could have been show-stoppers for our Camps. The unknown risk factors and uncertainty surrounding COVID-19, changes in some session dates and locations, and a several year pause without in-person camp programs significantly impacted the number of volunteers we were able to recruit, resulting in reduced numbers to staff our camps at the levels we deem to be necessary and appropriate.
Navigating an unprecedented healthcare crisis and the implications for our at-risk population, working with new teams, and exploring different ways of managing the program also impacted our ability to host our goal number of camps, as did tactical issues, such as new shipping and supply management processes. However, knowing how much Camp means to our community – Campers, their families, our staff and volunteers – we knew we had to find a way to innovate and make what should have been impossible, possible.
And we did. The protocols we put into place worked. Testing upon arrival, use of cohorts for cabins, frequent hand-washing, and thoughtful protocols for many situations kept the Camp community safe and having fun throughout the summer.
Virtual Connections
We learned a lot, and through this adversity came positive developments. In 2020, in response to the isolation imposed by COVID-19, MDA launched its first Virtual Camp. 141 virtual Campers received Camp Activity Boxes filled with arts and crafts materials, t-shirts, sunglasses, backpacks, and more.
Daily "Cabin Chat" video calls kept our virtual Campers engaged as they interacted with each other, and brought their families into the environment with "Family Game Nights." And while many organizations have suspended virtual options as COVID-19 recedes, MDA will continue Virtual Summer Camp option. Through the pandemic, we have learned that this is a way we can expand our borders and provide a fun, interactive space for those who are not quite ready to go away for a week, and those who medically cannot make it to Camp but deserve the opportunity to build independence, confidence, and foster lifelong relationships with their peers.
New Partners – New Opportunities
We also learned a lot about how to approach new programs that are in development for young adults. In partnership with General Motors, MDA introduced the STEM Connections program – a two-part program launched during MDA's Virtual Summer Camp with a focus on STEM concepts. Each camper designed and built their own car, created a creature with adaptations to live in the wild, made a stylus to work with their cell phone, and engineered a boat to float in the water.
This impactful program continued beyond Camp for those who expressed interest in a more intensive learning opportunity, embarking on a four-week mentoring program to learn more about disciplines including mechanical engineering, medicine, computer science, and more.
STEM careers are growing exponentially in the modern workforce, and this program is critical for our young adults looking to their next chapter. Diversity drives innovation, and members of our community have a powerful contribution to make – this program is intended to continue MDA's tradition of making what once may have seemed impossible, possible and attainable.
Onward!
It was truly rewarding to provide a positive experience in a way that kept our Campers and community safe. We navigated some big challenges – some we anticipated, and others we didn't – and through it all, we were able to maintain open, honest, and transparent lines of communications with our community through phone calls, emails, and our dedicated staff at the MDA Resource Center.
We also learned a lot about how to make the program even more impactful, and are optimistic that we will continue to provide and strengthen in-person activities – old favorites and new adventures. We remain committed to hosting "The Best Week of Summer" for our Campers and their families.
Remember – next summer is just around the corner – stay tuned for the opening of registration for 2023 MDA Summer Camp in early January!
Disclaimer: No content on this site should ever be used as a substitute for direct medical advice from your doctor or other qualified clinician.