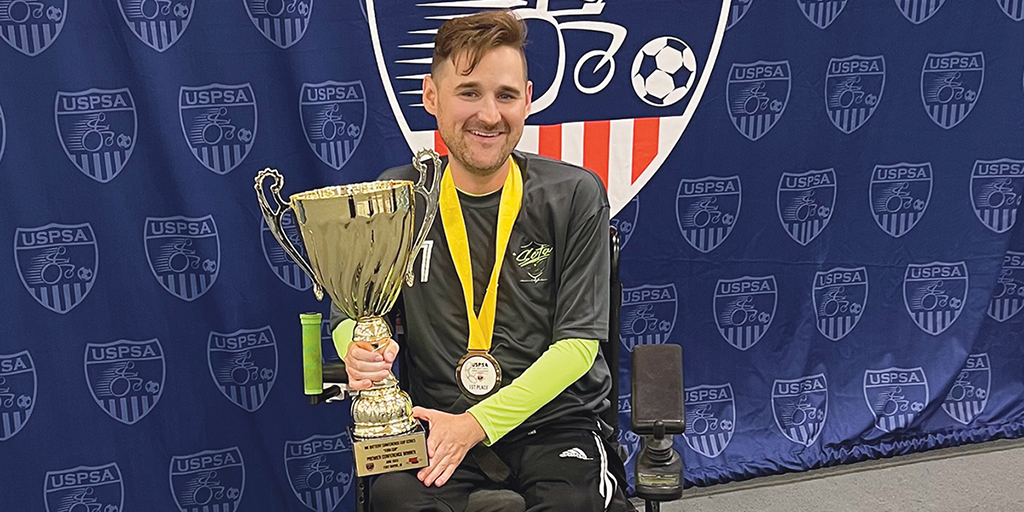 4 Lessons I Learned From Adaptive Sports
By Chad Wilson | Tuesday, August 23, 2022
I am a father, a husband, a lawyer, and an athlete.
I did not always believe I would have the opportunity to call myself these things. As a child, I did not know how to deal with having Becker muscular dystrophy (BMD). I was angry and bitter, did not know how to control my emotions, and lacked self-confidence. But discovering adaptive sports helped me break away from that negative mindset. Finding success in athletics taught me lessons that have carried over from the court to my everyday life.
1. Hard work pays off.
My first experience with adaptive sports was playing wheelchair floor hockey at MDA Summer Camp. Each summer, the cabins competed in a hockey tournament, with campers using their power wheelchairs or being pushed in manual wheelchairs. That was my favorite thing about camp.
After I received my first power wheelchair at 15, I started playing power hockey, a form of floor hockey played 5-on-5 with a whiffle ball. I joined the Minnesota PowerHockey League and quickly found success, having a knack for scoring goals. This made me look at myself in a more positive light, and I started to realize that my mindset was making having a disability more difficult for me than it had to be.
Finding early success in a local league made me believe I had the sport figured out. But when I began competing on a traveling team called the Minnesota Saints, facing teams throughout North America, I figured out my talent alone would not be enough. I started practicing whenever I had free time, and over time I saw my hard work translate to my play on the court.
This taught me the value of hard work and dedication to achieve my goals.
2. It's OK to rely on others.
While my skills were improving, my team was not finding much success in competitive North American tournaments. This was frustrating, and I even contemplated playing for a different team.
Thankfully, my team captain convinced me to stick with the Saints. He told me that for our team to find success I would need to started trusting my teammates; I couldn't do everything myself.
After we adjusted our team strategy and I embraced a more team-oriented play style, we won our first of four North American power hockey cups.
This experience taught me it is OK to ask for help. In fact, it is critical in difficult times.
3. Look for the positive in every situation.
About nine years ago, I began to play power soccer, a form of indoor soccer designed for power wheelchair users. Players use a guard on the font of their wheelchair to hit the ball instead of their feet.
My time playing power soccer began in a bittersweet fashion. I had been interested in the sport for years, but I could not afford the equipment. My opportunity came after a close friend who had a neuromuscular disease passed away, and her family generously gave me her soccer wheelchair and guard.
From the first practice, I was hooked. Moving from hockey to soccer was a refreshing change because the rules allow more well-balanced gameplay. Every player can make the same basic moves on the court, regardless of their strength. Having a progressive disease, I was ecstatic to participate in a sport I could keep playing even as my strength changed.
This experience taught me that positive outcomes can come from difficult situations.
4. Be open to building relationships.
Through adaptive sports, I have competed with and met amazing people, many who live with neuromuscular diseases and have had similar life experiences. The relationships I have formed because of adaptive sports go beyond friendships.
During one of my first major soccer tournaments, I competed in a game in which the coach for the opposing team would not be quiet the entire game. She kept yelling, even with her team up two goals with seconds left in the game. After that game, I told my dad how annoying I thought the coach was.
Shortly after, I attended a power soccer camp. The loudmouth couch also attended, and we got to know each other. A few months later, we started dating.
That loudmouth coach is now my wife and the mother of my two children. We named our daughter after my fallen friend whose wheelchair allowed me to start playing power soccer.
Sports have done more than teach me life lessons — they have given me the opportunity to form lifelong friendships and personal relationships.
Putting lessons into practice
The lessons I learned in sports translate to my everyday life.
When I was younger, they helped me deal with having a disability in a healthier way and over time find better control over my emotions. I found a confidence in myself I did not previously possess, pushing myself to set goals I never would have even thought of previously.
This confidence helped push me to pursue and successfully complete law school, accomplishing my dream of becoming an attorney. The skills of discipline I cultivated through sports have been critical to my success in law school and in my career.
Knowing when to rely on others in my everyday life, much like teammates on the court, is an essential skill for life with a neuromuscular disease. Living with a progressive disease makes it difficult to keep a positive mindset all the time. Having friends and family to fall back on is critical to me when I am having a bad day.
Sometimes I remind myself that if I did not have a disability, I would have missed out on meeting all the wonderful people I have met through adaptive sports, including lifelong friends and my wife. Sports have done more than teach me life lessons; they have also given me the gift of family.
My experiences as an athlete impact my life in a positive way every single day.
Chad Wilson is a disability rights attorney with the Minnesota Disability Law Center. He still plays power hockey and power soccer.
Disclaimer: No content on this site should ever be used as a substitute for direct medical advice from your doctor or other qualified clinician.