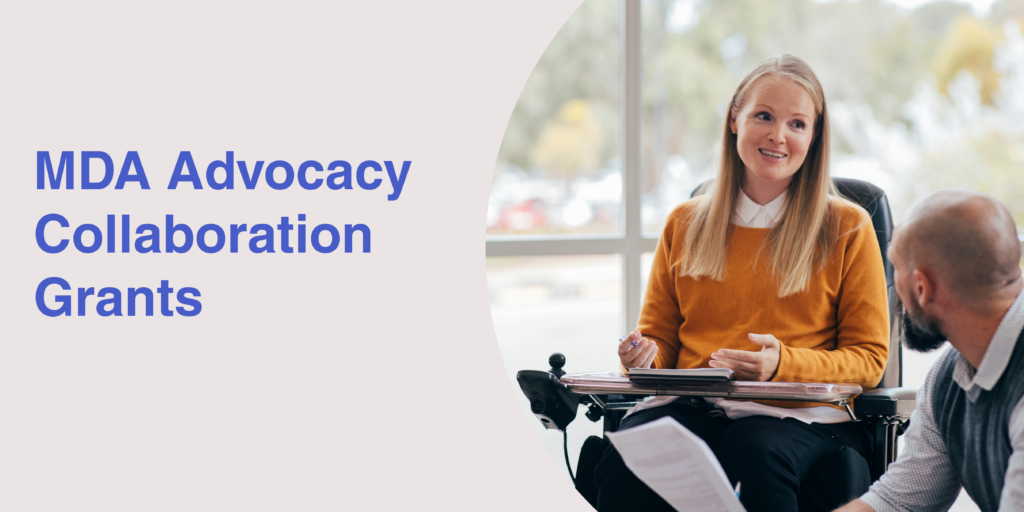 MDA Announces Advocacy Collaboration Grants Funding Opportunity
By Mark Fisher | Tuesday, August 23, 2022
There is so much to do to help improve the lives of the neuromuscular community and their families. Although MDA works tirelessly to change and improve public policy to truly empower those with neuromuscular diseases (NMD), we know that no single organization can "do it all." However, when multiple organizations and partners work together, that is when real change can happen.
That is why MDA is proud to announce the opening of the 2022 Advocacy Collaboration Grants Program, which seeks to fund innovative and impactful advocacy projects across the country.  
Interested in learning more? Below are some common questions and answers around this advocacy funding opportunity for both organizations and partners. 
What are these grants?
Advocacy Collaboration Grants promote and support key public policy and advocacy initiatives and projects in coordination with our fellow organizations and partners to help transform the lives of individuals living with neuromuscular diseases. In other words, if you or your organization have an idea to change public policy to help the NMD community, these grants might be a good fit.
What type of projects will this program fund?
The goal of the Advocacy Collaboration Grants program is to fund a wide variety of projects. Below are a few types of initiatives we are hoping to support: 
Non-partisan advocacy campaigns to achieve legislative and public policy victories for the NMD community at the federal, state, local level.
Vital research projects to provide much-needed data to further understand the experiences of the NMD community in order to further advocacy priorities.
Opportunities to convene stakeholders in the NMD community through in-person and virtual meetings, conferences, and other events.
Programs or toolkits to build, grow, and train NMD grassroots advocates.
Other innovative programs, campaigns, or initiatives that can measurably impact one or more of MDA and the collaborating organizations' common advocacy goals.
Who can apply?
Organizations, partners, and individuals can apply. As long as your idea helps the neuromuscular community through advocacy, you are eligible to take advantage of this program.
How much funding is available?
We aim to provide significant funding for each of these projects. While MDA doesn't anticipate funding any projects with more than $25,000, exceptions may apply.
How can you apply?
The program is open now and will accept applications until September 16th. Grant applications will be reviewed by a committee including representatives from MDA leadership, members of NMD community, and those in the research and clinician communities. 
Interested organizations and partners can go to www.mda.org/AdvocacyGrants for more information on how to apply.
How can I ask additional questions?
If you need any information, please reach out to advocacy@mdausa.org.
Disclaimer: No content on this site should ever be used as a substitute for direct medical advice from your doctor or other qualified clinician.