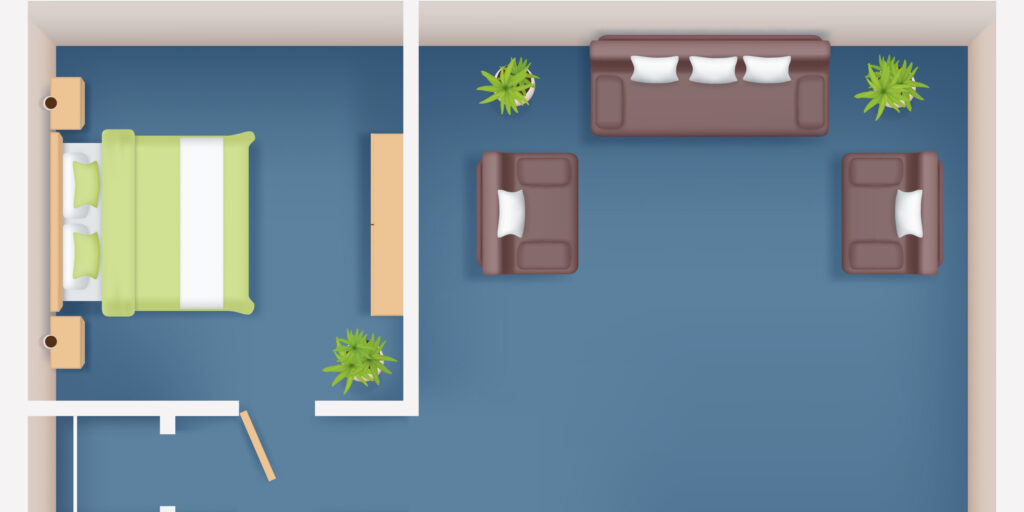 7 Budget-Friendly Accessible Home Mod Strategies
By Elizabeth Millard | Thursday, May 18, 2023
5 Second Summary
Small changes can make a big difference in home accessibility. Here, home remodel experts explain which modifications offer the most bang for your buck and how to look for funding.
Lorraine Woodward, 62, has remodeled four accessible homes and has learned a thing or two along the way.
As a mother who lives with limb-girdle muscular dystrophy (LGMD), Lorraine used to spend hours researching vacation homes for accessible features, so she could enjoy time with her family.
In 2021, she decided to take a different approach: Remodeling short-term rentals and founding Becoming rentABLE, an online accessible short-term rental resource that lists her own properties and many others. What she discovered in the process is that accessibility is sometimes achievable through small changes and thoughtful modifications.
"When people think about renovations that focus on accessibility, they tend to envision large-scale and expensive projects, but you can achieve quite a bit even on a modest budget," Lorraine says.
With that in mind, here are seven key home modifications and strategies to consider.
1. Use a Certified Aging-in-Place Specialist (CAPS) as your contractor
This specialization may sound like it's only for older adults, but they have extensive knowledge for people of all ages with mobility limitations, according to Anthony Persiani, a registered home improvement contractor and CAPS in Pennsylvania who often directs accessibility renovations.
"These professionals understand the unique needs of this population and, from a contractor's standpoint, know what modifications can be completed in a home," he says. "The CAPS professional contractor will be able to walk through your home to make appropriate recommendations for modifications that would be the most beneficial to your needs."
Call the National Association of Home Builders at 800-368-5242 for help finding CAPS in your area.
2. Start with the entry
Figuring out what needs to be done can feel overwhelming, so a good place to begin is outside, making sure you can get into and out of your home easily. Resurfacing a driveway or paving a walkway are possibilities, but Lorraine recommends first seeing if you can clear obstacles to create a smooth path to the house.
"Make sure the pathway to get into the house is free of rocks, shrubs, and other plantings," she says. "Also, keep in mind that your best entry might not be the front door. A garage door or back door could be easier to modify."
If one of these doors allows entry with a small ramp — or none — it may cost less to modify. She adds that a rubber threshold ramp can make a typical home entrance more accessible.
3. Add handles and grab bars
The fix that Woodward appreciates the most in her properties as well as her own home, is using lever-style door handles instead of traditional knobs. Her grip strength and hand movement are limited, and the levers are easier to grab and even allow her to open a door with her elbow instead.
Another mobility aid is grab bars placed in strategic locations around the house, not just in the bathroom. Anthony recommends putting grab bars anywhere they might help — for example, next to the bed to make it easier to get in and out of bed.
4. Relocate outlets
Bringing in an electrician to change outlets and light switches can be another boon for access. Outlets are usually located low to the floor, and light switches may be too high to reach from a
wheelchair. In kitchens, outlets and switches are often out of reach on the other side of countertops.
"In our properties, we tend to elevate floor outlets and lower switches so everything is reachable," Lorraine says. "In the kitchen, we put outlets and switches on the sides of cabinets. For a bedroom, focus on putting switches and outlets within reach of the bed." Smart home technology can be helpful for turning lights on and off, but it's best not to rely on the technology completely.
5. Focus on flooring
For people who use manual wheelchairs, walkers, or canes, thick carpets can be difficult to navigate and may increase injury risk. Throw rugs also can cause trips and falls. Lorraine suggests either replacing thick carpeting with a low-pile option or hardwood-style flooring. For example, there's a breadth of laminate flooring options that look like wood but are more affordable and durable.
In the bathroom, Lorraine opts for rubber utility mats, rather than fluffy bathmats, to prevent slipping. These mats are useful for other areas that might get wet, too — for example, in front of the
kitchen sink or in a laundry room.
6. Expand the toe kick
Kitchen cabinets usually have a "toe kick" at the bottom to make it easy to stand close to a sink or counter. But for those in a wheelchair, the standard toe kick area isn't enough. Expanding it may involve lifting the cabinets a few inches and making the toe kick deeper.
"Deepening that area to 8 inches or more allows you to get your knees closer to the cabinet," Lorraine says.
Consider picking a few cabinets for a contractor to modify in this way to make the kitchen more accessible overall.
7. Maximize bathroom space
The bathroom tends to be where Lorraine spends most of her renovation budget on each project, and that makes sense. Being able to shower, use the toilet, and do other hygiene tasks can be challenging in an inaccessible bathroom. Fortunately, products geared toward bathroom accessibility are becoming more affordable.
"When I needed to get an electric toilet lift 30 years ago, the price was out of this world," Lorraine says. "Now, you can get one for $800 in some cases. Those are game changers, so it's worth spending the money on a good one."
Other low-cost modifications she loves:
A tilting vanity mirror that pivots forward, so she can see herself while sitting
A floor shower caddy that fits in the corner to keep all her products in easy reach
Extra grab bars on walls in the main bathroom area, not just by the shower or toilet, so she can hold onto them while getting dressed
A freestanding toilet paper holder positioned close to the toilet because she doesn't have full arm extension
"Many times, seemingly simple and small changes like these can do so much when it comes to accessibility," Lorraine says.
Elizabeth Millard is a freelance writer in Northern Minnesota.
---
Where to Find Home Products
Some products mentioned in this article can help make your home more accessible without breaking the bank. Here are suggestions on where to find them:
Threshold ramps help mobility devices roll through doorways and over short rises. Find them at DiscountRamps.com.
Lever door handles are easier to open than doorknobs. Find them at DirectDoorHardware.com.
Grab bars can be placed anywhere they help with mobility, not just in bathrooms. Find them at GrabBarSpecialists.com.
Rubber utility mats help prevent slipping in areas that get wet, such as bathrooms and laundry rooms. Find them at Lowes.com.
Electric toilet lifts help users with lower body weakness to stand up. Find them at DignityLifts.com.
Tilting vanity mirrors can be positioned to see yourself while seated. Find them at Lowes.com.
A floor shower caddy is easy to reach while seated in the shower. Find it at ToiletTreeProducts.com.
A freestanding toilet paper holder can be positioned to allow you to reach it easily. Find it at HomeDepot.com.
---
Funding Home Modifications
Although there are many affordable home modifications, the costs can add up if you're making an entire home accessible, or if you're undertaking large-scale renovations. Medicaid home and community-based services waivers are a common way to receive financial assistance for home modifications. These services are offered through state-level programs that may provide funds to make home modifications affordable for people with disabilities or elderly individuals.
You can find the resources available in your area by reaching out to your local Chamber of Commerce, Area Agencies on Aging, or Center for Independent Living (CIL). (Find a CIL here.)
Your local CIL is the best starting point to assess if you qualify for waiver services, according to Rebecca Hume, a former Service Coordinator Supervisor for the Pennsylvania Medicaid waiver program who is now Senior Specialist and Writer for Quest Media. Rebecca also offers these tips:
Waiver programs are more likely to approve a home modification if you can show it will improve safety and accessibility in the home. Commonly approved modifications include stair lifts and ceiling lifts, for example.
Most waiver programs require a home assessment by an occupational therapist or home modification specialist to determine which changes will best meet an individual's needs. Then, a contractor should determine if these modifications are structurally feasible.
Most waiver programs allow modifications to rented properties if participants can confirm that they plan to stay in that residence for the foreseeable future and the landlord is willing to sign permission for the modifications to be completed.
Medicaid is considered a payor of last resort, so if other funding options are available, you should pursue those first. For example, veterans can qualify for federal grants that can pay for modifications through the US Department of Veterans Affairs (VA). Some communities have private organizations or nonprofits that offer funding for home modifications.
---
Next Steps and Useful Resources
Disclaimer: No content on this site should ever be used as a substitute for direct medical advice from your doctor or other qualified clinician.