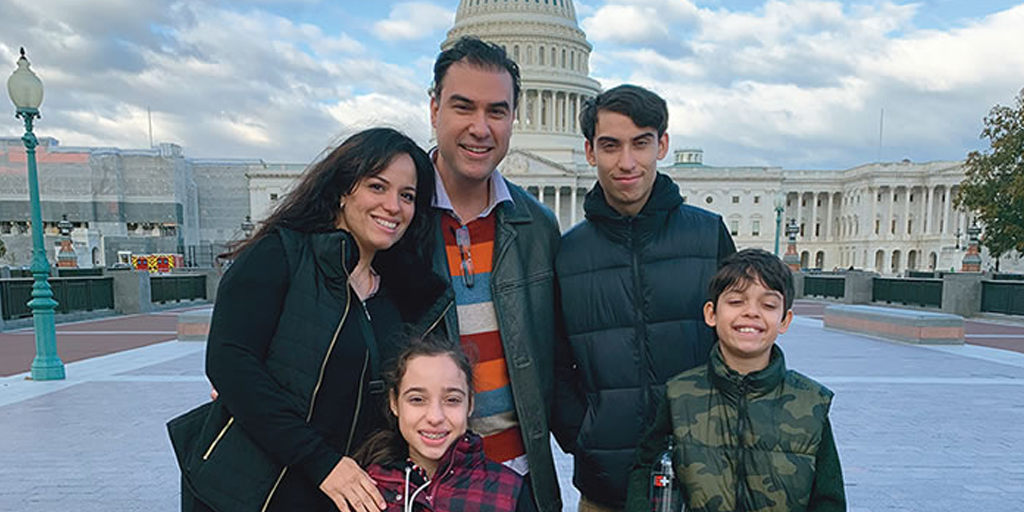 By Jaime Zelaya | Friday, May 15, 2020
Within our family of five, my daugh­ter and I have a neuromuscular disease called scapuloperoneal spinal muscular atrophy (SPSMA). I was born with this rare motor neuron disease, and our precious Leah inherited the same disease; however, this is not what makes us unique. What makes our family uncommon is our relentless dedication to accomplishing tasks collectively.
The call
Even though I had wonderful parents and a supportive sister, I faced many challenges growing up with SPSMA. I experienced dis­crimination, bullying, and ignorance. These challenges felt like mountains of disabling fear and clouds of stunning dread that affected my thoughts and emotions from my early childhood. In times of doubt and pain, my family guided me to resources that fortified my emotional and physical development. Among those resources were MDA Care Cen­ters, where I had surgery and physical therapy. Their medical care helped me understand and accept my disability. Nonetheless, as a young adult, I drifted away from MDA.
In 2000, I met Bevsi, my wonderful wife. Bevsi accepted me for who I was while embracing my disease with unconditional love. She also encouraged me to seek a deeper understanding of my disease through genetic counseling. After much hesitation, I com­pleted genetic testing and learned the name of my disease for the first time. With this knowledge, I began to realize the importance of advocating for those, like me, who need repre­sentation. I was empowered and felt an overwhelming desire to help those who cannot help themselves. At the same time, I didn't know which direction to take to fulfill the calling.
The mission
In 2007, our second child, Leah, was born. She was dazzling and wonderful, yet already faced with a host of challenges; she was born with SPSMA. From infancy and throughout her toddler stage, Leah faced difficult hurdles, such as multiple surgeries and arduous examinations. Her doctors informed us her physical development would be affected by the severity of her disease. These assessments made us feel discouraged and afraid, yet they strengthened our family's faith and taught us to persevere and solidify our calling. In particular, as Leah grew older, she shared my desire to aid people with special needs in the neuromuscular disease community. Sim­ply put, we esteemed others before our own needs.
To pursue our calling, we turned to the same resource that helped me develop as a person when I was young. MDA gave our family the opportunity to connect with other fami­lies facing similar hardships and obstacles. By engaging with an array of families, we were able to amplify our voice in advocating for their needs in our New York City communities.
The fulfillment
With a few years of local advocacy under our belts, our family was ready and able to take the next step. In 2017 and 2019, MDA invited us to advocate for families like ours in our nation's capital. The five of us went to Washington, DC, to meet with the US senators and representatives from New York. We teamed up with other families and visited the offices of Chuck Schumer, Kirsten Gillibrand, Yvette Clarke, and more. During these meetings, we shared our experiences as people with everyday physical challenges, and we asked senators to support legislation on newborn screening, healthcare reform, accessible air travel, and the Orphan Drug Act of 1983.
In Washington, DC, MDA saw the vital role our family played in advocating for families living with neuromuscular disease. We exhibited the power of a unified voice coupled with the love we have for each other. In addition, Leah's unique talent for public speaking has given her the opportu­nity to become New York State's MDA ambassador for 2020.
Advocacy has given Leah the confidence to flourish in other aspects of her life. She is part of a nonprofit organization called Dancing Dreams, where she learns to express herself through adaptive dance. She is also an adaptive skier, and she is making her acting debut in an upcoming feature film called "Marry Me," starring Jennifer Lopez and Owen Wilson.
Although we have been given many challenges to overcome, our family understands our calling, embraces the mission, and pursues the fulfillment to advocate for others and make the impossible possible by keeping it "all in the family."
Jaime Zelaya, 45, lives in Brooklyn, N.Y., with his family. With their help, he has been speaking about his journey to help others overcome bullying and discrimination.
Disclaimer: No content on this site should ever be used as a substitute for direct medical advice from your doctor or other qualified clinician.