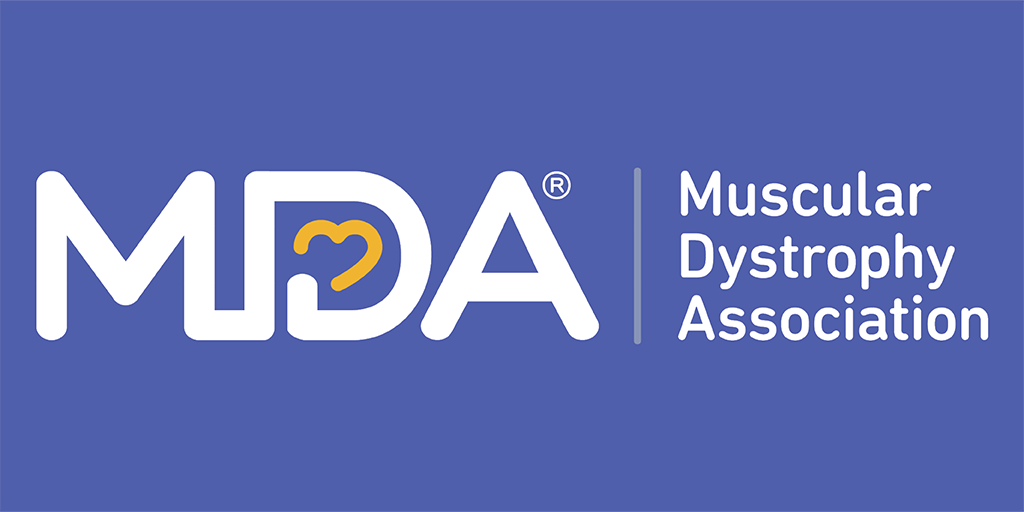 Canes Crutches and Walkers
By MDA Staff | Wednesday, October 31, 2007
More than 6 million Americans, including many with neuromuscular diseases, use mobility devices such as walkers, canes and crutches to assist them with getting around. The type of device people should use depends on how much assistance they require with weight support and balance. Deciding on the right device calls for expert consultation and some product comparisons.
Canes — which supply the least amount of support — are the most widely used mobility device, according to the National Center for Health Statistics. Some 4.8 million Americans rely on them. Walkers provide the greatest support, and are the aid of choice for 1.8 million citizens. Some 566,000 people use crutches, which fall in the middle of the support range.
When to get one
Jacqueline Montes, clinical coordinator and physical therapist at the Eleanor and Lou Gehrig MDA/ALS Research Center at Columbia University in New York, said, "Signs that assistive devices such as canes or walkers are needed could be poor balance or unsteadiness, leg weakness, trunk weakness, slower than usual pace and, most importantly, falls. A cane is the least supportive option and should be used when there is minimal balance impairment or very mild leg weakness.
"Walkers, specifically rolling walkers, are very supportive and are useful with balance impairments, leg or trunk weakness, and even respiratory insufficiency. Walkers without wheels and crutches are less useful in neurological diseases because they require very good arm and hand strength and minimal balance impairment."
A continuum of support
CANES





People with progressive neuromuscular diseases often find they require progressively more supportive mobility devices as time goes on. In selecting one of the three devices mentioned here (as opposed to a wheelchair), four factors need to be considered:
Effectiveness: How well the device enhances user independence in performing daily living activities.
Reliability: How well the device performs under repetitive use in the user's typical surroundings.
Ease of use: Access to grips and handles, comfort during operation, and ability to navigate surfaces of different textures and slope.
Economics: Purchase price and repair/maintenance costs.
General guidelines for selecting an appropriate mobility assistive device other than a wheelchair are:
Stability and balance mildly affected — single-point cane
Stability and balance moderately affected — four-point (quad) cane
Difficulty in climbing stairs: special stair-climbing walker
Weakness in both lower extremities — walker/rollator (a walker with wheels) or, in some cases, crutches
Stability and balance severely affected — walker or rollator
Hand or wrist impairment — forearm walker
Canes
So-called C canes are named for the shape of their grip, or handle. They're the most common, but not always the most comfortable. Some people prefer a flatter handle, sometimes referred to as a functional grip.
Most canes have a straight vertical shaft, but others, known as offset canes offer a straight shaft with a nearly U-shaped bend near the top. Offset canes allow the user to place more weight on them (up to about 25 percent of body weight).
The best way to determine which version is preferable is to put them all through their paces at a shop with demonstration canes available. Selecting the proper length is important, too. With the cane tip resting on the floor, the top grip should be about level with the user's hip joint (while upright) and the person's elbow flexed at about 20 degrees. But consult with a professional to be sure.
"Physical therapists are trained to identify walking problems and prescribe the most appropriate intervention," said physical therapist Jacqueline Montes. "Exercise, assistive devices and mobility training are their expertise."
Less common variations of the basic C cane design are:
folding canes that collapse into a Z-shape only 13 inches long, easy to store;
cane chairs incorporating a small seating platform with two extra legs that, with the cane, form a three-legged stool;
a four-legged combination of cane and walker (sometimes called a hemi-walker) for people who don't require a full-fledged walker, but need more support than a cane alone offers (photo 1);
the Pilot Rolling Cane (photo 5), which features four  casters (two mobile, two fixed), rubber-tipped cane, automatic hand brake, adjustable height and two extra handles for help when rising from a seated position; and
for those interested in a James Bond-like array of gadgets, Guardian Walking Assistant (photo 6). The functional grip cane features an LED flashlight; a magnet in the handle for picking up metal objects, including tools; a non-slip pad for resting on flat surfaces; and a grabber — steel prongs that extend from the cane tip to snare objects on the ground.
The bottom-end characteristics of canes can vary, too. Buyers can select one with:
a single rubber tip;
a wide flexible rubber triangular tipped base that flexes as the user walks (the AbleTripod, photo 4);
four rubber-capped metal tips (the four-point or quad cane, photo 3);
a variation on quad canes, the Pilot Step-Up Cane that features a platform on which users can step to easier climb curbs and stairs; or
add-on accessories such as metal tips for better traction on snow and ice.


CRUTCHES
Although quad canes offer the greatest degree of cane support, medical authorities say, those without wheels/casters can restrict the gait of the user and promote poor posture.
Combination cane and walker.
Strongarm cane with forearm bracing cradle.
Quad cane.
Able Tripod tip.
Pilot Rolling Cane has multiple features.
Guardian Walking Assistant features.
Crutches
Unlike canes, some crutches can bear 80 to 100 percent of the user's weight, but as with all mobility aids, it's essential that users know how the aid functions.
"A physical therapist should instruct the person how to use the device safely, including getting up and down curbs," said physical therapist Katherine Parker.
One common misconception about the most common type of crutch, the axillary or underarm variety, is that the user's armpit should rest directly on the crutch's padded top. Medical professionals sternly counsel against that positioning because continued upward pressure against the armpit can result in nerve damage.
Axillary crutches (photo 6) can be cumbersome because of their wide base in close quarters, and using them effectively requires considerable hand and arm strength. They're rarely prescribed for people with a neuromuscular disease that affects their upper body.
Non axillary forearm crutches (also variously called Canadian or Lofstrand crutches) can support 40 to 50 percent of the user's weight. Designed for people who need upper-body support, they have cuffs that wrap around the user's forearms beneath the elbow (photo 1) Handgrips are located near hip-joint level.
Although they can't bear as much of a person's weight as axillary crutches, the forearm variety are less cumbersome, and their cuffs keep the crutch in position if the user's hands need to be temporarily free for other tasks like opening doors.
Other much less common and special-purpose crutches include the triceps weakness (also called platform) crutch (photo 2) and one that combines aspects of axillary and forearm crutches (for people who have difficulty holding and controlling the crutch).
Newer on the scene, developed by CareBorne, is the SCBU (stabilizing crutch behind the user). It's basically an axillary crutch with an arm that extends vertically on the back of the crutch, behind the user's shoulder (photo 5). Manufacturers say these crutches permit users to stand more upright, rather than leaning forward; permit faster walking speed; and reduce muscle fatigue because arms are kept straight, instead of bent at the elbows.
Forearm crutch.
Platform crutch.
Thomas Fetterman telescoping crutch.
Fetterman folding crutch.
SCBU crutch.
Common axillary crutch.
Walkers
WALKERS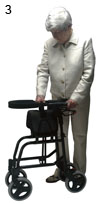 For people who have poor balance but are otherwise ambulatory, walkers may be the answer.
Some walkers have four rubber-tipped legs, and must be picked up off the floor to permit forward movement. Rollators have two, three or four wheels. Users grip the sides of the device, rest part of their weight on it and roll it ahead of them. Walkers offer the greatest degree of stability, compared to canes and crutches.
Walker downsides are that walking speed when using them is slow, and users may develop poor posture. Walkers often are limited to movement indoors, and users must be careful not to take overly long steps that could lead to imbalance and a fall. A similar hazard can occur if a person pushes a rollator out too far forward and loses control of it.
Variations on the basic walker configuration include the forearm support walker, for those with limited hand and wrist strength, and the reciprocal walker whose swivel joints permit the right and left sides of the walker to move alternately back and forth, allowing for more of a normal stride. Others can be folded for ease of storage.
Specially built stair climber walkers are available, but require upper body strength to operate.
Apart from a few differences in design, walkers vary primarily in accessories and amenities. Those can include hand brakes (particularly on four-wheeled walkers); seats; cargo baskets; and swivel wheels that facilitate changing direction of movement.
Whatever the final combination of walker features a buyer may select, advance consultation with medical professionals and training in use of the apparatus is imperative.
"The physical therapist is the one who should choose which is the best option for the person, depending on their situation," said physical therapist Katherine Walker.
Two-Wheeled rollator.
Three-Wheeled rollator with hand brakes and storage.
Folding rollator with seat.
Four wheels, brakes, seat and storage.
Why get one?
Why should people with lower extremity weakness caused by neuromuscular diseases elect to stay upright and ambulatory when they could just as easily elect the wheelchair option?
First may be a logical desire to be able to see others at face level, eye-to-eye. Second, some people feel they would be "giving in" to their disease if they switched to a wheelchair. They equate walking, even if assisted, with continuing to fight back.
Montes concurs with that assessment. "The use of equipment or mobility aids, including a wheelchair, is emblematic of disease progression. People are understandably resistant to using them."
That's not always the case, though. Katherine Parker, physical therapist with the Children's National Medical Center in Washington D.C., said, "I tend to see the population with neuromuscular diseases going to a wheelchair when they can still walk with assistive devices because it is easier and less energy costly. It is also faster, so they can keep up with their peers better."
She notes that walking and exercise in general can build endurance and cardiovascular health. "There are also bone-building benefits for a growing child," she said. "The compression and forces through bone when you are walking help build bones and make them stronger."
"Walking is not only functional; it is exercise," Montes said. "The benefits of exercise include maintaining mobility, improving or maintaining function, improving the ability of weak muscles to utilize energy, improving blood flow to muscles, improving endurance and improving sense of well-being."
For some people whose disease is stabilized or progressing very slowly, that can mean that using a cane, crutch or walker — or gradually shifting among those devices as more support is needed — are viable options for years.
That being said, it's not uncommon for those who have moved on to wheelchair use to exclaim, "Wow! I should have done this long ago!" That decision is one that should be driven in part by consultation with a medical professional/physical therapist, but also by a person's personal awareness of whether canes, crutches and walkers are still effective. It's not purely an either-or situation. A person may find that alternately using a wheelchair and a cane/crutch/walker is an option, depending on the distances to be walked.
Resources
Access Product Marketing
Suite T-50
3780 Mansell Rd.
Alpharetta, GA 30022
(866) 321-HUGO (4846).
www.hugoanywhere.com
AliMed
297 High St.
Dedham, MA 02026
(800) 225-2610
www.alimed.com
Canes Galore
1008 Willow Ridge Road
Troy, VA 22794
(800) 346-6400
www.canesgalore.com
Coakley Cane Co.
7520 Connelley Drive
Hanover, MD  21076
(866) 358-6350
Coopers of England
1037 W. Gregory Boulevard
Kansas City, MO 64114
(800) 808-5751
Dana Douglas
10-155 Collonnade Rd.
Nepean, ON  Canada K2E 7K1
(800) 267-3552
www.danadouglas.com
Drive Medical
99 Sea View Boulevard
Port Washington, NY  11050
(877) 224-0946
www.drivemedical.com
Full Life Products
Suite 102
300 W. Route 38
Moorestown, NJ 08057
(866) 385-5543
Graham-Field Health Products
2935 Northeast Parkway
Atlanta, GA 30360
(800) 347-5678
Invacare Corporation
One Invacare Way
Elyria, OH 44035
(440) 329-6000
www.invacare.com
Keen Mobility
Suite 200
733 SW Oak St.
Portland, OR  97205
(866) 330-5336
www.keenmobility.com
L.A. Care Industries
P.O. Box 370454
West Hartford, CT  06137-0454
(888) 988-2263
www.abletripod.com
Merits Health Products
730 N.E. 19th Place
Cape Coral, FL 33909
(800) 963-7487
www.meritshealth.com
Millennial Medical
Suite B
1351 East 700 North
Logan, UT 84321
(877) 753-5556
www.millennialmedical.com
Nona's Canes
Yukon, OK
(405) 245-9307
Parsons ADL
RR2 1986 Sideroad 15
Tottenham, ON  Canada L0G 1W0
(800) 263-1281
www.parsonsadl.com
Sirius Comfort Body
736 Foster Avenue
Bensenville, IL 60106
(630) 787-0154
www.comfortbody.com
STRONGARM Mobility
Suite 3209
13000 W. Heiden Circle
Lake Bluff, IL 60044
(888) 482-1569
www.strongarmmobility.com
Sunrise Medical
7477 East Dry Creek Parkway
Longmont, CO 80503
(800) 333-4000
www.sunrisemedical.com
Thomas Fetterman
1680 Hillside Road
Southampton, PA  18966
(888) 582-5544
Walk Easy
Suite 204
601 N. Congress Ave.
Delray Beach, FL 33445-4627
(800) 441-2904
www.walkeasy.com
Disclaimer: No content on this site should ever be used as a substitute for direct medical advice from your doctor or other qualified clinician.