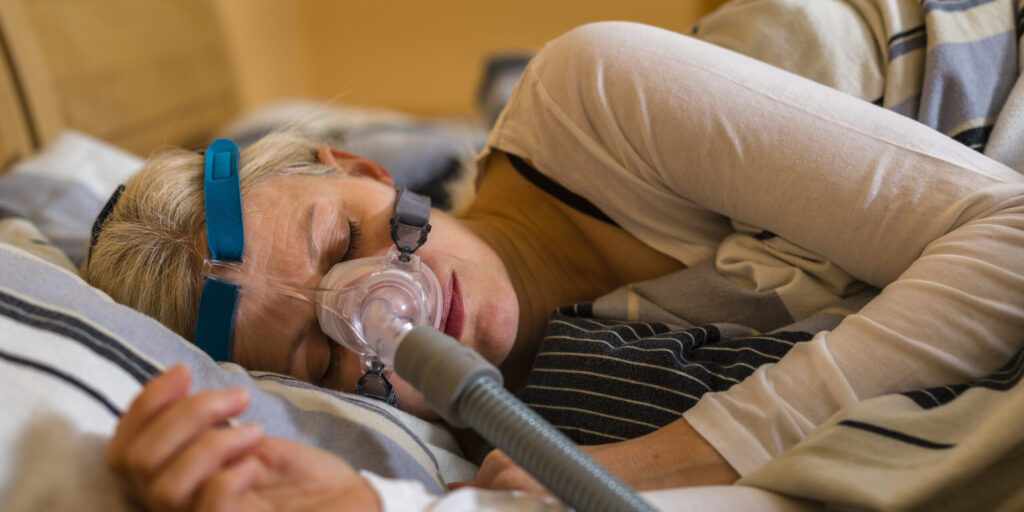 NIV Masks: Finding the One That's Just Right
By Kathy Wechsler | Friday, February 29, 2008
Once upon a time, there was a young woman named Goldilocks. She went to visit her MDA clinic for an appointment with a respiratory therapist (RT) because her doctor said she needed help to breathe better.
Goldilocks was going to try on a variety of noninvasive ventilation (NIV) interfaces and find the one that was just right.
An interface is the equipment that delivers air from a ventilator into the body. Some models fit over the mouth and nose, some fit just over the nose or just over the mouth, and some fit inside the nose or mouth.
Some masks are designed for use only with volume ventilators and others for bilevel positive airway pressure vents (often called BiPAP, a registered trademark for Respironics), or CPAP vents.
"Noninvasive" means no surgery is needed to deliver ventilation, unlike a tracheotomy in which air is delivered through a surgical incision in the neck.
Goldilocks' RT told her there's an interface for everyone. Even if a person has an oddly shaped face, the RT can use foam or tape to build up one side of the mask.
A perfect fit is very important, because it affects a person's comfort level and skin composure and determines whether or not the interface will do its job of providing ventilation.
Here's what Goldilocks learned about finding and fitting the perfect interface.
Nasal masks
This type of interface requires breathing through the nose and keeping the mouth closed. A chin strap can be worn with the nasal mask to help accomplish this, if needed.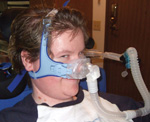 A correctly fitting nasal mask extends from the bridge of the nose to the bottom of the upper lip without touching the sides of the nose or going above the top of the mouth.
Margaret Jo "MJ" Purk of Fairborn, Ohio, has type 1 spinal muscular atrophy (SMA1) and has been using NIV since she was 8 years old.
Purk, 20, has tried many types of interfaces and nasal masks are among her favorites because they're comfortable and leave her mouth free to eat or talk.
At night she wears a Mirage Vista nasal mask from ResMed, and during the day she switches between a ComfortCurve nasal mask by Respironics and a mouthpiece (more on this type of interface later). The ComfortCurve is shaped so that it doesn't obstruct her view, allowing her either to read or use the computer, while the Mirage Vista mask is more comfortable for sleeping.
Oral masks
These are a good option for those who breathe through their mouths. Oral masks can be used with or without headgear, and have a flap that goes in front of the teeth and another flap that goes outside the mouth. The inner flap is enough to hold it in place during the day, but at night, an oral mask requires a strap around the head to keep it in place.
Michael Munn of Benson, Ariz., uses an Oracle 452 oral mask by Fisher Paykel during the day and at night. (At bedtime, Munn, 62, sometimes switches to an Ultra Mirage Activa nasal mask from ResMed.)
"The oral mask allows me to wear my glasses and is very easy to take in and out of my mouth in order to talk with people or to eat," says Munn, a retired missile defense scientist who has limb-girdle muscular dystrophy.
A correctly fitting mask covers the entire mouth. To ensure a proper fit, it's important to find an inner flap that fits your mouth. The mask has an adjustment knob for changing the separation between the inner and outer flaps.
Full face masks
For those who breathe through both the nose and mouth, full face masks are the way to go. Their breathing flexibility makes them a favorite for nighttime use, says Jennifer Armstrong, a registered nurse at MDA's clinic at Northwestern University in Chicago.
Some full masks reach from the bridge of the nose to the bottom of the mouth and others reach from the nose bridge to below the chin. Still, others cover the entire face including the eyes. Full masks distribute the pressure over a wider area, which can mean less skin irritation.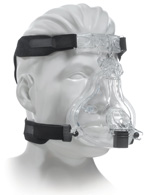 While some feel more claustrophobic with a full mask, others prefer them to nasal masks with chin straps because they don't want their mouths held shut. Full masks also are better for people with mustaches, which can interfere with getting a tight seal.
Another type of full mask is a combination of an oral mask and nasal pillows (explained below). This combo works better for those who get claustrophobic with a regular full mask, and can offer more freedom.
"The first [full] mask that was provided for my mom didn't allow her to wear her glasses," says Patty Fuhry of St. Louis, whose mother died in 2007 from ALS (amyotrophic lateral sclerosis). "She was an avid reader, read about four to five books a week."
Fuhry searched the Internet and found the Hybrid mask from RespCare. It covers the mouth and the unobtrusive nasal pillows allow for glasses use.
"She preferred this over the original mask," Fuhry said. "It made me so happy to make her happy."
Nasal pillows
John Morrina, a consulting RT for the Kessenich Family MDA/ALS Center at the University of Miami Medical Center, says he prefers nasal pillows because they're easier on the skin and offer more freedom than a full mask. They're also easier to put on independently and to care for. Depending on the choice of headgear, glasses often can be worn while using nasal pillows.
It's important to get the right fit by matching up the size of the nasal pillows with the size of the nostrils. They should fit inside the nostrils, and not overlap or get lost inside the nose.
Nasal pillows aren't appropriate for everyone. Users must be able to breathe through their noses and keep their mouths closed (a chin strap can help).
It's also a matter of personal preference. While many enjoy the relative freedom of this small interface, Purk found she didn't like them.
"They felt like macaroni up my nose," she says. "I'm very particular about my masks — I don't like anything that goes up my nose, or any bars on my forehead."
Mouthpieces
If breathing through the mouth is desired, an option would be a mouthpiece, which is similar to sucking on a straw. There are different mouthpiece options, said Diana Guth, owner of Home Respiratory Care in Los Angeles. Mouthpieces can be bought off the shelf or custom made. Some people use a small angled mouthpiece; others prefer using an endotracheal tube (used for temporary ventilation, such as during surgery) or saliva ejectors, which are used by dentists for suctioning.
A mouthpiece works best when a person has muscle control of the lips and tongue, says Angela King, an RT and pulmonary function tech who's vice president of clinical services for Minneapolis-based Pulmonetic Systems, a ventilator manufacturer owned by Cardinal Health.
Mouthpiece interfaces are used with volume ventilators, not BiPAP-type vents.
King prefers a mouthpiece to other NIV interfaces because people can take breaths whenever they want, which makes talking and eating possible. It's also easier to find a comfortable mouthpiece than it is to find a comfortable mask.
The mouthpiece hooks to a stand or arm that holds it near the mouth at a variety of angles. It can be worn at night with a strap that holds it in place.
People like mouthpieces because they're hardly noticeable, says King. They can be washed with soap and warm water, put in the dishwasher or simply thrown away.
For her mouthpieces, Purk buys bags of 100 disposable saliva ejectors and uses a clean one every day. She can bend the saliva ejector however she wants and it will stay in place.
Headgear
Other than the mouthpiece, most NIV interfaces are held in place with headgear, which are flexible, adjustable and available in different styles and sizes for individualized comfort and function.
Some find strap-style headgear most comfortable, Guth wrote in an article for the quarterly newsletter Ventilator-Assisted Living (Fall 2005). Strap-style headgear can provide from two- to five-point connections, depending on the design of the mask/headgear combination. Most straps are fastened with Velcro, buckles or clips.
People with limited hand dexterity often prefer headgear with elastic straps so they can pull the mask on and off instead of fastening clips.
Medicare will replace masks every three months but will replace headgear only every six months.
"Unfortunately, the headgear frequently wears out before the mask," says Guth.
This mask is too tight
A mask should not fit so tightly that it causes long-lasting redness. Over time, the redness will turn into blisters and skin breakdown. Eventually, the blisters will become infected, ending in a painful callous that won't go away.
"There are people who put their masks too tight, and they have the mark of the mask on their face in a callous form," says Morrina, who's been a RT for 30 years.
The trick is to not let it get that bad. Morrina suggests seeing your RT at the first sign of redness. The RT may suggest using some kind of cream or ointment such as Calmoseptine Ointment to treat skin irritation and prevent further breakdown. It's available from pharmacies without a prescription.
Another RT-recommended approach is the use of Duoderm, a foam-like dressing bought at drug stores to put around the skin where the mask fits, so it doesn't cause blisters.
For those who require full-time ventilation, Morrina recommends alternating between two different types of interfaces for daytime and nighttime use.
"You have to give your skin a break, because if not, it will get irritated and you'll start getting breakdown," he says.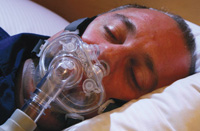 If the patient can tolerate nasal pillows, Morrina suggests using them throughout the day and wearing a mask at night.
MJ Purk, who uses a nasal mask at night and a different brand of nasal mask or a mouthpiece during the day, knows first hand the importance of alternating between interfaces.
"I get skin breakdown around my nose if I wear the mask for more than overnight," she says. "When I was in the hospital recently, I was using my mask 24/7, so I got breakdown because I wouldn't take a break for more than a few minutes to cough."
This mask is too loose
A mask that's too large or too loose can't give proper ventilation because the air leaks out. Air leakage also can cause eye dryness. Newer ventilators monitor when air is leaking and alert the user.
"It's like anything: If it doesn't fit correctly, then it doesn't work right," Morrina says.
However, masks with an air-cushion type interface don't need to be tightly strapped to be low leakage, says Mike Munn. The cushion material is inflated by air and then contours to the face. Very loose straps are all that's needed. Gel-type cushions usually require tighter straps.
This mask is just right
NIV interfaces must be comfortable or people won't use them, Morrina notes.
It may take time and many trials, but like Goldilocks and her RT, you'll find the one that's right for you.
"To do this correctly, a respiratory therapist will evaluate you for the need of noninvasive equipment, they'll make sure you have the right-fitting [NIV interface] and they'll be sure to teach the family how to adjust it correctly," sums up Morrina.
"That would be ideal."
---
Resources
Goldilocks tried NIV interfaces from respiratory equipment manufactures including Cardinal Health, Fisher & Paykel Healthcare, Hans Rudolph, InnoMed Technologies, Invacare, Puritan Bennett, ResMed, RespCare, Respironics, Sunrise Medical and Ventlab Corporation.
Cardinal Health (owner of Pulmonetic)
(800) 582-7458
www.cardinalhealth.com
Contour Products
(800) 950-0230
www.contourliving.com
Covidien (manufacturer of Puritan Bennett products)
(800) 635-5267
http://respiratorysolutions.covidien.com
Fisher & Paykel Healthcare
(800) 446-3908
www.fphcare.com
Hans Rudolph
(800) 456-6695
www.rudolphkc.com
Hudson Industries
(800) 343-8112
www.cpapsupplyusa.com
InnoMed Technologies
(800) 200-9842
Invacare
(800) 333-6900
www.invacare.com
Pulmonetic
(866) 752-1438
www.pulmonetic.com
ResMed
(800) 424-0737
www.resmed.com
RespCare (a sister company of InnoMed Technologies)
(888) 280-6607
www.respcare.com
Respironics
(800) 638-8208
www.respironics.com
Sunrise Medical
(800) 333-4000
www.sunrisemedical.com
Talk About Sleep
(866) 657-5337
www.papillow.com
---
Next Steps and Useful Resources
Disclaimer: No content on this site should ever be used as a substitute for direct medical advice from your doctor or other qualified clinician.