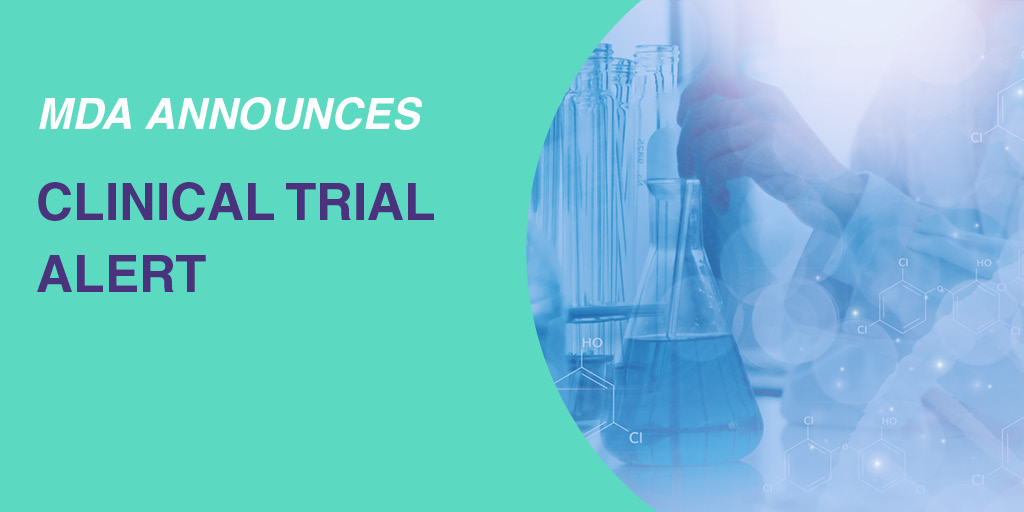 Clinical Trial Alert: Brainstorm Cell Therapeutics Seeks Participants for a Phase 3 ALS Study
By MDA Staff | Wednesday, January 16, 2019
Researchers at Brainstorm Cell Therapeutics are looking for participants with amyotrophic lateral sclerosis (ALS) to participate in a Phase 3 study designed to help researchers evaluate the effects of mesenchymal stromal stem cells secreting neurotrophic factors (MSC-NTF cells) on disease progression in patients with ALS.
In ALS, motor neurons degenerate or die, and stop sending messages to the muscles, which gradually weaken and waste away. MSC-NTF cells are autologous (the patient's own) cells harvested from the bone marrow in an outpatient procedure. The cells are cultured to secrete higher levels of neurotropic factors — chemicals that protect neurons. The cells are back-transplanted into the patient intrathecally by standard lumbar puncture, where they can potentially benefit the health and survival of neurons and therefore slow the progression of the disease.
Participants will be randomized to receive either MSC-NTF cells or placebo to determine whether the treatment is associated with slowing the rate of the disease as measured by the revised amyotrophic lateral sclerosis functional rating scale (ALSFRS-R).
The study will consist of 14 visits total approximately four weeks apart: a screening period (five visits), a treatment period (six visits) and a follow-up period (three visits). Throughout the study, participants will continue to see their regular doctor for routine care.
In order to be eligible to participate, adults (18-60 years old) must:
Be diagnosed with clinically possible, clinically probable, laboratory-supported probable or clinically definite ALS, or familial ALS according to EL Escorial revised criteria
Have a disease duration from symptom onset of 24 months or fewer
Have an ALSFRS-R ≥25 and erect slow vital capacity (SVC) ≥ 65 percent at screening
Decline in ALSFRS-R total score of three or more points in the three months before randomization
If taking riluzole, have a stable dose or have not taken riluzole for 30 days prior to first visit
Meet additional study criteria
To learn more or to inquire about participation visit https://clinicaltrials.gov/ct2/show/NCT03280056 or the Brainstorm Cell Therapeutics website at http://www.brainstorm-cell.com/patients-caregivers/clinical-trials/.
Disclaimer: No content on this site should ever be used as a substitute for direct medical advice from your doctor or other qualified clinician.