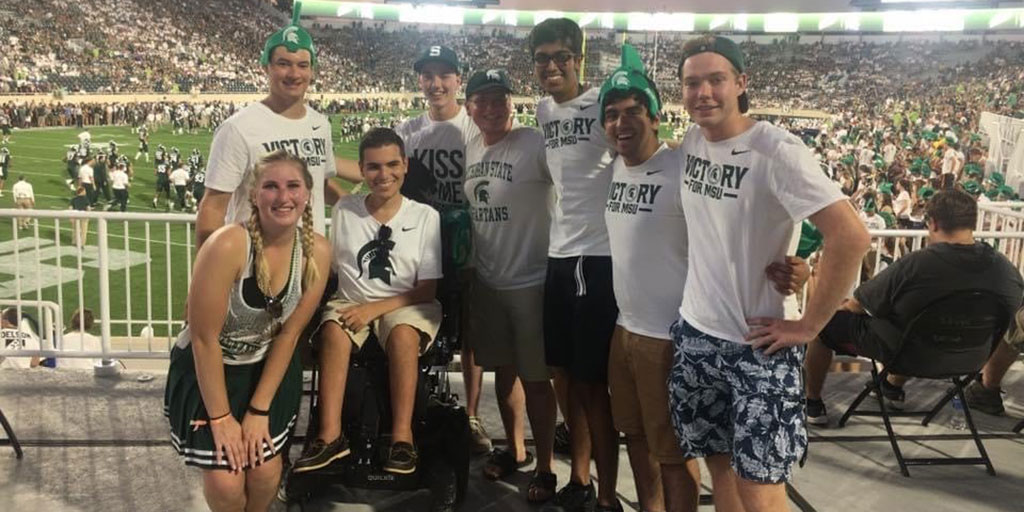 Creating a Network: How Hiring PCAs Gave Me Confidence and Independence, In College and Beyond
By Josh Cueter | Thursday, August 6, 2020
Josh Cueter, 22, from Troy, Michigan, is a 2020 graduate from Michigan State University.  At school he was a board member of the MSU Adaptive Sports & Recreation Club as well as MSU's Council of Students with Disabilities.  After a semester internship with the Equal Employment Opportunity Commission in Washington, DC, Josh is currently working for United Shore as a mortgage underwriter.
August is SMA Awareness Month — and also a time when many start planning for another year of school. After graduating from Michigan State University in May, this fall will be the first time I'm not making those plans. Looking back at the past five years at MSU, reflecting on how I was able to accomplish the goals I have set for myself so far, I look at not only my academics, clubs, or internships but the people who have encouraged and supported me to get to where I am today.
Growing up with spinal muscular atrophy (SMA) type 3, I was fairly independent, being able to walk until I was 13 years old. By the time I was on my way to college, I was fully dependent on my wheelchair and needed assistance with most daily tasks. Only needing major assistance for a few years, I had help from my parents, and leading up to my move into the dorms was the first time I realized that, outside of MDA Summer Camp, this would be the first time I would have to rely on strangers to help with my personal care needs.
My family and I spent the summer talking with many people in the MDA community who attended college and were in my shoes. From the good stories to the bad stories, everything that was shared with us was a huge help when initially applying for the necessary services needed for me to be able to live independently. Those included the county health services that fund most of my care, the Department of Health and Human Services and Social Security benefits that help cover more of my personal care, and the state's rehabilitation services that provide support directly related to college and work. Understanding all of these different services and how to apply to maximize what I would be awarded was important to learn. But another crucial piece of the independent living puzzle, a strong network of personal care attendants (PCAs), can also help people living with neuromuscular disease be successful.
Looking back, MDA Summer Camp turned out to be one of my most important resources growing up.  While it was a week of fun I looked forward to every year, it also gave me a taste of what is was like to have someone who wasn't one of my parents help me with my daily needs, preparing me for what life would be like once I moved away from home. It also helped jumpstart my search to create my network of PCAs by connecting me with a number of counselors who not only lived close to campus but also would be enrolled at MSU while I was there. 
Finding support
New to most of this, my parents and I continued the PCA search at the university. I posted a job on the student job board hoping to find some students who would find the job as an interesting resume builder, and it worked. I was able to find about six people who we ended up interviewing, but unfortunately most were interested only in lighter duties, like helping me to class. One guy was a graduate student and had been a PCA before, so he looked to be perfect, but he was asking for more money than we could offer on government resources. By the end of the interviews, we ended up hiring two people: one student who was a pre-med major to help me out during the days and one nursing student who was able to work nights. While we didn't find as many people as we were hoping from the job post, these two helped me out more than I could have ever asked — and they stayed with me until they graduated. 
In total during my freshman year, I had four people working for me. My schedule was stretched thin sometimes, but it worked. It was as the year went on and I met new people through classes, clubs, and hanging out with some of my PCAs at the time that I was able to find more people who were interested in working with me. Instead of cold-calling university departments and posting job ads everywhere, I was able to search for my staff more casually. Hiring people who I considered friends did mean I lost a sense of professionalism with them that sometimes could have helped in situations, but those relationships were what helped me have that "college experience." From going to a tailgate or bar to a movie or a sport event, or even just hanging out at someone's apartment, I could enjoy those events with friends, and if I needed help with something, they were there.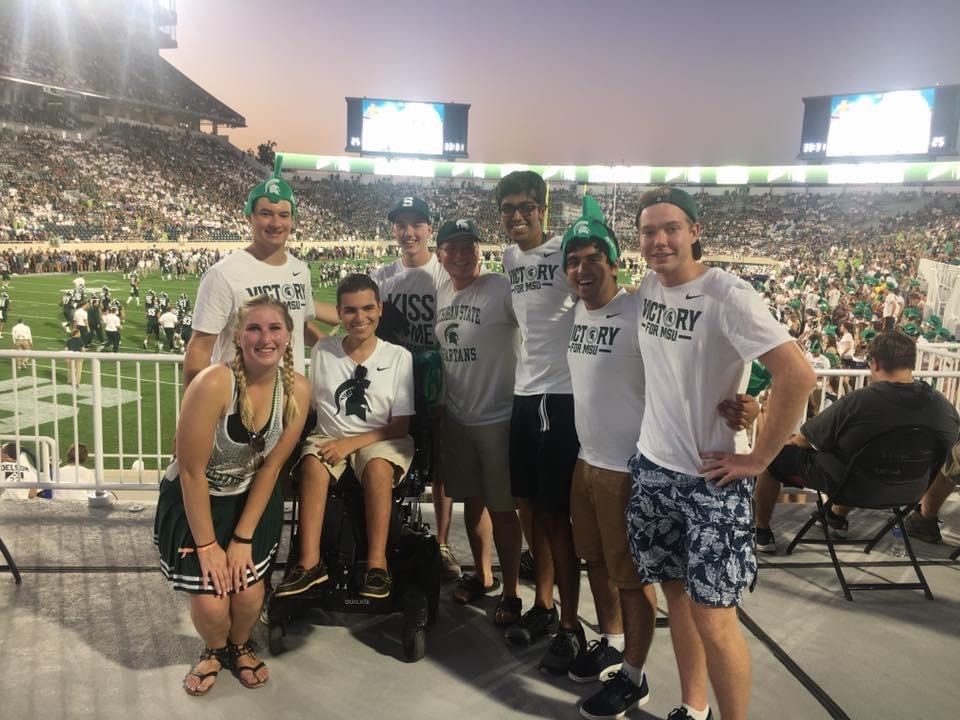 New horizons
Creating this network of PCAs didn't just help with the fun around campus. It also helped give me confidence in interviews for jobs and internships, local and out of state. From hiring to training to budgeting and scheduling, the creation of my care network has many similarities to running a small business, giving me something to point to on a sparce college resume. My network gave me the confidence to take an internship in Washington, DC, for a semester and rebuild a whole new network in DC.
As important as it is to take advantage of all the resources our government has set in place, it is the work that PCAs do that makes those resources useful. PCAs are the backbone of our independence, and if it weren't for their generosity and care, I would be telling a different story about these past five years. From business to friends to life now after college, my experiences with personal healthcare have helped me become who I am today.
Disclaimer: No content on this site should ever be used as a substitute for direct medical advice from your doctor or other qualified clinician.