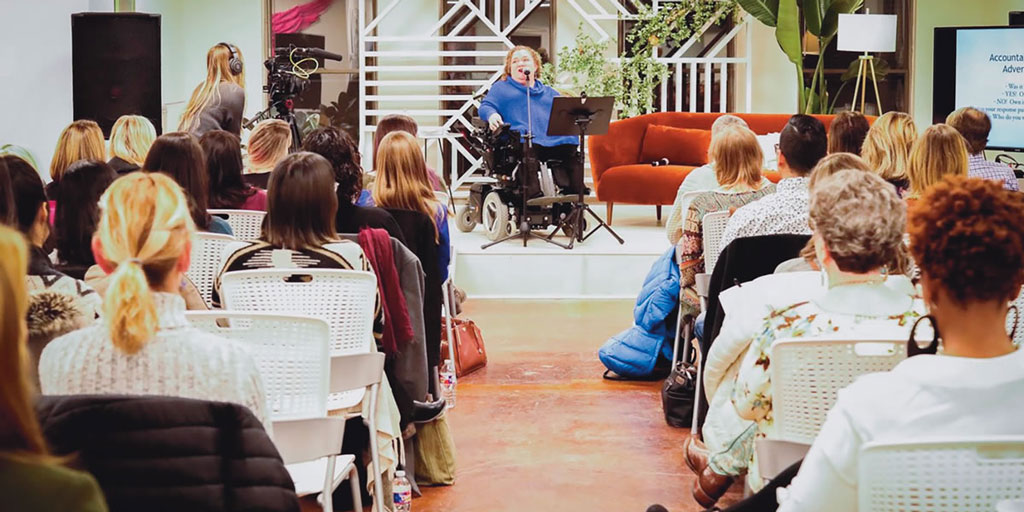 By Mindy Henderson | Tuesday, February 23, 2021
When I Google the definition of the word "disability," this is what is returned: a physical or mental condition that limits a person's movements, senses, or activities. Period. End of story. That's all they have to say about that.
But I have my own definition of disability. I define it as an opportunity to learn or heighten skills like positivity, determination, problem-solving, and about a billion others. It is a differentiator. (Who wants to be like everyone else, anyway?) It is an opportunity to do hard things and show the world the ease with which you can pull them off. It is an opportunity to laugh at the surprising and ridiculous things that occur daily. And it is a tool you can employ — just by existing and being who you are — to impact people around you with lessons on compassion, kindness, and open-mindedness.
I like my definition better.
Early lessons
I was diagnosed with spinal muscular atrophy (SMA) type II when I was 15 months old. In 1975, when that diagnosis was handed to my parents, it was a death sentence. They were told I would not live to be 3 years old. They were told there was no treatment, no cure, and nothing they could do to make it better. But my parents didn't give up. They continued talking to medical professionals and chased the diagnosis all the way to the Mayo Clinic, where a doctor finally agreed that physical therapy could be helpful. And guess what? It was. Forty-five years later, I'm still here.
Obviously, I was too young to understand what was happening at the time, but I grew up hearing this story. My parents became my first examples of having hope in the face of what seemed like a hopeless situation. The way they approached those early days set the tone for my life. Always, always have hope, and always try, no matter what.
Fast-forward a lot of years. (I was going to say a few years, but who would I be kidding?) I went to college, earned a master's degree, sang on national television, recorded music, learned to drive a car that looks like NASA built it, got married, and adopted a daughter from a country that initially said my disability made me unfit. Along the way, my progressive disease threw me curveballs and tried to make me believe that I could not, in fact, achieve the goal du jour.
But here is what I find interesting: The very thing that made my life and achieving my goals difficult also gave me exactly what I needed to accomplish my goals. Determination. Patience. Humor. Project management and problem-solving skills. An aversion to the word "no."
Life lessons
Two years ago, I was laid off after a 20-year career in high-tech. I started this career fresh out of college, working in a junior role and ending in a managerial position where I led an international team to develop a new function for my company, then I built the team and managed the department.
Because of my deep experience, I wasn't worried about getting another job at first. But 10 months later, I was worried. I'd applied for almost 400 jobs and had gotten deep into the interview process for a lot of them.
I can remember the moment — the actual moment — when everything changed.
That day I got news from another company about another job for which I'd thought I was a shoo-in informing me that they had selected a different candidate. I sat in my bathroom looking in the mirror and listening to my thoughts. They weren't pretty. They were not the positive, optimistic thoughts I was used to, and it scared me.
Then it hit me: I had a choice. In that moment, I could become the very worst version of myself — angry, bitter, and frustrated, blaming everything and everyone I could think of. Or I could use my skills to write a book about overcoming adversity — while sitting in a big, fat pile of adversity.
I chose the latter. Now, I have a literary agent and a nonfiction book proposal that we are shopping to publishers. Over the years, I did a lot of public speaking on behalf of MDA, and I loved it. Now, I work as a motivational speaker, health/accountability coach, podcaster, and guest contributor to the "Morning Motivations" segment on a local lifestyle TV show. My goal in all my endeavors is to teach others to navigate their own adversity well, to stop making excuses, and to see possibilities instead of limitations.
Finding a superpower
What happens to you in life need not have the final say unless you let it. We are capable of doing and enduring so much more than we let ourselves believe. Maybe it's because we are afraid to acknowledge how much we could actually do if we put our minds to it. But, you see, I believe that a negative mindset can actually be far more disabling than what any wheelchair represents.
In my opinion, it's not what happens to you in life that matters, but how you respond to it. Don't like the way the world tries to define you? Write your own definition.
I believe that, if we look through the right lens, our biggest challenges can become our greatest advantages. They may call it a disability. I call it my superpower.
Mindy Henderson, 47, is a former MDA State Ambassador for Texas and Florida. She has a daughter in college and lives with her husband, Michael, in Austin, Texas. Connect with her @mindyhendersonspeaks on Instagram, visit mindyhendersonspeaks.com, or listen to her podcast, "The Truth About Things That Suck."
Tell Your Story
Sharing your journey can be daunting, but it can make a world of difference to someone going through similar struggles. If you'd like to share your story with Quest, email us at quest@mdausa.org.
Disclaimer: No content on this site should ever be used as a substitute for direct medical advice from your doctor or other qualified clinician.