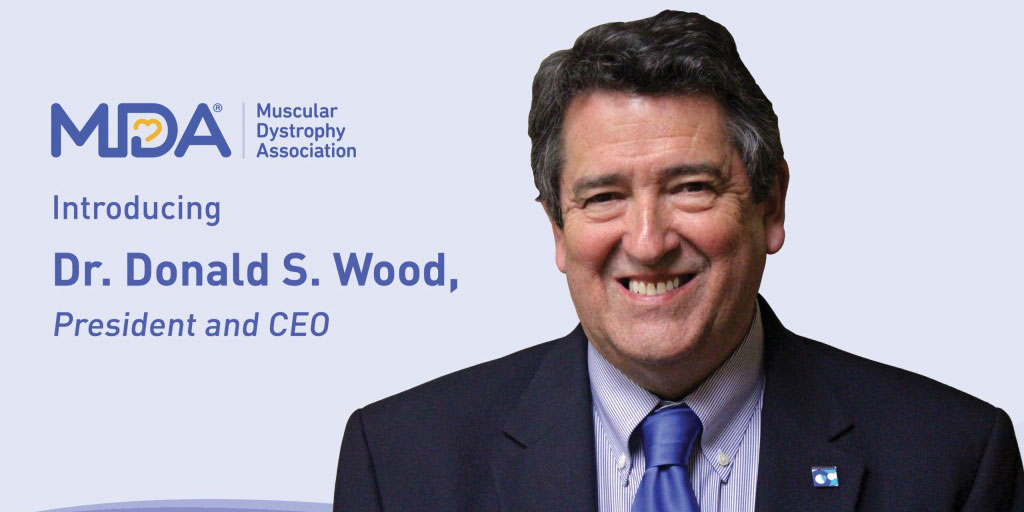 MDA Welcomes Dr. Don Wood as its New President and CEO
By Nancy Intrator | Tuesday, February 16, 2021
Steve Jobs said, "The only way to do great work is to love what you do." And MDA's new president and CEO, Donald S. Wood, PhD, surely loves what he does.
"The mission of this organization has been a lifelong passion for me," Dr. Wood says.
After receiving his doctorate in Physiology from Washington State University in 1973, Dr. Wood began work in the neurology department at New York Presbyterian/Columbia University Irving Medical Center. Although his initial research interest was in how muscle is regulated by calcium, he quickly switched to studying human muscle and has spent his life since then doing just that — taking basic research from the laboratory and applying that knowledge to human disorders.
Dr. Wood's first encounter with MDA came in 1976 when he received a research grant for the study of single muscle fibers affected by muscular dystrophy, obtained from muscle biopsies of people with muscular dystrophy.  This was the first study of its kind on how muscular dystrophy affected force generation in single human muscle cells. From 1980 to 1989, Dr. Wood served as MDA's director of Research; from 1990 to 2002 he served in a consultancy role as director of Science and Technology; and from 2017 to 2020, he served as vice chair of MDA's Board of Directors. 
"The opportunity to now lead MDA as president and CEO is incredibly exciting because it follows the trajectory of my life's work," Dr. Wood says.  "I am privileged to lead the organization that has been a world leader in funding research and advancing new treatments and therapies for muscular dystrophy and related diseases." 
Dr. Wood is proud of the history-making role that MDA-supported scientists and physicians have played in advancing our understanding of how to study and treat neuromuscular diseases. Many of them are inherited genetic diseases, and when MDA was established in 1950, some medical textbooks dismissed genetic diseases as untreatable. Other conditions, such as amyotrophic lateral sclerosis (ALS), aka Lou Gehrig's disease, may have more than one cause. MDA's effort to support the development of treatments for muscular dystrophy, ALS, and related diseases entered a new medical frontier when, in 1986, MDA-supported investigators reported that they had discovered the gene and protein defects underlying Duchenne muscular dystrophy (DMD). With that discovery, research into treatments for neuromuscular diseases started in earnest as more investigators turned their attention to human DNA research and the development of a new type of medicine — genetic medicine. Today, investigators in partnership with people participating in clinical trials and countless MDA supporters are rewriting medical textbooks as treatments for ALS and genetic neuromuscular diseases are becoming a reality and, most excitingly, are advancing at an increasingly rapid pace. 
Dr. Wood's passion is not limited just to research but also to providing innovative care, advocacy, and supportive services to people and families living with the diseases in MDA's program. He is eager to support and work with the community toward equitable opportunities for the neuromuscular disease and disability community.
"I see more and more activism in our community, and I like activism," Dr. Wood says. "Activism raises our awareness and our collective respect, and that helps us move forward."
Dr. Wood has high expectations for what MDA will accomplish in the coming years.
"My vision for MDA is that we will continue advancing genetic medicine by being among the first in the nation to develop treatments and cures for people with genetic disease," he says. "My goal for MDA is to grow our mission to support research, advance MDA Care Centers, and advocate on behalf of patients with neuromuscular disease so that, ultimately, treatments will be available to all patients."
Disclaimer: No content on this site should ever be used as a substitute for direct medical advice from your doctor or other qualified clinician.