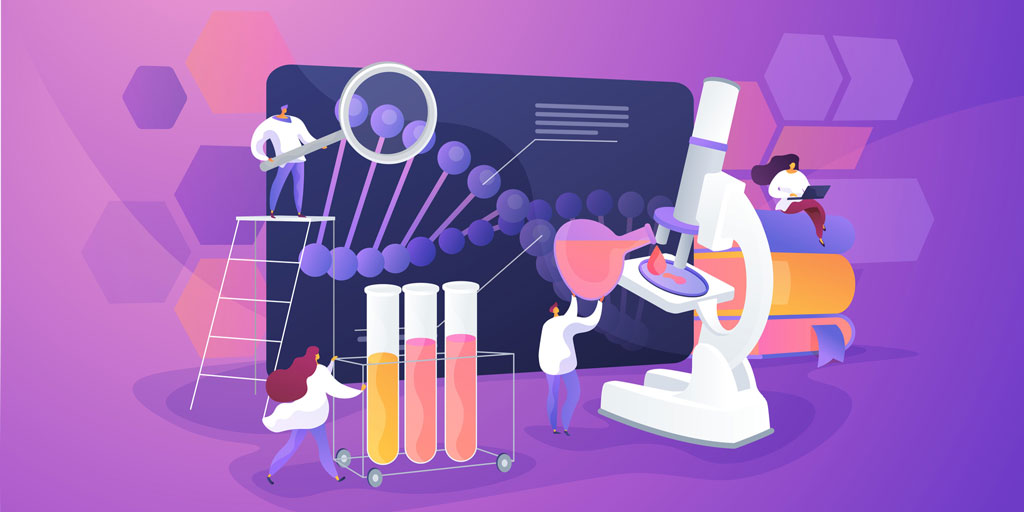 Expanding Access to Genetic Testing
By Donna Albrecht | Friday, August 14, 2020
Genetic testing plays an important role in diagnosing, treating, and managing neuromuscular diseases.
"Genetic testing can shorten the time to diagnosis and prevent misdiagnosis of muscular dystrophies," says Robert Nussbaum, MD, chief medical officer of Invitae, a leader in advanced medical genetics. "An earlier, accurate diagnosis can facilitate earlier interventions, alert physicians about potential complications, allow genetic counseling of family members, and support clinical research into neuromuscular diseases."
Yet a quarter of those living with neuromuscular diseases and a third of adult patients have not had their diagnosis confirmed with genetic testing, according to MDA's 2018 ONEVoice survey. Of the respondents who had not had genetic testing, the two main reasons cited were lack of access to it or that it was not affordable.
Earlier this year, MDA and Invitae announced a joint program that offers no-cost genetic testing and post-test counseling for certain neuromuscular diseases through all MDA Care Centers. Called Detect Muscular Dystrophy, the program was first developed by Invitae in July 2019. Forming a partnership around the program helps both Invitae and MDA further their goals of reducing barriers to genetic testing for people searching for answers.
"We worked with the company to bring this program to MDA Care Center physicians," says Sharon Hesterlee, MDA executive vice president and chief research officer. "Both MDA and Invitae concluded that understanding the landscape of muscular disease mutations has enough intrinsic value that the cost of testing should be waived. As more people have the genetic cause of their disease identified, it will help lay the groundwork for clinical trials, reimbursement for new therapies, and better services for those living with these disorders."
The first step
Accessing the Detect Muscular Dystrophy program usually starts with talking with your doctor, who can refer you to an MDA Care Center in your area. The Detect Muscular Dystrophy program is available through Care Centers to individuals (in the US and Canada) who have experienced progressive muscle weakness, elevated creatine kinase (CK) levels, a family history of muscular dystrophy, or a positive test result for Duchenne muscular dystrophy (DMD) through newborn screening, among other eligibility criteria.
Tests are done with a sample of blood or saliva. Results are available anywhere from 10 to 21 days after Invitae receives the sample.
"This is a fairly comprehensive panel of tests," Sharon explains. "It covers up to 123 genes associated with inherited muscle disorders, including muscular dystrophies, myopathies, and congenital myasthenic syndromes. The panel does not currently cover repeat expansion or contraction disorders, like myotonic dystrophy or facioscapulohumeral muscular dystrophy, but these may be added in the future."
Getting test results
Once the test results are in, a genetic counselor schedules a follow-up visit with the patient — or their parents, in the case of a minor — to discuss the diagnostic results. "This visit confirms the diagnosis, establishes a treatment plan, and initiates FDA-approved medication or the availability of a clinical trial," says Ellen Moran, a genetic counselor at the MDA Care Center at NYU Langone Health's Center for Children.
Subsequent visits may be scheduled to discuss the risk of recurrence, family implications, and reproductive options. In some cases, the genetic counselor will recommend genetic testing for family members to identify who is at risk for the disorder in themselves or transmitting the disorder to their offspring.
The amount of information shared during post-test genetic counseling can be immense.
"The information is emotional, and we know that at some point it becomes overload," Ellen says. "We encourage families to bring support with them, while remaining cognizant of protecting the patient's and family's privacy."
To supplement the genetic counseling, Care Center staff can provide educational materials about diagnosis, treatments, and genetics that families can take home.
Common questions
Genetic testing and post-test genetic counseling are offered at no cost to patients through the Detect Muscular Dystrophy program. The costs of the program are paid by Invitae and its sponsors.
Beyond the cost of testing, many families have questions about the impact of test results on their children and family members and the potential for insurance discrimination. Some may be familiar with direct-to-consumer genetic tests that may make health information available to others. Results through the Detect Muscular Dystrophy program are private, Dr. Nussbaum assures.
"As a medical genetics company, Invitae is covered by HIPAA [the Health Insurance Portability and Accountability Act of 1996], which means patient information is protected with us just like it is at a doctor's office," he says. "We believe patients should own and control their data, and we never share identifiable data without consent; for example, for research."
Testing from home
The COVID-19 pandemic and subsequent stay-at-home measures broadened healthcare providers' abilities to utilize telehealth, making consultations — including those for genetic testing and counseling — more convenient.
Many primary care providers offer phone or videoconferencing appointments. For those who prefer not to leave home, this can be a good way to ask your provider about the Detect Muscular Dystrophy program and whether you qualify.
Doctors can contact Detect Muscular Dystrophy and request that a saliva test be sent to a patient by mail. You can follow the directions for providing a sample of saliva and mail it back to Invitae. When the results are in, a genetic counselor may be able to provide your diagnostic results and post-test counseling by videoconference.
Research has shown that no-charge testing programs help increase utilization of genetic testing, which can shorten the time to diagnosis by as much as two years for some conditions. MDA and Invitae's goal with the Detect Muscular Dystrophy program is to extend the benefits of genetic testing to more people who might have muscular dystrophies, so they can start treatment earlier, understand how their disease is likely to progress, and get the best possible care.
"This new partnership between Invitae and MDA will provide people with neuromuscular disease unprecedented access to genetic testing," Sharon says.
Donna Albrecht is the author of "Raising a Child Who Has a Physical Disability" (Wiley). She lives with her husband and border collie near San Francisco.
Talk With Your Doctor
If you believe you may be eligible for no-cost genetic testing through the Detect Muscular Dystrophy program, talk with your primary care provider about ordering a test. Take a flyer about the program to your appointment.
To learn more, visit mda.org or call 1-833-ASK-MDA1.
Disclaimer: No content on this site should ever be used as a substitute for direct medical advice from your doctor or other qualified clinician.