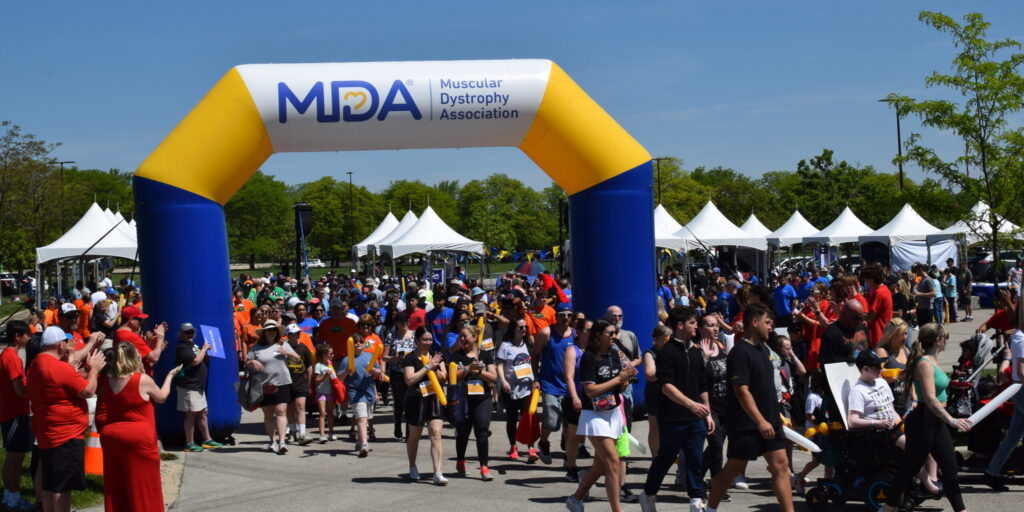 Experience the Power of Community at MDA In-Person Events
By Rebecca Hume | Wednesday, May 31, 2023
As MDA welcomes back a busy schedule of in-person events this year, there are a myriad of ways that individuals can come together and reap the benefits of time well spent with their community. Gathering with others, especially in support of a common cause, provides a sense of belonging and purpose to many in the neuromuscular disease community. MDA events and fundraisers are an opportunity to unite and connect, as a volunteer, participant, or an attendee.
Whether it is volunteering to help at an MDA Gala or Golf Tournament, participating in a local Muscle Walk, or cheering for Team Momentum participants from the sidelines, every role is important. These events support MDA's mission to further groundbreaking research for treatment of neuromuscular disease while also offering a valuable sense of community. And there is no shortage of fun, joy, and camaraderie at each event!
Fun in the sun at MDA Golf Tournaments
MDA's Golf Program provides a fun-filled day where participants can enjoy a beautiful day on the course, games, and a lunch or dinner program where guests can hear more about MDA's mission and the families that we support, all while networking with others in the neuromuscular disease community and making friends.
"Golf is a way to bring the community together in an outdoor environment while raising funds for MDA in a fun way!" says Amy Meyers, the Vice President of Fundraising and Community Engagement at MDA. This year, there are 16 in-person golf events. Community members can get involved by volunteering to help the busy day run smoothly while enjoying the outdoors. You can find a list of local events by visiting: https://www.mda.org/events.
An evening of hope at an MDA Gala
MDA's Gala program provides an evening of hope that includes a cocktail reception, silent and live auction, dinner program, and various raffles and prizes. Galas are a unique experience where guests and volunteers can get dressed up, have fun, and connect with others. Gala attendees can purchase tickets for a seat or table and enjoy the evening as guests while contributing to the cause. But there are also a multitude of volunteer opportunities, including greeting guests at the door, assisting with the silent and/or live auction, selling raffles, and much more.
There is a special magic to gala nights, filled with hope for future treatments, moving videos and personal stories, the opportunity to honor individuals and families within the neuromuscular community, and a powerful sense of unity and support that exemplifies the value of gathering as a community.
"The recent Atlanta Night of Hope Gala honored Alisa and Joe Cain," Amy shares. "Unfortunately, Joe lost his battle with ALS prior to the event, but that didn't stop the community from coming together to support the Cain Family and to continue to raise critical funds for ALS Research. The Cain Family and friends spoke in honor of their beloved husband, father, grandfather, and friend and expressed how they would not stop until a cure is found."
You can volunteer to be part of an empowering and moving evening at an upcoming event in your area by visiting: https://www.mda.org/events.
Celebration and support at Team Momentum Race Weekends
Team Momentum is MDA's endurance training program that empowers individuals of all athletic abilities  to train for a half or full marathon while supporting people living with muscular dystrophy, ALS, and related neuromuscular diseases. Participants dedicate their miles and personal finish line to support MDA's mission of empowering the people we serve to live longer, more independent lives. Team members receive access to customized training programs offered by experienced coaches, fundraising support, and a community committed to keeping them inspired.
Team Momentum Race Weekends are filled with celebration and joy – both for the accomplishments of the participants and for the opportunity to gather and support one another as a community.
Race weekends are kicked off with a gathering of the race participants to celebrate the money raised, answer any questions from participants, and provide an opportunity for team members to meet each other and mingle. On race day, MDA volunteers and staff gather at the finish line and along the race route to support and cheer for the participants as they accomplish their goals.
"My favorite thing about Team Momentum events is watching the excitement on race day," says Brittany Minke, MDA's Director of Peer-to-Peer Events. "For some, this could be their first marathon or a dream race to participate in. It is amazing to be able to cheer them on while they complete this major milestone."
Community members can get involved by joining Team Momentum to participate in a marathon, volunteering to join an MDA cheer station on race day, and joining in the energy and celebration of the event. In addition to cheering on the participants, other volunteer opportunities include becoming part of the committee, helping to recruit and coach participants, and/or attending a gathering the weekend of the event to help set up, greet participants, take photos, and help clean up.
With the Boston Marathon and New York City Half Marathon already complete, there are three remaining events this year. Upcoming events include the Chicago Marathon, the Marine Corps Marathon in Arlington, VA, and the New York City Marathon.  You can register to join Team Momentum or sign up to volunteer at an upcoming marathon.
Incredible connections at Muscle Walks
If you have ever attended or participated in an MDA Muscle Walk, you know that it is a day filled with activities, resources, support, and powerful connections. With many Muscle Walk teams returning year after year, the event often feels like a happy reunion between old friends mixed with the excitement of making new ones. Muscle Walk events provide families and individuals living with neuromuscular disease a sense of joy and belonging with the opportunity to feel connected to their community and recognize that they are not alone in their journey.
Muscle Walk is a two-hour event that includes much more than the walk itself. Participants have the opportunity to meet other families and socialize, visit with sponsors, participate in activities, and visit MDA Activation tents. Activation tents provide information about the MDA Let's Play program, the MDA Community Education Program, and the myriad of MDA supports and services available to individuals and families living with neuromuscular disease. Each Muscle Walk event has a short program, to feature top teams and honorees and thank sponsors and volunteers, followed by a celebration walk. Teams attending the event can choose to walk or roll all or part of the 1-mile route or gather at the finish line to cheer for other teams.
Community members can get involved by registering to participate as an individual or team, join a Muscle Walk committee, volunteer on the day of by helping with set up, registration, and/or cleanup, or simply by attending the event and cheering for participants.
"My favorite thing about Muscle Walk is seeing the new families come out and recognize that they are certainly not alone. For some, they have used this event to let others know about a diagnosis and allow their network a way to support them," Brittany says. "It can be very emotional for these families, as they are usually overwhelmed with the support they receive and the experience of being in a place where everyone has a similar story."
With six upcoming in-person Muscle Walks on the schedule, you can register for a Walk near you or sign up to volunteer.
---
Next Steps and Useful Resources
Disclaimer: No content on this site should ever be used as a substitute for direct medical advice from your doctor or other qualified clinician.