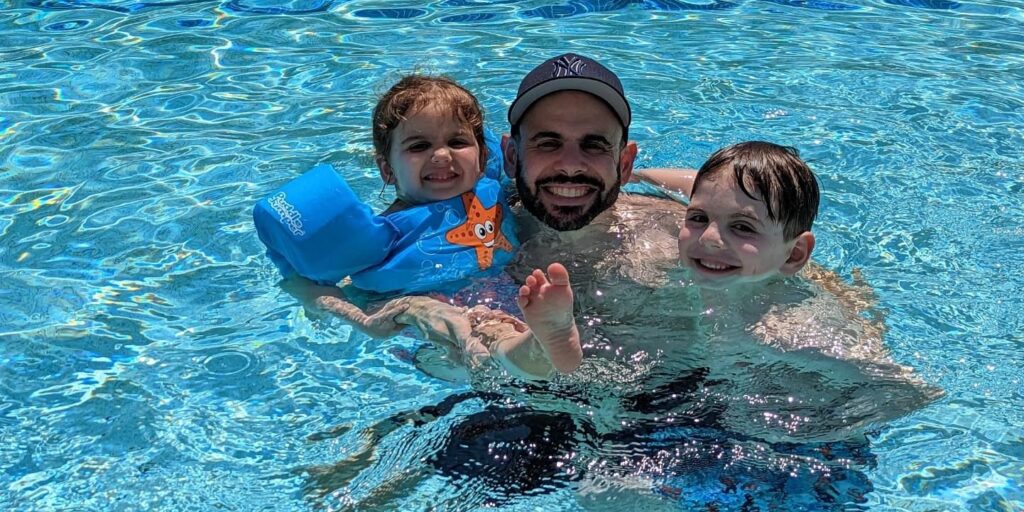 MDA Ambassador Guest Blog: Happy Father's Day
By Nevin Steiner | Tuesday, June 6, 2023
Being a father is one of the most rewarding things in life. I have two children, Abbott (6) and Laurel (3). Add having Becker Muscular Dystrophy with that, and it's an entire different ballpark of excitement.
From the day they were born, my children quickly learned I was different, and it quickly became their normal. I walk a little slower, I carry a little less, and I have a walking stick. But, my disease has never stopped me from doing the things with them I always dreamed of, and it never will.
It started with playing on the floor, with lots of cars, Legos, and magnet titles. I might get down slower and struggle to get back up, but the joy on their faces is always the same. When I'm down there, I turn into the jungle gym.
We play in the backyard all the time, on the trampoline, swing set, hide and seek, baseball, soccer and go to the playground. Abbott And Laurel don't care at all that I have my limitations. We make it all work in our own way, and I think the neighbors always wonder why we are so loud. They both like to remind me not to forget my walking stick.
We go to the grocery store together. I can't lift Laurel in and out of the cart, but we found a way. I lift up the seat and she hops right in. Abbott carries all the heavy stuff and puts everything in the car.
My family loves vacationing at the beach. Every time we hit the sand, all Abbott and Laurel want from me is to get down and bury them. Where do I end up next? Buried in the sand myself. Is it easy for me to get down and back up, no, but who can resist the joy of their own children.
I've been a huge sports fan my entire life. I played it all growing up, even if I wasn't very good. We always have a game on in my house. When Aaron Judge of the Yankees was going for his historic 62nd home run, the kids and I were screaming at the top of our lungs and jumping up and down for joy when it finally happened. When the Jets are on TV on Sunday's, Laurel can be heard cheering, "J-E-T-S JETS JETS JETS." And when watching the Knicks and Rangers together, Abbott knows all the players. I am thrilled they enjoy sports as much as I do. Each summer since they were born, we head to Yankee Stadium to enjoy a game – seeing them stuff their faces with chicken fingers, popcorn, and ice cream, screaming for their favorite team, there is nothing better than that.
Abbott plays ice hockey and baseball. He is way better than I ever was and I am so proud of him that I am the loudest parent at the rink and the field encouraging him, to the point where he already tells me I am embarrassing him. Watching him grow as an athlete, doing things that I could never do, everyone in my life gets to hear me beam about him.
It's hard not to think about the future when you have Becker Muscular Dystrophy, even if you try your best to live in the present. I think about seeing my kids graduate high school, get married and have families of their own. I want to be there for those moments. This disease might make my muscles weaker, but makes me stronger as a father who has to persevere for my family every day.
When people ask what I do for a living, Abbott likes to tell them I'm a celebrity, not just because I work at ESPN, but as he likes to say, "Tell them what else makes you a celebrity, you have Muscular Dystrophy!"
---
Next Steps and Useful Resources
Disclaimer: No content on this site should ever be used as a substitute for direct medical advice from your doctor or other qualified clinician.