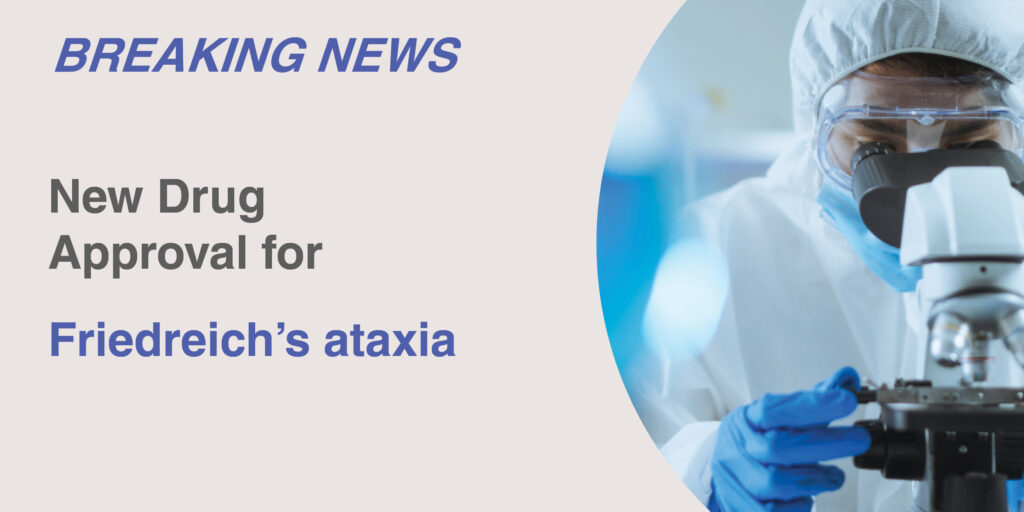 FDA Approves Reata's SKYCLARYS for Treatment of FA
By Sujatha Gurunathan | Tuesday, February 28, 2023
On Feb. 28, the US Food and Drug Administration (FDA) granted approval to omaveloxolone (SKYCLARYS™) for the treatment of Friedreich's ataxia (FA) in adults and adolescents aged 16 years and older. To date, SKYCLARYS is the first disease modifying drug approved to treat FA. SKYCLARYS will be made available in the United States (US) and marketed by Reata Pharmaceuticals.  
There is currently no cure for FA and treatment has consisted primarily of symptom management and supportive care. With the current approval, people with FA have a new option in their therapeutic arsenal. 
"This is an incredible milestone for the Friedreich's ataxia community," said Sharon Hesterlee, Ph.D., Chief Research Officer, MDA. "Any therapy with the potential to alter the course of disease progression offers hope for this disease to so many families we serve." Read more in MDA's press release.
FA was first described by German physician Nikolaus Friedreich in 1863 as a neuromuscular disease that mainly affects the nervous system and the heart. The primary symptom experienced by people with FA is progressive ataxia (loss of limb coordination). FA affects about one in 50,000 people worldwide, making it the most common in a group of related disorders called hereditary ataxias. 
In most cases, FA is caused by abnormal expansion of a repeated DNA sequence (GAA) within the FXN gene. The FXN gene encodes frataxin protein, which is important for the proper functioning of mitochondria, the energy producing structures in our cells. In people with FA, abnormal expansion in the FXN gene results in reduced production of frataxin protein. This affects the function and integrity of nerve and heart cells, which are dependent on high levels of energy production, causing them to degenerate. SKYCLARYS is a small molecule drug that activates the Nrf2 transcription factor, and is thought to trigger a cell program that helps resolve inflammation and restore mitochondrial function.
Clinical trials support approval of SKYCLARYS
The FDA based its decision to grant approval to SKYCLARYS on the positive results of the MOXIe Part 2 trial and an open-label MOXIe Extension trial.
MOXIe Part 2 was a randomized, double-blind, placebo-controlled study. This means that participants were randomly assigned to receive either 150 mg SKYCLARYS or an inactive placebo control over the course of the study. The effects of the drug were measured using the modified Friedreich's Ataxia Rating Scale (mFARS), a clinical assessment tool used to measure FA disease progression. 172 participants took part in the study, and at 48 weeks of treatment, participants receiving SKYCLARYS demonstrated significantly lower mFARS scores (less impairment) relative to participants receiving the placebo. The most common treatment-related adverse reactions were elevated liver enzymes (AST/ALT), headache, nausea, abdominal pain, fatigue, diarrhea, and musculoskeletal pain.
In the follow-up open-label extension period, in which all eligible participants received SKYCLARYS, the outcomes of 136 treated participants were compared to the outcomes of 136 untreated people with FA who had taken part in a natural history study (Clinical Outcome Measures in Friedreich's ataxia (FA-COMS)). This analysis further suggested that long-term treatment with SKYCLARYS (3 years) leads to lower mFARS scores and functional improvements. 
To learn more about the approval of SKYCLARYS, read the company's press release. 
About Reata REACH
Today, Reata also announced the launch of the Reata Education, Access, and Care Helpline (REACH), an integrated specialty pharmacy and patient services program, designed to help eligible patients access prescribed Reata medicines. For additional information about REACH programs call 1-844-98-REACH or visit www.reataREACH.com. 
MDA's Resource Center provides support, guidance, and resources for patients and families, including information about the approval of SKYCLARYS, open clinical trials, and other services. Contact the MDA Resource Center at 1-833-ASK-MDA1 or ResourceCenter@mdausa.org.
Disclaimer: No content on this site should ever be used as a substitute for direct medical advice from your doctor or other qualified clinician.