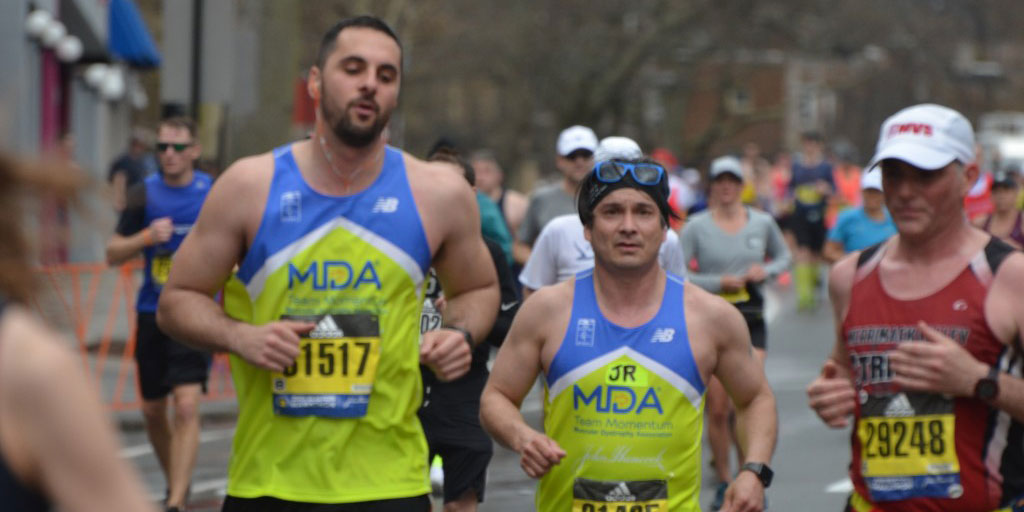 Fire Fighter, Father, Friend: JR Ortiz Bolsters MDA, From Boston to New York City
By Lindsey Baker | Wednesday, November 20, 2019
Santos "JR" Ortiz hadn't always dreamed of becoming a fire fighter. He didn't play on fire trucks as a kid, or even know much about fire departments. But when he was in his late 20s, a friend in the Boston Fire Department started talking about the job, and JR took notice.
When that friend dropped an application into JR's mailbox, JR took the hint.
He came to MDA with a little help from a friend, too.
In 2016, JR, by then a lieutenant and member of Boston, MA Local 718, ran in Boston's Run to Remember, a half-marathon. A friend also involved with the race said he wanted to introduce JR to Chris Marshall, national director of Team Momentum, MDA's customized endurance training program.
JR, a runner in his youth, had really just been easing back into the sport in his 40s. He wasn't sure he wanted to do a full marathon. But over the next year, as he and his fellow Local 718 members raised funds for MDA through Fill the Boot drives (which were, in fact, founded by the Boston Fire Department in 1952), he found he wanted to do more.
And so a year after learning about Team Momentum, JR showed up again at the Run to Remember, this time running for Team Momentum. He brought a friend, too — the oldest of his three sons.
On the road
JR kept going. In 2018, he ran a full marathon — the Bank of America Chicago Marathon — with Team Momentum. This year, in April, he ran the Boston Marathon. And in May, he ran the Run to Remember again, again with a friend — MDA National Ambassador Justin Moy.
JR and Justin met before JR joined Team Momentum at an MDA Summer Camp in Massachusetts where Justin was a camper and JR, with other fire fighters, was a visitor. The two crossed paths again at a half marathon a few years later. At the time, Justin had been part of a team entry for the race, riding in a racing chair pushed by a schoolmate. This year, when JR heard Justin needed a new teammate, he came through with a simple response.
"I said, eh, we'll give it a shot," he says.
The partnership was a success — so much so that JR and Justin have set their sights on running the Boston Marathon together in 2020. But first, to practice completing a full marathon together, JR says the duo tackled Lowell, Mass.'s Baystate Marathon in October this year. JR and Justin, a college sophomore at Worcester Polytechnic Institute, trained together when Justin finished classes for the day. They worked together on turns, Justin leaning certain ways to shift momentum, and they brought a speaker along to listen to music together, too.
"I know Justin has fun with it," JR says. "Some friends I knew had a brother who had muscular dystrophy, and they were saying to me if he was younger and someone would have pushed him, he would really have enjoyed it. So that's the joy in it. I know we have some fun and sightsee at the same time."
Training for the Baystate Marathon helped JR prepare for his next solo run, too: the TCS New York City Marathon in November 2019.
Acing the learning curve
This year was JR's first time running New York's five-borough course. But the race wasn't the first time he raised funds for MDA through Team Momentum, which JR says has been, in some ways, a more challenging learning experience than the running itself.
"Running," he says, "I could just muscle through. But over the last couple of years, I've learned how to deal with corporations … big construction companies. It's easier to get funds from a large corporation. Your family members and friends want to help out, but you don't want to go to the same place all the time. But now, that's not as hard."
JR preps email and printed asks on his phone when he can during the day to help complete fundraising outreach in the evenings. And he's harnessed the power of his own neighborhood. This year, a local bar next to his firehouse sponsored a special cocktail and donated half its proceeds to JR's TCS New York City Marathon/Team Momentum fundraiser.
He says he understands, when he recruits people to run with him and Team Momentum, the commitment can seem intimidating. But in truth, he says, it's all so worthwhile.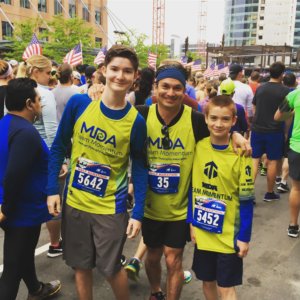 "A lot of people say, 'That's a lot of running,'" he says. "And I say, 'If you train, you can do it.' And then they say, 'That's a lot of money to raise.' And I say, 'It's not that hard.' If you think about it, you scare yourself. Don't think about. Just do it.
"Going to summer camps and meeting kids … some I've known for seven years or so," JR says. "I've seen them grow up and get older. I've seen how their diseases diminish their muscles. I know who they are, I know their parents. It's not just their names. They're people. They're friends."
JR, helped by friends, is committed to helping his friends, too.
"He is one of those people that all admire," says MDA's Chris Marshall. "Here in Boston, he is one of our most beloved teammates, telling all to visit him at the firehouse, where you can always find him greeting locals and tourists alike. JR epitomizes the IAFF and MDA relationship that started here in Boston, always there to help with a smiling face."
Interested in training with Team Momentum? Find out more — and cross the most meaningful finish line of your life.
Disclaimer: No content on this site should ever be used as a substitute for direct medical advice from your doctor or other qualified clinician.