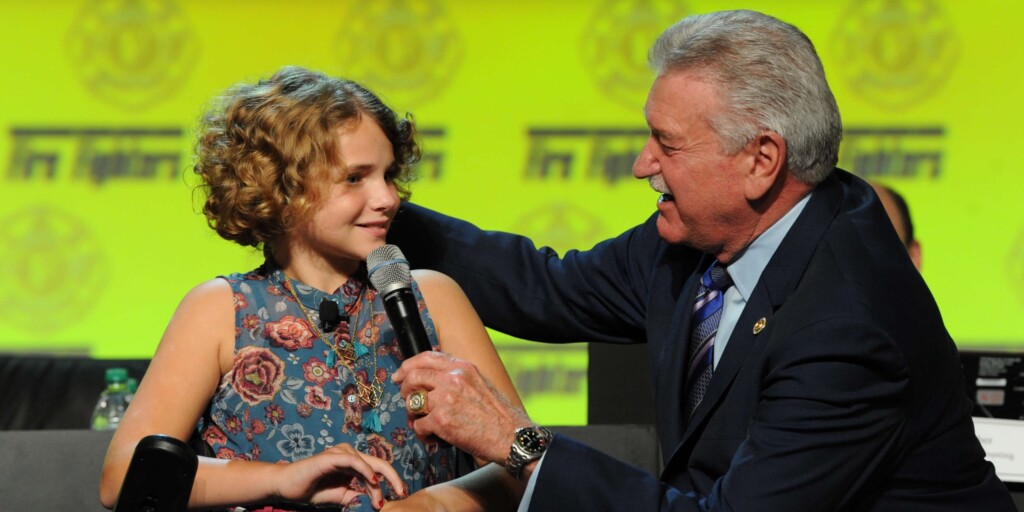 In Their Shoes: 65 Years of IAFF's Fight for MDA
By Lindsey Baker | Tuesday, March 5, 2019
In 1952 in South Boston, Charles Crowley was desperate for help. His two sons were living with Duchenne muscular dystrophy (DMD) and needed care. The family needed resources.
Charles called a good friend, George Graney. George did what good friends do for friends who need help: He called on his friends, too.
Specifically, George asked 20 of his fellow Boston fire fighters from Local 718 of the International Association of Fire Fighters (IAFF). Cans in hand, the men went door to door, collecting what they could for Charles and his boys.
The fire fighters came back with $5,000.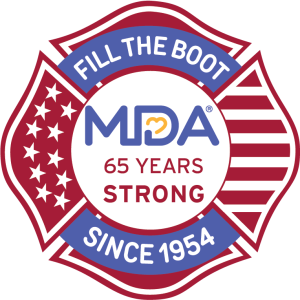 The next year, in 1953, the entire Boston Fire Department took off their boots, spread out into the city and came back with $20,000 in their shoes.
How much more could they do for more families in the Crowleys' shoes?
In 1954, at the IAFF Convention in Miami, Fla., George asked his delegates, "How much could we do for families impacted by muscular dystrophy? How much could we do for the Muscular Dystrophy Association?"
The IAFF voted unanimously to partner with MDA. And in the 65 years since, more than 100,000 IAFF members across America have filled their boots, raising more than $650 million in collected donations for MDA and its mission to transform the lives of individuals living with muscular dystrophy, ALS and related neuromuscular diseases with breakthrough therapies and innovations in care.
Fire fighters have stood on street corners, ran with Team Momentum and donated their time at MDA Summer Camps where they're always some of the favorite faces of the season. This year, for the first time, they'll join MDA in advocating for adding spinal muscular atrophy (SMA) and Pompe disease to state newborn screening panels.
"MDA and the IAFF are now working to promote and implement newborn screening across the United States so that every baby born with neuromuscular disease has access to necessary treatments and support services as early as possible to help them live longer, healthier lives," says Brittany Hernandez, director of Advocacy for MDA.
IAFF members, like George Graney, know they can make a difference. Like Suffolk, Va., Local 2081 fire fighter Joe Jarman, they believe in the power of one determined venture outside.
March for MDA
Joe, a self-described 40-something, has been a fire medic 2 with Virginia's Suffolk Department of Fire & Rescue for more than 15 years.
"I love what I do," Joe says. "I have always been drawn to help people. What better profession than the fire service?"
Local 2081 has participated in Fill the Boot drives for MDA for years. And since Joe joined the local, he and his fellow fire fighters have visited Wakefield, Va.'s MDA Summer Camp.
"I took over cooking and organization at the camp about 10 years ago," Joe says, "and we pride ourselves on making the best grilled barbecue chicken along with over 10 sides for everyone's eating preferences."
And this March, with a little of that George Graney spirit, Joe is doing more.
It's an off-season for Fill the Boot drives, he says. He recently got into hiking. Why not hike for a cause?
"I've always prided myself on doing more than needed," Joe says. "Charities and trying to be there for people keep me going. I like doing outdoor activities. So I decided to combine the two. I wanted to walk from a defined starting point — the ocean front — to my desired finish line, the capitol building in Richmond. I wanted [to do] something difficult and a little painful so that it would create a value and meaning.
"And any opportunity to raise money for a wonderful cause," he says, "will always be a good idea."
So Joe and Lt. Travis Saunders, a good friend and coworker, have drawn a route — the March for MDA —  between Neptune's Park in Virginia Beach and the Virginia State Capitol in Richmond. In all, from March 24-29, the two will traverse 130 miles over an estimated six days, with stops to eat and rest at fire stations along the way. Each day's journey will be progressively longer in distance, Joe says, with guest walkers joining from various IAFF locals and, hopefully, interaction with the communities the fire fighters are visiting.
"I am hoping that while we are walking it sparks some curiosity from bystanders so as to raise awareness and funds for MDA," Joe says.
He's inviting individuals impacted by neuromuscular disease, as well as Richmond fire fighters, to join him and Travis in their final mile.
"I would love for people who are directly affected by muscular dystrophy, family, friends and fire departments to walk that final mile with us," he says. "I don't want it to be about me. I want it to be about us and the cause. We need to show that we are together in this, and we can finish it together."
It boils down to that very first question: How much could we do for families like the Crowleys?
The IAFF keeps asking — and keeps answering.
"We wouldn't be able to be where we are today with drugs that are coming through FDA approval, with research, with the level of care we're able to offer our families at MDA Care Centers, the educational pieces — all of that wouldn't be happening without the IAFF's support," says Jennie King, MDA's regional manager of Fire Fighter Partnerships. "And beyond that, fire fighters are very involved with our families. It's not just transactional. It's a true partnership."
If you live in the Richmond area and would like to join Joe and Travis on March 29 for March for MDA's  final mile, visit the event's webpage for details, a map of the route and to make a donation.
Disclaimer: No content on this site should ever be used as a substitute for direct medical advice from your doctor or other qualified clinician.