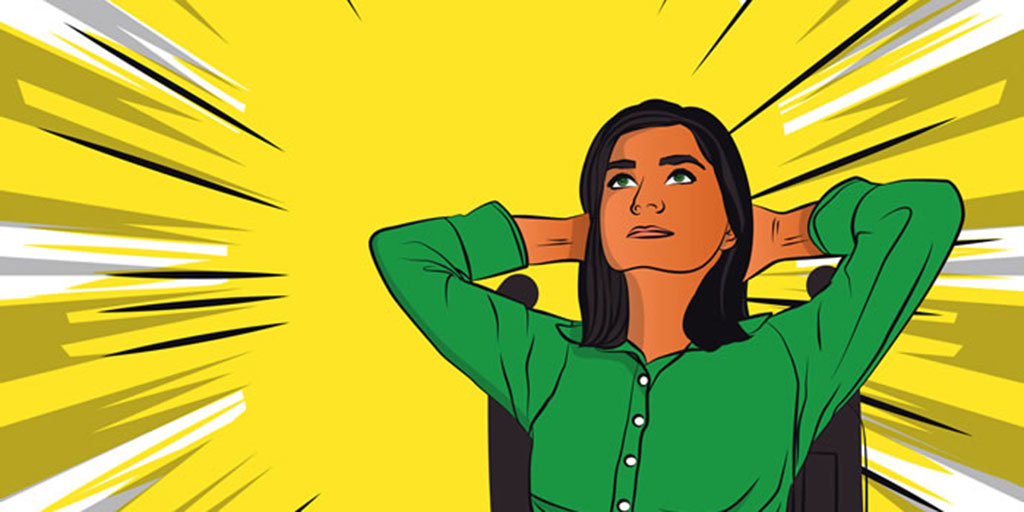 By Karen Doss Bowman | Friday, August 20, 2021
Sarah Schwegel, an organizing and advocacy specialist with Paraquad in St. Louis, began working from home last March as the COVID-19 pandemic emerged in the United States. Having spinal muscular atrophy (SMA), Sarah realized that she was at higher risk for complications if she contracted the illness. Her employer supported her request to work remotely.
"My supervisor said, 'Do what you need to do to stay safe and healthy,'" says Sarah, who is passionate about helping people with disabilities become as independent as possible through self-advocacy and policy change. "In the past year, I've really enjoyed being able to work from home because it adds so much flexibility, especially when scheduling attendants. It also was just a lot easier to get work done at home, where everything is set up for me."
Work-from-home gains ground
The COVID-19 pandemic disrupted life across the globe, but one silver lining emerged from this crisis: The majority of employers embraced remote work, also called telecommuting or telework, as offices around the country were shuttered to prevent the spread of infection.
Data from the Society for Human Resource Management (SHRM) shows that more than 75% of employers required or allowed employees to work from home during the pandemic in 2020. Further studies show that, for the most part, remote work was popular with workers and businesses. A survey conducted by PwC in late 2020 found a positive change in employers' attitudes toward working from home, with 83% saying the shift to remote work has been successful for their company.
For many people with neuromuscular disease, these are hopeful signs for the possibility of expanded work-from-home opportunities in the future.
"Being able to work from home has been a long, hard-fought-for reasonable accommodation that many people with disabilities need in order to work successfully," Sarah says. "Before the pandemic, a lot of employers were reluctant to allow remote work. Fortunately, the pandemic did a great job of forcing many of us to work in fully accessible environments, like our homes. And I'm really hopeful that as we transition back to the office, working remotely stays an option; it makes the workplace so much more accessible."
What the law says
The Americans with Disabilities Act (ADA) requires employers to make reasonable accommodations to allow employees to perform essential or major functions of their positions.
In addition, the US Equal Employment Opportunity Commission's (EEOC) Enforcement Guidance on Reasonable Accommodation and Undue Hardship Under the ADA states that for many jobs, working from home may be a reasonable accommodation for people with disabilities.
"Employers seem to have figured out that they can successfully manage their businesses and their employees from home and that if you allow people to work from home, your profits and productivity don't decline — they may well increase," says Allison Nichol, an adjunct professor at Georgetown Law in Washington, DC, and director of legal advocacy for the Epilepsy Foundation. "People work just as hard at home as they do in the office, so I think this has opened up lots of opportunities that perhaps didn't exist before."
Transforming the workplace
For many employees with disabilities, the pandemic provided their first opportunity to experience accommodations like working from home or flexible hours. These nontraditional work styles offer numerous benefits for people with neuromuscular diseases.
For example, eliminating the commute to an office allows them to conserve their physical and mental energy for the responsibilities of the job. For those who rely on caregivers for transportation, it takes away concerns about unexpected circumstances preventing them from getting to work.
Working from home also allows individuals with disabilities to perform their jobs in comfortable, accessible environments tailored to their personal needs. They don't have to worry about the logistics of eating lunch or going to the bathroom because they have their own accommodations — whether through assistive devices or personal care attendants.
"Working from home allows us to use the supports that we naturally have built into our homes to be more successful and supported adequately in our jobs," says Josie Badger, DHCE, CRC, of New Castle, Pa. As founder and president of J Badger Consulting, Josie provides youth development and disability consulting services to organizations.
With the growing emphasis on diversity and inclusion in corporate America, many employers are beginning to realize that removing accessibility barriers for employees with disabilities is not just the right thing to do, but it's also good for business. A commitment to a diverse and accessible workplace can be a selling point to draw talent and lead to better performance from some employees. (See "How to Find a Job That Works for You" below to learn more about finding accessible employment.)
Employers are beginning to acknowledge that working from home is here to stay. Leading companies, including Google, Twitter, and Citigroup, have announced they will move to allowing permanent remote work or a hybrid schedule following the pandemic. And people with disabilities have much to gain from this transformation of the workplace.
"I think the shift to remote work during the pandemic opened employers' eyes to the fact that disabled people are incredible hires," Sarah says. "Having the opportunity to work from home during the last year has made it so much easier for people with disabilities to get jobs and for companies to see that we're great employees."
Karen Doss Bowman is a freelance writer and editor living with progressive muscular atrophy, a subset of ALS, in Bridgewater, Va.
How to Find a Job that Works for You
Job hunting with a disability can be intimidating. Here are tips for finding a job that plays to your strengths with an employer who recognizes your talent.
Connect with Ticket to Work. This free program of the Social Security Administration allows Social Security Disability Insurance (SSDI) or Supplemental Security Income (SSI) beneficiaries to explore work options without losing benefits. For some people with disabilities, income from employment could jeopardize government benefits, such as Medicaid, that help cover costs for personal care attendants, points out Josie Badger, DHCE, CRC, founder and president of J Badger Consulting. Before starting a job hunt, "you need to start those conversations, know your earning limits, and know what decisions you will have to make," she says. Use this resource: Ticket to Work
Seek companies that want a diverse workforce. Browse potential employers' websites to learn about their core values on diversity and inclusion (D&I) and note how prominently disabilities and accommodations factor into their D&I policies and initiatives. You also can use online employment search tools that help candidates connect to inclusive employers. "We all need to be looking at jobs with organizations that want us," Josie says. Use these resources: Disability:IN, Inclusively
Be yourself. The ADA doesn't require jobseekers to disclose disabilities prior to receiving a job offer, but Sarah Schwegel, an organizing and advocacy specialist with Paraquad, recommends speaking about it early and candidly. In her experience, talking openly about her disability makes employers more comfortable and willing to have conversations about accommodations, diversity, and inclusion. "The best way to eliminate the stigma and discrimination around disability is to be real," she says. "Talk about your disability and normalize the conversation. Disability is an extremely normal part of human existence." Use this resource: ADA National Network
Pitch disability as a strength. Think about skills you've gained in all areas of your life, not just on the job. Sarah often mentions her disability in cover letters and interviews as a way to illustrate professional skills she has developed throughout her lifetime. "You can talk about your drive and work ethic and how you are able to problem solve in challenging situations," she says. "Every person with a disability has to do some pretty impressive problem solving, whether it's coordinating transportation, managing personal care attendants, or making sure that their world is accessible. We absolutely can use that to our advantage when we are applying for jobs." Use this resource: Lime Connect
Clearly state the accommodations you need for success. There's a wide range of potential accommodations, from permission to work from home or flexible hours to voice-to-text software. Be specific in requesting the supports that will help you perform your best. "If you anticipate ever needing an accommodation, be upfront and put it in writing," Josie says. "You can talk about it first, but then follow-up with an email that outlines the conversation you had. And then save it so you have documentation." Use this resource: Job Accommodation Network
How to Nail a Virtual Interview
It's more likely than ever that your next job interview will be virtual.
"Virtual interviews can be difficult because you lack a level of personal connection that is really important in making that first impression," says Sarah Schwegel, an organizing and advocacy specialist with Paraquad. "On the other hand, they're way more accessible."
Follow these tips to be at your best on video:
Dress for the job you want. During the pandemic, many people have become comfortable working in their PJs. Resist the urge to be casual and dress professionally — at least from the waist up.
Post a cheat sheet next to your webcam. You'll want to look straight into your webcam so you appear to make eye contact with the interviewer, not be caught looking down at notes. Print out your talking points and post the sheet next to your webcam so you can see it while maintaining eye contact.
Set the mood. Find a spot with good lighting, preferably natural light near a window. Also, make sure your background is uncluttered and professional.
Eliminate distractions. In this new Zoom era, coworkers sometimes get to know each other's children and pets, who often appear on camera. For a job interview, however, close the door and keep your kids and furry friends out of the picture. Be sure to set your phone and computer notifications to "do not disturb."
Check your tech. Make sure your technology is in good working order, with a high-speed internet connection and functioning audio. Using a headset may offer the best sound. Test your equipment before the big day.
Disclaimer: No content on this site should ever be used as a substitute for direct medical advice from your doctor or other qualified clinician.