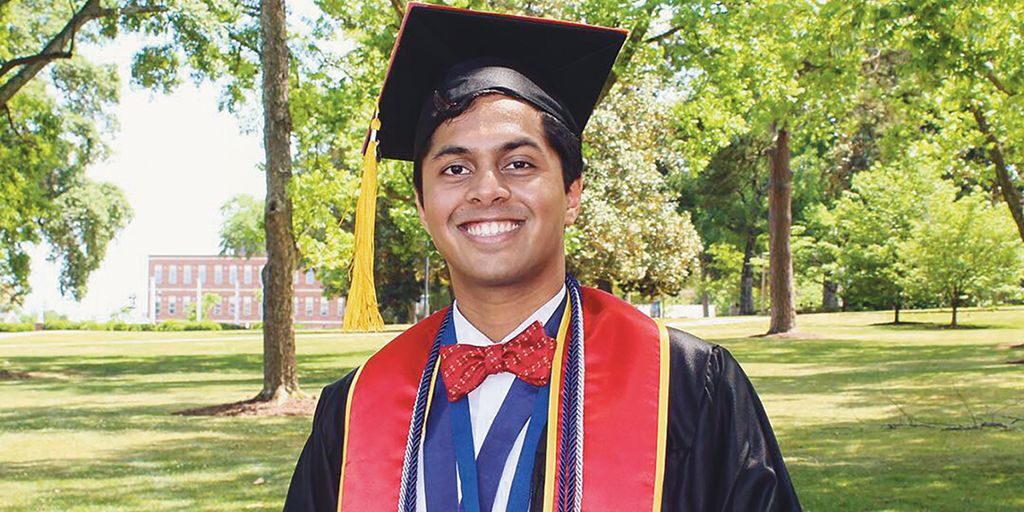 How a Doctor Turns His Disability Into a Strength
By Rebecca Hume | Friday, November 17, 2023
5 Second Summary
Quest for Success explores the different paths that individuals with neuromuscular disease have taken to reach their potential and pursue dreams. This series spotlights individuals from our community and shares their journeys to independence and accomplishment.
In his first year of residency as a psychiatrist, Abhiram Srivatsa, DO, is using his gift of being both a patient and a physician to show others that their disability does not define them. Diagnosed with Emery-Dreifuss muscular dystrophy (EDMD) at the age of 3, Dr. Srivatsa practices medicine with a unique level of empathy and understanding.
"That duality helps me to get seated at the patient's eye level and tell them that their diagnosis doesn't define them, and it doesn't define their life's trajectory," says Dr. Srivatsa, a resident at Gateway Behavioral Health in Savannah, Georgia. "My life experience and where I have taken my goals so far helps me to drive that home."
Dr. Srivatsa always knew he wanted to be a doctor. He chose psychiatry because he believes it offers career longevity and accessibility, especially with the increased popularity of telehealth. "Regardless of how my EDMD progresses, I have a career and a path to success," he says.
Expressing himself
Dr. Srivatsa has difficulty using stairs, walking distances, and standing for long periods of time. His disability is not always visible to others, and he has learned to be open about the accommodations he needs.
In elementary and high school, he found his schools were willing to work with him when he explained his needs. For example, his high school assigned the centralized nurse's office as his homeroom and reassigned his two best friends so he would have people to walk with. He got elevator privileges and permission to replace physical education with an additional music class.
Dr. Srivatsa is passionate about music and beatboxing and started an a cappella group with fellow students in his Sanskrit class. "The Sanskrit Boys" found viral success on YouTube and were invited to perform at the Library of Congress in Washington, DC. This experience, along with participating in the band, chorus, debate team, and math team, helped Dr. Srivatsa gain confidence in discussing his disability.
"It is important to tell people that this is who I am, this is what I need, and this is how I need it in order to do the best that I can do," he says.
During medical school at the Philadelphia College of Osteopathic Medicine's campus in Suwanee, Georgia (PCOM Georgia), medical rotations between different hospitals required special considerations. PCOM Georgia notified each clinical faculty team that Dr. Srivatsa would need the opportunity to sit down, avoid walking for long distances, and take a little extra travel time.
When it came time to graduate, PCOM Georgia initially offered Dr. Srivatsa an alternate route to the stage. "But I wanted to be with everyone that I had experienced challenges and accomplishments with during those four years of medical school," Dr. Srivatsa says. "I wanted to walk with my peers, not separately from them." The school built a large ramp for the entire graduating class to walk to the stage together.
After graduating, Dr. Srivatsa met with his residency program director and learned that she had already spoken to his rotation sites and ensured that everything was accessible, with close parking and elevator access. "The people in charge at my job have gone above and beyond to be aware and accepting of my needs. Their support helps me to prove to myself that I can do this," he says. "I bring a lot to the table; I just need to get to the table."
Finding his voice
During the residency application process, Dr. Srivatsa debated about disclosing his disability. He reached out to advocacy groups, disability rights groups, and MDA for guidance and ultimately decided that disclosing his disability was an opportunity to control the narrative.
"It ended up being a really good decision to disclose," he says. "Every interviewer felt comfortable asking how disability impacts who I am as a physician. And I was able to tell them, 'It's not that I am going to be a physician, but I am limited by my disability — it is because of my disability that I am going to be a fantastic physician.'"
Finding his voice and learning how to talk openly about his disability has been empowering. "Your disability does not define you, but it can strengthen you as you pursue your dreams," Dr. Srivatsa says. "At any stage in your life, don't sell yourself short because of your diagnosis. There are different avenues to pursue — you just have to shape and mold the world around you to do what you want to do. In this day and age, it is increasingly possible to be successful. And that success is whatever success means to you."
Rebecca Hume is Senior Specialist and Writer for Quest Media.
---
Next Steps and Useful Resources
Disclaimer: No content on this site should ever be used as a substitute for direct medical advice from your doctor or other qualified clinician.