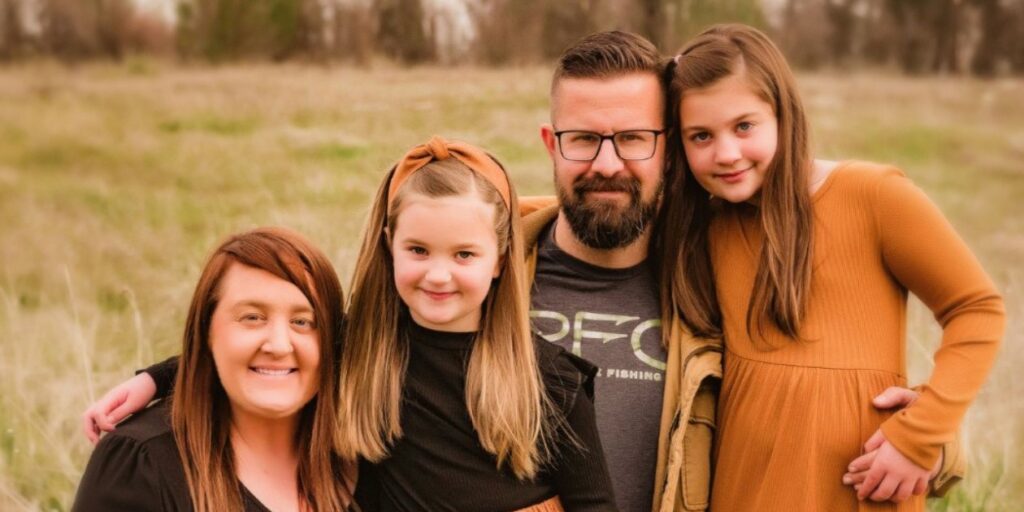 How One Family's Myasthenia Gravis Journey is Helping Others
By Rebecca Hume | Friday, June 9, 2023
For many individuals living with a rare disease, the road to diagnosis can be extremely challenging, especially when it involves two co-existing diseases where two parts of your immune system aren't working effectively. Parents of children living with a dual diagnosis of rare diseases often must advocate strongly for their children to receive the appropriate medical attention. Stephanie Madole, mother of two children living with generalized Myasthenia Gravis and Relapsing Polychondritis, recognizes the incredible power of raising awareness, supporting research, and connecting with others in the rare disease community.
The long road to an initial diagnosis
Elizabeth, 9, and Charlotte, 6, were both diagnosed with Systemic Autoinflammatory Disease with manifestations of Relapsing Polychondritis (RP) after presenting with symptoms of inflammation for years. Stephanie recalls the fear, confusion, and frustration of unanswered questions during the journey to determine that the girls had RP. When Charlotte was 22 months old, she developed a fever of 104 degrees and had red eyes, severe joint pain and swelling, and rashes covering her body. During five trips to the hospital in a two-week time span, medical staff continually told her parents that she was experiencing something viral and sent her home.
Stephanie and her husband, Dustin, insisted that something beyond a virus was occurring and advocated for increased care and testing. They traveled to multiple hospitals and met with team after team of medical professionals who, although could clearly see that somethings was wrong, were unfamiliar with the combination of symptoms that Charlotte continued to present. When Elizabeth began to exhibit the same symptoms at four years old, Stephanie and Dustin knew that the girls were battling the same disease, but still didn't have answers.
Recurring symptoms began to include seizures and severe airway narrowing, resulting in a multitude of hospitalizations. After receiving a few false diagnoses, the Madoles finally met with a rheumatologist who suspected a systemic autoinflammatory disease. Relapsing Polychondritis was confirmed after a further testing at the National Institute of Health (NIH).
After more than two years of searching for a diagnosis, the girls began receiving treatment for RP. Stephanie, an experienced advocate for her children's care by this time, joined a Facebook group for parents of children with inflammatory diseases and sought out the best experts for her daughters' care. When Elizabeth began experiencing severe weakness and notable mobility issues at 7 years old, Stephanie embarked on yet another a challenging diagnostic journey.
A second diagnosis: Myasthenia Gravis
Elizabeth began to have difficulty squatting down and getting back up, making it difficult for her to play on the floor. Stephanie was initially told that these symptoms would resolve. But when Elizabeth lost the ability to brush her own hair and chewing became incredibly challenging, Stephanie became increasingly concerned about the weakness. Stephanie will never forget the look on her rheumatologist's face at Elizabeth's next clinical appointment. The rheumatologist immediately admitted her for weakness and ran multiple tests from an inflammatory standpoint, all of which came back normal. After dozens of tests and meeting with a variety of specialists, the Madoles met with a neurologist specializing in neuromuscular disease.
Dr. Alexander Fay, a neurologist at the University of California, San Francisco (UCSF) Hospital MDA Care Center, recognized Elizabeth's symptoms. He quickly ordered a repetitive nerve stimulation study to confirm a diagnosis of generalized Myasthenia Gravis. After Elizabeth's diagnosis, the girls' rheumatologist reached out to Dr. Fay regarding Charlotte's care; she was tested and diagnosed as well. Both girls began working with a team of doctors at UCSF and the NIH to receive appropriate treatment and to participate in research studies for their rare dual diagnoses.
"Dr. Fay has been instrumental in giving our girls so many good days, good days where they can play and just fun being kids," Stephanie says. "Words could never adequately convey how grateful we are for the incredible care that he provides. He is an amazing doctor and human being."
Sharing their story
Stephanie continued to gain support and a sense of community from the online inflammatory disease parents' group that she had joined years ago. After much consideration, she and her husband decided to share their daughters' story with the group. Amidst hundreds of comments of support, one mother reached out to share that her son was experiencing the same symptoms and asked if she could call Stephanie.
Kara Wicklund's son, Isaac, experienced symptoms of an autoinflammatory condition since infancy before finally being diagnosed with Cryopyrin-Associated Periodic Syndrome (CAPS), a rare autoinflammatory condition, at the age of ten. He had started experiencing issues with weakness around the age of six or seven, but it was hard to isolate the symptoms from the reoccurring fatigue associated with CAPS. Isaac continued to experience significant weakness, often requiring the use of a wheelchair for stretches of time, and still did not have a clear answer by the age of 14. That all changed when Kara recognized her own experience in Stephanie's story.
A lifesaving connection
When Kara and Stephanie began talking about their children's symptoms, it became clear that Isaac had very similar symptoms to Elizabeth in regards of weakness. The local Minnesota doctors treating Isaac were not familiar with the protocol for diagnosing and treating MG, especially in addition to his inflammatory disease. Stephanie advised Kara to bring Isaac to California to meet with Dr. Fay and his team, but the Wicklunds didn't have the financial means to travel across the country.
Stephanie felt in her heart that she was being called to help Kara's family. She spoke to Dustin about paying to fly the Wicklunds to San Francisco. "He said that we couldn't afford it, but I told him that I felt like I needed to do this," Stephanie says. When Stephanie called Kara and offered to pay to fly her family to California and cover their hotel stay so that Isaac could receive the care that he needed from the experts treating Charlotte and Elizabeth, Kara was blown away by the generosity of a stranger.
"I was absolutely shocked… and slightly terrified that this would end up being a crazy person in CA," Kara says. "But the kids' stories were too similar, and we were so stuck. So, I accepted the incredible gift, boarded the plane with Isaac, and came out. Looking back, I still can't believe I went along with it. But I knew that we needed help for him."
The team at UCSF found that Isaac has the same neuromuscular disease and diagnosed him with MG. That diagnosis and the amazing generosity from one family to another would end up saving Isaac's life. A month or two after receiving his diagnosis, Isaac went into respiratory failure and was placed on a ventilator. Dr. Fay and his team guided Isaac's local medical team to provide the care needed to treat Isaac and save his life, treatment and guidance that wouldn't have been possible had Isaac not made the trip to California.
"Sharing our story saved his life," Stephanie says. "And that's when I knew that I had to advocate for other families and continue to tell our story to help others. If doctors don't know what to test for or what they are looking for, they won't find answers. I believe that we are stronger together and that we can truly make a difference by raising awareness."
Advocacy, awareness, and research
Stephanie has made it her life's passion to raise awareness for MG, advocate for other families' care, and support innovative research. In fact, she is the co-founder of a non-profit, Own MG, dedicated to patient advocacy and awareness, as well as supporting, implementing, and funding medical research for rare diseases.
"I just think that being able to change the clinical approach for MG through innovative care, advocacy, awareness, and support for families and patients is critical right now," Stephanie says. "Being able to help further the current unprecedented research just has to be done."
The girls have traveled to Maryland to participate in multiple studies at the NIH, where a team of researchers are making strides in better understanding dual diagnoses and in seeking new treatments for MG. "The research that they are able to do is just amazing," Stephanie says. "This is such a hopeful and exciting time. The researchers are so certain that they are going to find the key to treating our kids and change the face of medicine. I will always remain hopeful."
---
Next Steps and Useful Resources
Disclaimer: No content on this site should ever be used as a substitute for direct medical advice from your doctor or other qualified clinician.