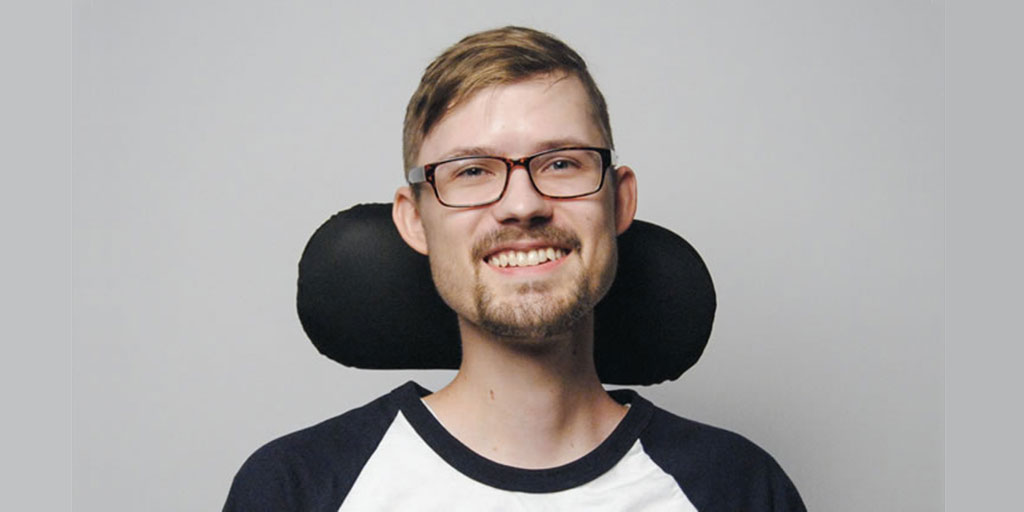 By Dustin Clark | Friday, August 20, 2021
In my childhood I was a creative kid with an active imagination. I loved to play pretend with my friends. I attended art clubs and sang in the school choir. I daydreamed and made up stories in my head.
But as my imagination grew, my body deteriorated. I was diagnosed with Becker muscular dystrophy (BMD) at age 10. As I grew older, my muscles became progressively weaker. I couldn't run in gym class. I fell in the hallways at school and came home with cuts and bruises. After a particularly bad fall in which I busted my chin on the floor, my high school advised my parents to get me a wheelchair for my safety.
Creative spark
I didn't know how to cope with my disability, and my family didn't really know how to help me. As my condition worsened, I retreated inward. I felt like a burden to everyone. I stopped going out to play with friends and spent most of my time after school playing video games. I wasn't connected to my emotions, and I didn't know how to express how I felt to those around me.
But my creativity never went away. I grew up in a musical family, surrounded by voices and instruments. We all learned to play music and performed at church. Taking after my brother and my dad, I took an interest in writing songs. When I was young, my mom tried to teach me piano. I hated those lessons, but they inspired me to write my first song because I wanted to make my own music.
This creative spark came in handy for me as a disabled person. Disabled life is a highly creative endeavor because it requires thinking outside the box to achieve your goals — from getting food out of the microwave to building a career. Music became my outlet for this spirit of ingenuity. As a teen, I decided to pursue songwriting more seriously. My dad bought me an electric guitar and recording software, and I began to record some songs. When little else seemed to move me, music did. There was something about writing those songs that kept me pushing for new and exciting musical ideas.
That energy gave me the drive I needed to make a way for myself in the music world.
Pushing through barriers
I decided to release an album as a recording artist. I began writing songs for the album in 2011, but I didn't complete it until 2021. Needless to say, this project was quite a challenge. There were many barriers to my success along the way which required creative workarounds.
Regular guitars are too heavy for me to hold, so my dad and I, with the help of a friend who is an industrial designer, made a pulley and hoist to hang my guitars from the ceiling. I don't have the finger strength to use a keyboard, so I learned to use MIDI software to point-and-click my keyboard and drum parts one note at a time.
Though these physical challenges required a great deal of time and patience, the mental barriers were really what held me back. When living with a disability, sometimes your body feels like your enemy — a high wall that stands between you and everything you want in life, big or small. Though efforts are being made to include disabled people in society, we always have to fight to carve out a life for ourselves in a world that really isn't built for us. It takes remarkable determination to finish what we start.
Many times, it takes a supportive friend or loved one to unlock that determination. I spent years procrastinating and agonizing over every little detail of the album, putting off the final steps needed to complete it. Then, one afternoon in 2020 my dad sat me down and challenged me to type out every step necessary to finish and release the album. He encouraged me to take action, one step at a time. That's exactly what I needed to find my motivation. It didn't take much — just a little push, and the ball was rolling.
I hired an audio engineer to record bass and mix the album. Next, I planned a budget and ran a Kickstarter campaign to raise money. I even designed rewards, like CDs and t-shirts, for my Kickstarter pledgers. Finally, I organized a Zoom listening party and set up the album release on Spotify. It was one of the most productive years of my life, and all during a pandemic.
Finding success
If you are disabled, find out what you are passionate about. Pursue that passion with every ounce of drive you can muster. Use that creativity you've spent a lifetime practicing to achieve your goals. Your success may not look like someone else's, but it's going to be 100% yours.
To those who know someone with a disability, learn to honor that person's life and appreciate the grit it takes for them to exist alongside you. At the same time, don't be afraid to challenge us. It's up to us to find our own limits, but we need you to encourage us to reach new heights for ourselves. You'll be surprised what we can accomplish.
Dustin Clark, 27, is a graphic designer and musician in Columbus, Ohio, who releases music under the name Black Birch. His debut album, Here., is available on Spotify and other streaming services. You can find him online at dustinclarkdesigns.squarespace.com and on Instagram at @dustinclarkmusic and @dustinclarkdesigns.
Disclaimer: No content on this site should ever be used as a substitute for direct medical advice from your doctor or other qualified clinician.