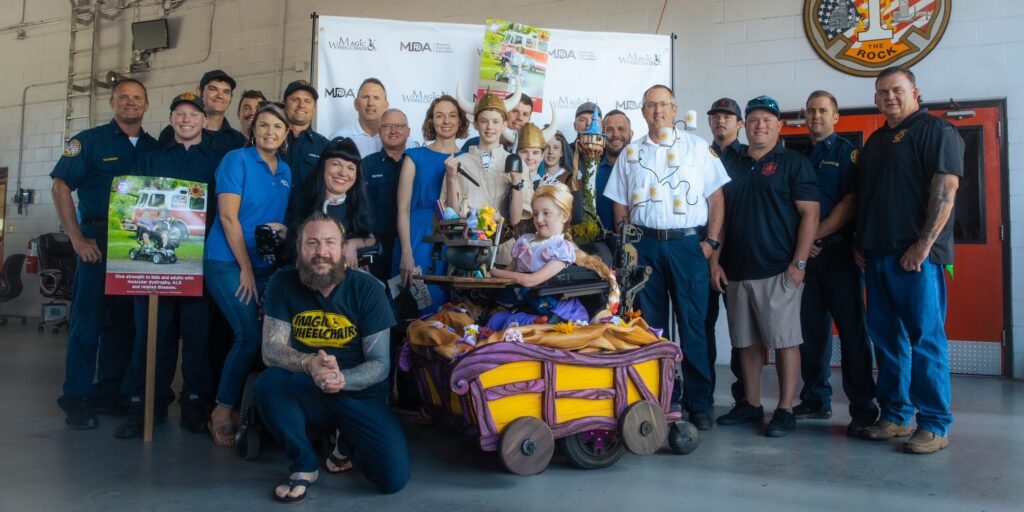 MDA & Magic Wheelchair: Anna's Dream Costume Reveal
By Rebecca Hume | Friday, October 20, 2023
A celebration of creativity, inclusion, self-expression, and the splendor of make-believe, the unveiling of this year's Magic Wheelchair costume was a fairy-tale day. The annual sweepstakes and reveal of one very special Halloween costume are the culmination of a long partnership between the Muscular Dystrophy Association (MDA) and Magic Wheelchair. In April, the International Association of Fire Fighters (IAFF) Local 122 Jacksonville Fire Fighters at Fire Rescue Station 1 hosted an incredible reveal event for Anna and her family. It was a magical day made possible by the generous sponsors who hosted and joined in the celebration, including IAFF Local 122 Jacksonville Fire Fighters, National Association of Letter Carriers, Acosta Group, Burn Boot Camp, and Circle K.
Nine-year-old Anna, who lives with Charcot-Marie-Tooth disease, was the winner of the 2022 MDA Magic Wheelchair Sweepstakes, held annually on @MDAorg Instagram channel. MDA has paired with Magic Wheelchair, a nonprofit organization that promotes inclusive cosplay and self-expression for people living with disabilities, to create unforgettable moments for children and adults as their wheelchairs are magically transformed. The collaboration and incredible costumes promote inclusion and self-expression while also raising awareness for rare neuromuscular diseases and the barriers that people with disabilities face.
A fairy-tale dream come true
Anna's mother, Kathleen, entered her in the contest on Instagram last year and the family was ecstatic when they received the news that she had been selected as the winner. After meeting with MDA and Magic Wheelchair for Anna to share her ideas for her dream costume and the plans for a birthday reveal party, the team of costume builders at Magic Wheelchair got to work creating a one-of-a-kind Rapunzel costume for Anna. And that's not all, they got Anna's siblings involved in the big reveal as well!
"I love the Tangled movie and the series on Disney Plus," Anna says. "I wanted a tower just like the one that Rapunzel lived in. Rapunzel is awesome because she has long magic hair that can heal and save people."
The opportunity to express herself and share her interests with others while enjoying the fun of make-believe was an incredible experience for Anna and her family. Anna first connected with MDA when she was diagnosed at three years old, received care at MDA Care Center locations, and became an MDA Ambassador a few years ago. The family has found joy in meeting with the many valuable partners that support MDA's mission and utilizing MDA resources. "She likes the idea of thanking the people that make MDA Summer Camp possible for her and her friends," Kathleen says. "As for my husband and I, we are happy to do all that we can to help spread MDA's message because the research that the association helps to advance and the positive experiences, like Summer Camp and Magic Wheelchair, really do make a difference in our daughter's life and we are thankful."
Kathleen shares that the reveal party was particularly magical for Anna, as friends, family, the team from MDA and Magic Wheelchair, MDA partners from IAFF Jacksonville Fire Rescue Station 1 Local 122 fire fighters, and other community partners gathered to unveil her amazing costume. Complete with a magic tower, floating lanterns, and a tray of magical toys, her Rapunzel costume was a dream come true – and an opportunity for Anna to share in the childhood joy and fun of make-believe with her friends. "My Magic Wheelchair shows how much I love Rapunzel and how much I love to make-believe, just like other kids," Anna says. "It helps me to connect with other people because I can drive it around and show my friends what it does."
Become part of the magic
This year's contest for a custom Halloween costume giveaway will launch on October 23 and close on October 26 @MDAorg Instagram, the winner will be announced on Halloween, October 31 with a reveal in 2024. The MDA community is encouraged to enter to win a custom-designed costume for a person living with a neuromuscular disease who is registered with MDA. To enter the contest, follow @MDAorg and @MagicWheelchair on Instagram, comment with a  on all of MDA's Instagram posts from 10/23 – 10/26 for a chance to win a Magic Wheelchair costume for 2024! View competition rules here.
---
Next Steps and Useful Resources
Disclaimer: No content on this site should ever be used as a substitute for direct medical advice from your doctor or other qualified clinician.