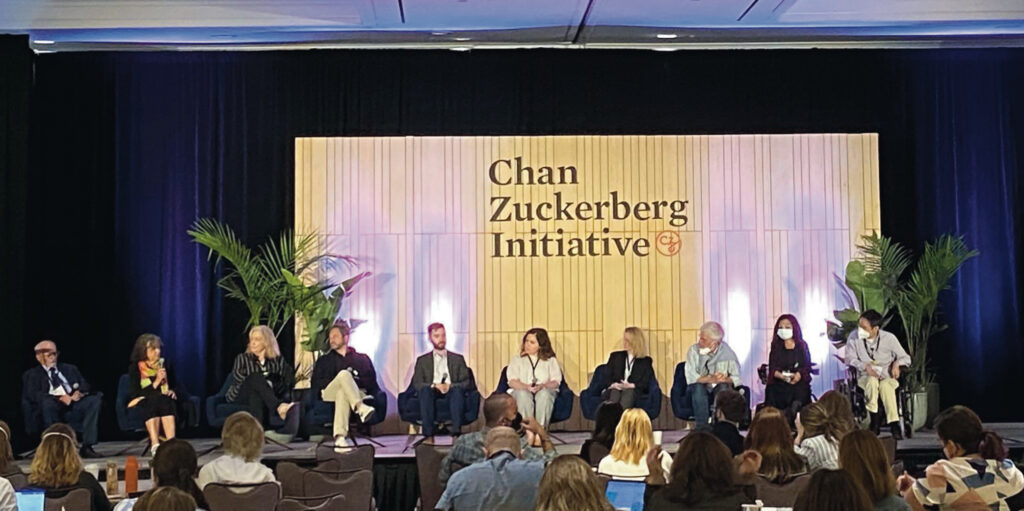 MDA On the Road Launches at High-Impact Conferences to Advocate for Neuromuscular Community
By MDA Staff | Friday, November 18, 2022
Our talented staff at MDA is on the road 24/7, working and advocating for the neuromuscular disease community. From the White House and Capitol Hill to high-impact conferences around the world, MDA is here for you today and every step of the way. We invite you to follow us on this impactful journey.
We are proud to launch our MDA On the Road series with recent participation by MDA staff members in the Chan Zuckerberg Initiative's Rare as One project at Facebook and the Smithsonian Science Education Center's Zero Barriers in STEM Summit.
Follow us on our social channels to check out where MDA On the Road is next.
Highlighting LGMD at Facebook
Paul Melmeyer, MDA's vice president of public policy and advocacy, joined the Chan Zuckerberg Initiative's Rare As One project at Facebook this summer to present MDA's efforts to improve diagnostics for different types of limb-girdle muscular dystrophy (LGMD) by obtaining special classification codes. Founded by Facebook's Mark Zuckerberg and his wife, Priscilla Chan, the Chan Zuckerberg Initiative's purpose is to "help solve some of society's toughest challenges."
Healthcare providers in the United States use a coding system to record all diagnoses, symptoms, and procedures. Obtaining disease-specific classification codes is critical for financial coverage and increases healthcare providers' awareness of the types of LGMD.
"The LGMDs are under-researched diseases with limited efforts to capture their true prevalence and incidence," Paul says. "Adopting codes for the most prevalent LGMDs should substantially accelerate the understanding of LGMD, thus advancing efforts to better treat these diseases."
Discussing STEM accessibility at the Smithsonian
Marissa Lozano, MEd, MDA's national director of community education, participated in a panel discussion on accessibility and inclusion in STEM education at the Smithsonian Science Education Center's Zero Barriers in STEM Summit. The audience consisted of educators from across the country committed to making STEM learning more accessible for students with disabilities. Lozano shared learnings from MDA's STEM Connections program, launched in partnership with General Motors.
This program engages MDA Summer Campers in STEM-based activities, such as building working catapults and designing and constructing bridges. In addition, young adults (ages 16-21) with neuromuscular diseases interested in STEM can receive mentoring from professionals representing fields such as mechanical engineering, medicine, and computer science. Participants work with their mentors to complete a STEM project and learn about career pathways.
"It was great to share how the STEM programs are impacting the lives of young people living with neuromuscular diseases," Marissa says. "Individuals with disabilities are underrepresented in STEM fields, and we want to change that."
Disclaimer: No content on this site should ever be used as a substitute for direct medical advice from your doctor or other qualified clinician.