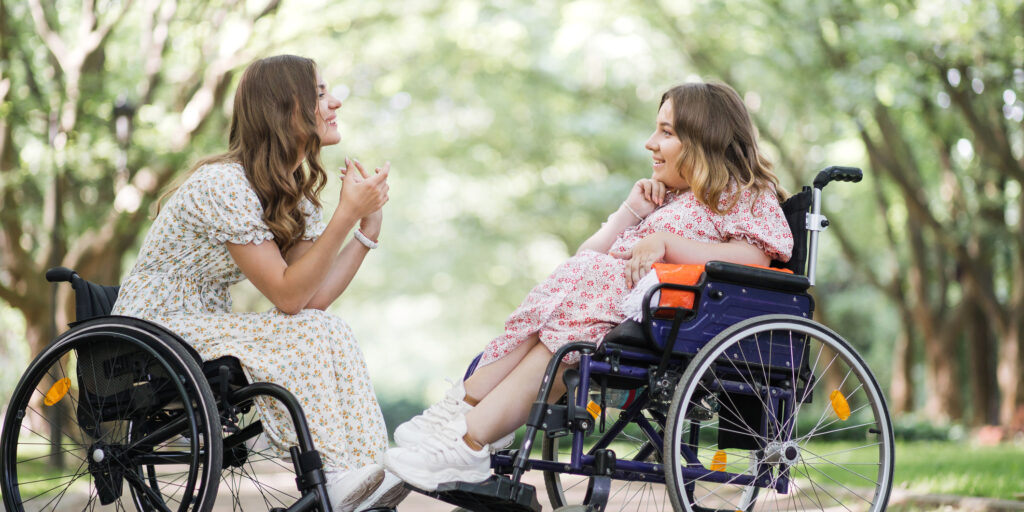 MDA Peer Connections Program Creates Lasting Friendships
By Sara, Care Specialist | Friday, March 24, 2023
The MDA Peer Connections Program provides an opportunity for members of the neuromuscular disease community to build bonds with one another, both across the country and in their own neighborhoods. During the peak of the COVID-19 pandemic, this was especially comforting for those who felt an increased need for connection during the heightened months of isolation. Within three years, MDA has worked to bridge the gap of connection with almost 250 matches. Offering connections for all ages, from families with newborns to individuals in their 90's, the Peer Connections Program has created valuable and lasting friendships within our community.
MDA Care Specialists work with interested participants to identify and connect individuals with shared diagnoses and demographics. Once paired, participants communicate and build a bond via email, telephone, or in-person.
"The connections created in this program made me realize that there are other people who are experiencing the same things as me. Although my match was on the opposite side of the U.S., we still had a lot in common. We talked about times when we were in public, and how people reacted differently towards us because we were in a wheelchair. We also found out that we both liked writing and musicals, so it was fun to talk about our shared hobbies" says Elissa Barton, who lives with limb-girdle muscular dystrophy (LGMD) and joined the program last year. "I decided to participate because I wanted to connect with others living with Muscular Dystrophy, so I thought the program sounded like something I would be interested in. The process was very easy, and it was encouraging to have a Support Specialist on hand just in case I had any questions."
Charlie Mabry, another Peer Connect participant and MDA Ambassador who lives with Duchenne muscular dystrophy (DMD), says, "I love this program so much! I have connected with a few people and was able to provide helpful tips for them!" As a content creator on Tik Tok and an avid advocate for raising awareness about his story living with DMD, Charlie finds great value in his experiences connecting with others through the Peer Connect program and on MDA's gaming platform, Let's Play.
"The Peer Connection program has been a great source of support for newly diagnosed individuals and parents of children who have been diagnosed," says Therese Gabriel, a Support Specialist with MDA who has connected many matches. "For those that are just receiving the news of a diagnosis, it can be helpful to have someone to talk to, especially if they too, have been diagnosed with a similar disease and can connect on a level, no one else understands."
Anyone in the community is welcome to join the Peer Connection program, including caregivers, parents, spouses, or siblings. After joining MDA, participants can specify that they are open to being connected to others in MDA's community based on criteria including diagnosis, age, interests, and preferred form of communication. To get started on a match, please reach out to the Resource Center at 1-800-572-1717 or resourcecenter@mdausa.org.
---
Next Steps and Useful Resources
To join the MDA Peer Connections Program and get started on a match, please reach out to the Resource Center at 1-800-572-1717 or resourcecenter@mdausa.org.
Join the MDA Let's Play Community here. 
Disclaimer: No content on this site should ever be used as a substitute for direct medical advice from your doctor or other qualified clinician.