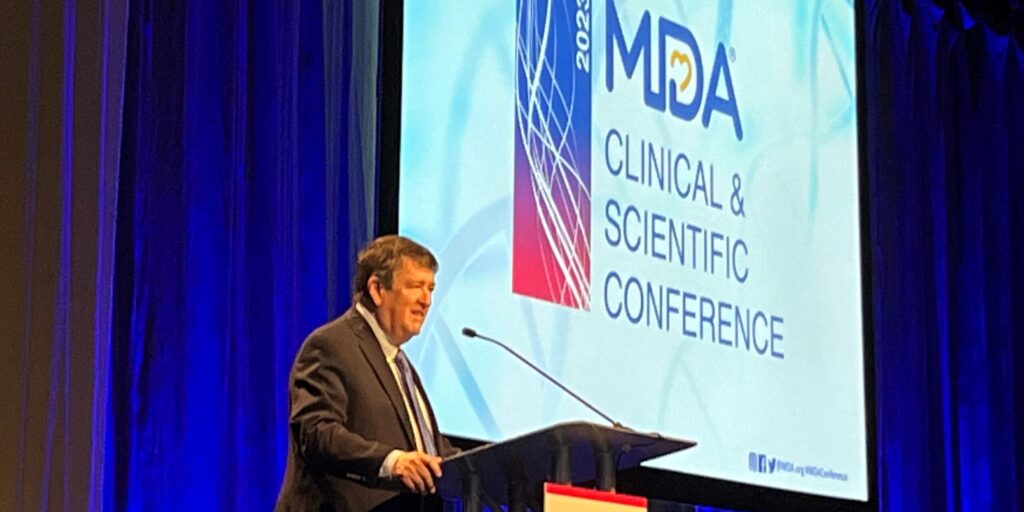 2023 MDA Clinical and Scientific Conference Starts Strong
By Amy Bernstein | Tuesday, March 21, 2023
On March 20, Donald S. Wood, PhD, MDA President and CEO, kicked off the 2023 MDA Clinical & Scientific Conference on a positive note: "Today we have, for the first time in history, treatments for certain genetic neuromuscular diseases," he said. "The frontier of progress in neuromuscular disease has moved from the research laboratory to start to lean more and more toward clinics."
This was a welcome message for the nearly 1,500 people gathered at the Hilton Anatole in Dallas for MDA's annual conference, plus the 555 attending virtually. This event is the world's largest meeting of neuromuscular disease healthcare providers, researchers, investors, patients, and caregivers.
The role of the FDA
Following Dr. Wood's introduction, Peter Marks, MD, PhD, Director of the Center for Biologics Evaluation and Research (CBER) at the US Food and Drug Administration (FDA), delivered a keynote address about the promise of gene therapy and what the FDA is doing to try to help realize that promise faster.
"My interactions with parents and family members of people with rare diseases have really helped me to realize that every day counts," he said.
The FDA, which is responsible for ensuring the safety, efficacy, and security of medical therapies in the US market, recognizes that for many rare diseases, there is also a sense of urgency to find effective treatments. And gene therapy is the most promising path to effective therapies.
According to Dr. Marks, the FDA is implementing several strategies — from international collaboration to accelerated approval — to help researchers and pharmaceutical companies address the challenges of developing gene therapies for rare diseases and speed the review process. Among those strategies is a pilot project to apply methods used during Operation Warp Speed — the federal initiative that sped up the development of COVID-19 vaccines — to develop promising therapies.
"We're very committed to advancing the time and availability of gene therapies for all sorts of disorders," he concluded.
Well-deserved recognition
Another highlight of the morning was the awarding of MDA's Legacy Award for Achievement in Clinical Research, a recognition for outstanding accomplishments in neuromuscular disease research. Stanley H. Appel, MD, presented the award to Merit E. Cudkowicz, MD, MSc, for her work researching treatments for amyotrophic lateral sclerosis (ALS).
Dr. Cudkowicz started the Healey Center for ALS at Massachusetts General Hospital, where she and her team designed the first-of-its-kind Platform Trial for ALS. This innovative clinical trial tests multiple drugs simultaneously on the same platform, reducing the number of trial participants taking a placebo and the time it takes to develop treatments.
"In a traditional trial, you test one drug at a time," Dr. Cudkowicz explained. "You build all your infrastructure and find your sites, and you do the trial, and then it's over. You take the whole thing down, and you start all over again."
In the platform trial model, the infrastructure supports multiple experimental therapies, and all are compared against one control group taking a placebo. Dr. Cudkowicz and her team began enrolling patients in 2020. Each person who joined the Platform Trial for ALS had a 3 to 1 chance of receiving an active test therapy versus a placebo.
After two years, results were available for the first four drugs in the trial. Two are moving into phase 3 trials. Three more drugs have been added to the trial, showing that this method can be used to study multiple drugs rapidly and effectively.
Kickstarting ultra-rare disease treatments
Afternoon sessions provided conference participants with the latest information on topics ranging from gene editing technologies to diagnostic testing to digestive health. One topic of great interest to the MDA community is ultra-rare diseases.
Of all the diseases under MDA's umbrella, the majority affect fewer than 1,000 people in the United States. There are multiple challenges to studying diseases with small numbers of patients, and there is less incentive for companies to develop drugs for which there will be low demand.
MDA's new Kickstart Program is designed to promote the development of gene therapies for ultra-rare neuromuscular diseases by helping drug developers overcome those challenges. Sharon Hesterlee, PhD, Executive Vice President and Chief Research Officer at MDA, noted the timing is right for this program because of the progress that has been made in treatments for diseases such as spinal muscular atrophy (SMA), Duchenne muscular dystrophy (DMD), and ALS. "Now that there is a pretty good pipeline for some of these more common diseases, what can we do about the less common diseases?" she said.
MDA Kickstart identifies promising research on an ultra-rare neuromuscular disease that lacks funding or needs assistance with data or project management. MDA's research team provides the drug developer with funding and expertise to help it move to the next step.
The first disease selected for MDA Kickstart is congenital myasthenic syndrome with episodic apnoea (CMS-EA). The Kickstart team considered a couple of factors in choosing this. First, this ultra-rare disease is potentially treatable because it is usually caused by mutations in a single gene. Second, the potential benefit of treatment is great because the neonatal form of this disease is severe, and it can be life-threatening in infancy.
A good day's work
The day ended with a feeling of excitement for more sessions to come. This conference presents a rare and important opportunity for drug researchers working in laboratories, doctors and therapists caring for people with neuromuscular diseases, and community members living with these conditions to mingle and share their experiences and hopes for the future.
Dr. Wood captured the feeling during his kickoff speech when he said, "It's a very dynamic time."
---
Next Steps and Useful Resources
Disclaimer: No content on this site should ever be used as a substitute for direct medical advice from your doctor or other qualified clinician.