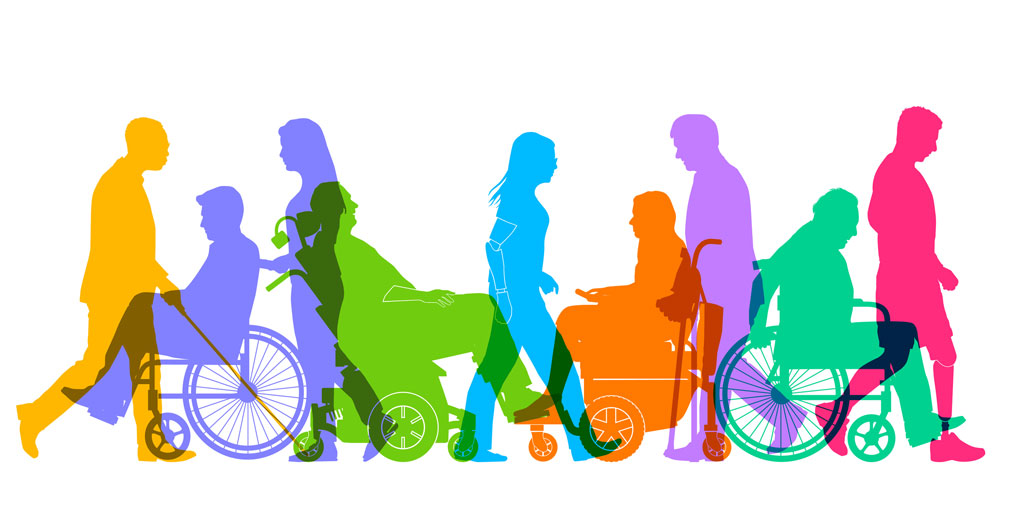 October is National Disability Employment Awareness Month: What Does That Mean?
By Sarah Jean Schwegel | Tuesday, October 13, 2020
Sarah Jean Schwegel, who has spinal muscular atrophy (SMA), works as the Public Policy and Advocacy specialist at Paraquad in St. Louis, Mo. In 2015, Sarah graduated from Maryville University with a bachelor's degree in Rehabilitation Services. In 2018, she graduated from Saint Louis University with a master's in Public Administration. Before she started working at Paraquad in the fall of 2019, Sarah worked in Diversity and Inclusion at Nestle Purina PetCare from 2015-2017, as a graduate assistant in the Political Science department at Saint Louis University from 2017-2018, and as the youth transition coordinator at Starkloff Disability Institute from 2018-2019. She is passionate about helping people with disabilities become as independent as possible through self-advocacy and policy change. Prior to the COVID-19 pandemic, Sarah's favorite activity was going to Jefferson City, Mo., with Paraquad participants to advocate for a policy change that would benefit the disability community. Now she enjoys being vocal about social and disability justice on social media. You can follow her at @schwegs14 on Twitter and @sarahsitsonatoilet on Instagram.
What do you think of when you hear "National Disability Employment Awareness Month"?
For me, the first thing I think of is the fact that people with disabilities make particularly good employees, and companies should put a lot more effort into hiring them. But in reality, disability employment is a lot more than that. It's not solely the responsibility of employers. People with disabilities have to put in some effort to be employed, and both employers and disabled people need to work together to advocate for systems change that will increase access to the workforce and competitive employment opportunities.
What employers and job seekers can do
First, employers need to do more and be better at including disability in their diversity and inclusion initiatives. Disability intersects with all of the other diverse populations companies strive to include; why are people with disabilities forgotten? During NDEAM, the Department of Labor and the Office on Disability Employment Policy has a robust toolkit available to employers who want to make their workplace more welcoming to people with disabilities.
Second, people with disabilities must be the best advocates they can be if they want to participate in the workforce. This means marketing disability as an asset in the workplace and being honest and open about limitations and the accommodations needed to succeed. Many people with disabilities don't realize that the skills they use in their personal lives to manage attendants, transportation, and doctor appointments translate into excellent skills in corporate environments. For example, if you use personal care attendants (PCAs) to complete all of your activities of daily living, you probably have great communication, time-management, and organizational skills.
Many people with disabilities are also unaware of the accommodations that are available to them in the workplace. The ADA requires that employers provide "reasonable accommodations" to support workers with disabilities. These accommodations can range from a simple raised desk to more complex dictation software so that people with limited hand movements don't have to type. A great resource to explore accommodations is the Job Accommodations Network (JAN). JAN has a fairly comprehensive list of disabilities (descriptions for employees and employers to understand what kinds of accommodations might be necessary), plus job openings and a lot of suggestions for accommodations that might work for you. The accommodations they suggest range from high tech to low tech and vary in price, as to not place an "undue burden" on employers.  While it is unfortunate that, we, people with disabilities, still have to work hard to advocate and convince employers that we have the skills necessary to compete in the workforce, it is important we do so to help break the stigma and prove ourselves worthy so that future generations of disabled people have more access to employment than we do.
What we all can do
Possibly most importantly, people with disabilities, their allies, and the employers who want to hire them must work together at the state and federal level to eliminate systemic barriers that keep people with disabilities from working. Many people who are looking for jobs don't realize how policies at both the state and federal level force people with disabilities to be underemployed or unemployed.
For those of us who require the use of Medicaid-funded PCAs to live independently and go to work, we are subject to income caps and asset limits that force us to live in or near poverty or lose our Medicaid services that allow us to live independently. Each state has different variations of the work incentive programs that the Social Security Administration has created for people with disabilities that allow folks to work and live independently, but these programs can be complex, and many states have the authority to customize programs. Caseworkers who can help people with disabilities navigate the system may not understand the systems in place. It is crucial for people with disabilities who are able to work and want to work connect with local organizations such as centers for independent living that can help them navigate the system and learn about advocacy efforts.
It is also crucial for corporations who want to hire more people with disabilities to work with centers for independent living to help explain to policymakers the importance of robust work incentive programs for people with disabilities, and how hiring people with disabilities will be much easier for companies once people don't have income restrictions required to retain their Medicaid services. For example, I used to work at a Fortune 500 company; however, because of the income caps and asset limits that were associated with my ability to maintain Medicaid, I could work only 17 hours a week. If I worked more than 17 hours and was paid at a rate that allowed me to stay on Medicaid, the company I worked for would have been flagged for wage discrimination. I wanted to work more than 17 hours a week, the company wanted me to work more than 17 hours a week. But I could not risk losing my Medicaid. Without it, my PCAs would cost me a minimum of $80,000 a year — and I still have to pay for food and rent.
NDEAM is a great time for employers to do more to be inclusive, but it is also a great time for the disability community to learn about programs and policies that are in place to help them get to work. And going forward, we need to take action to help policymakers understand the importance of better, robust, and well-written work incentives so that we can truly have access to competitive employment and be compensated at a rate that is comparable to our education, experience, and skills.
Disclaimer: No content on this site should ever be used as a substitute for direct medical advice from your doctor or other qualified clinician.