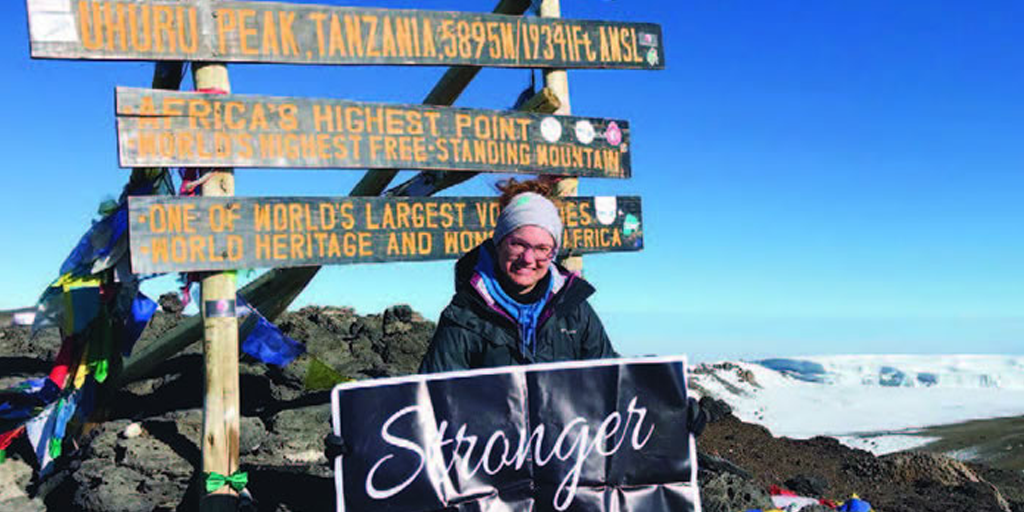 By Neenah Williams | Monday, July 15, 2019
After six long days, I'm tired. It's the middle of the night, I'm wearing five layers of clothing and I know I have several more hours to go in the frigid air before I reach the 19,341-foot summit. "Mom believes in you. Dad believes in you. All of your friends and family believe in you. You are strong," are the words that echo through my mind with every step.
I am not one who believes in chance. Everything happens for a reason. For the past decade, facioscapulohumeral muscular dystrophy (FSHD) has been part of my story. It has never been who I am. In fact, it has only served to enhance the whole person that I am, gradually putting up hurdles that I work to jump over and grow from.
Just after Christmas in 2017, I decided I wanted to do something spontaneous and unforgettable in 2018. A couple of weeks later (somewhat on a whim), I booked a trip to climb Mount Kilimanjaro, Africa's tallest mountain.
In the months following my decision, FSHD unexpectedly began to affect my lower limbs. When hiking, I began to fall on the trails. When I planned the trip, I had no idea the timeline was going to correspond so closely with this gradual decline in muscle. I quickly learned that the trek was going to be challenging.
Falling Into Place
In August 2018, I moved to Colorado. The elevation of my city is more than a mile high. Living at this altitude took a lot of getting used to, but it turned out to be a major benefit during my trek.
On top of that, I took my first hot yoga class, which quickly turned into a habit that helped improve my lung efficiency. My yoga teacher was an expert on the effects of high altitude on the body, and he provided me with diet tips to help give my muscles more endurance.
Approximately three weeks before my climb, I found a group of local hiking buddies, and together we summited Pikes Peak (14,115 feet). This gave me an idea of how my body would react as I ascended Kilimanjaro.
It is as if all of these things fell into place at the perfect time, one right after the other. Isn't it beautiful how things work out?
On Top of the World
Each day of the Kilimanjaro journey came with its own challenges. Not only was the climate different from one day to the next — the trek begins in a rainforest and ends in a frozen desert — but the altitude gain and steep inclines make it tough to breathe while carrying a full day pack.
On day four, we spent several hours climbing up the side of a daunting cliff known as Barranco Wall. The wall is more than 800 feet tall, and my hips were throbbing by the time I made it to the top. At one point mid-climb, I was overcome with emotion. Tears flowed as I sat on a rock, overwhelmed by gratefulness, pride and the reality of how FSHD has changed my body over the years.
On Oct. 8, 2018, I made it to the summit of Mount Kilimanjaro, known as Uhuru Peak. I have never felt as strong or as equal as I did on that day.
I say "equal" because the night I began my trek from base camp, I was climbing alongside several hundred complete strangers, all contending with their own internal struggles. No one knows anything about your story, yet there's this one goal that aligns everyone there. I wasn't known as Neenah, the girl with FSHD. Instead, I was simply one in a group of people who all saw in each other the same resilient spirit and desire to keep pressing forward, no matter how much our bodies begged us to quit.
To all my friends, this condition does not define us. It is only one of many factors that shape our mind, body and spirit. The strength within is a powerful force. Keep pushing your limits, and soon you will be on top of the world.
Neenah Williams, 27, was diagnosed with FSHD in 2007. She lives in Colorado and is an avid hiker and yogi.
Disclaimer: No content on this site should ever be used as a substitute for direct medical advice from your doctor or other qualified clinician.