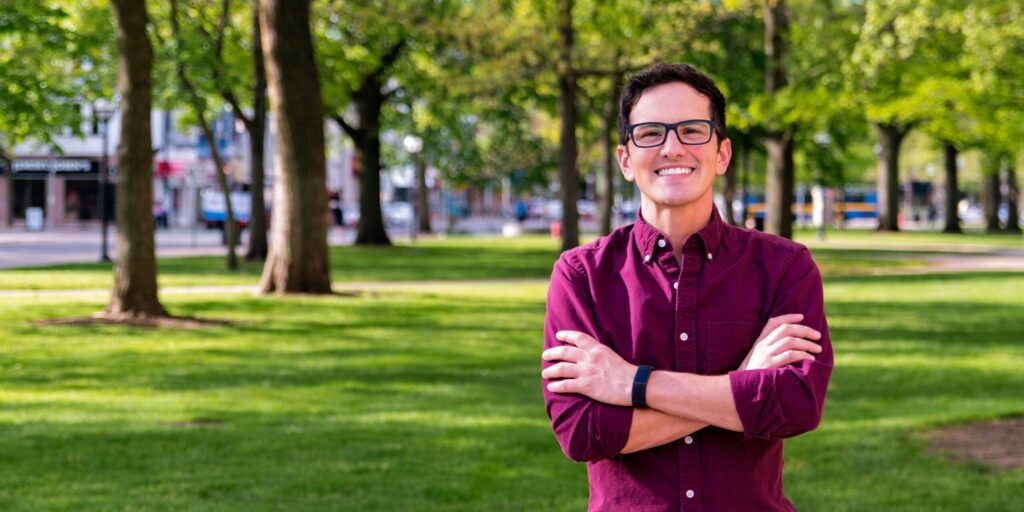 Quest for Success: Jason Morgan
By Rebecca Hume | Friday, July 29, 2022
5 Second Summary
Quest for Success explores the different paths that individuals with neuromuscular disease have taken to reach their potential and pursue dreams. This series spotlights individuals from our community and shares their journey to independence and accomplishment.
As the Muscular Dystrophy Association (MDA) continues our commitment to empowering people living with neuromuscular disease, we are excited to share our 2022 blog series: "Quest for Success".
Success looks different to everyone and this monthly blog details the different paths that individuals with neuromuscular disease have taken to reach their potential and the steps they took to get where they are today. Each month we spotlight one individual from our community and share his or her journey to independence and accomplishment. We hope that these stories empower and inspire our readers to unlock the possibilities in their own lives…because the possibilities are limitless
County Commissioner and State Representative Hopeful Aims to Make the World a Better Place
When Jason Morgan was diagnosed with Becker muscular dystrophy (BMD) at 13 years old, he feared that he wouldn't have the opportunity to do all of the things that he wanted to do in this life. He felt discouraged by the limitations that doctors and literature set for those living with a progressive neuromuscular disease. But through growth, grace, willpower, and the support of others in the neuromuscular community, that initial pessimism gave way to hope and purpose. Determined not to allow limitations to define his quest for success, Jason's diagnosis became a motivating and propelling factor in his life's passion of trying to make the world a better place.
The now 33- year-old college instructor and county commissioner of Washtenaw County, Michigan has worked for multiple members of Congress and is running for State Representative. If Jason wins the election this fall, he will be one of the few (if not only) state legislators to live with muscular dystrophy. Jason aims to use his platform to continue to advocate for individuals living with disabilities.
Finding hope and purpose after diagnosis
As a child, Jason began to experience pain and muscle cramping in his arms and legs after running and playing. The progression of these symptoms led to his diagnosis of BMD at 13 years old. Jason shares that shortly after learning that he had a progressive disease, his outlook on life was not optimistic. He struggled to accept that the pain he was experiencing was not temporary and that his physical abilities would eventually deteriorate. He hadn't yet developed specific lifelong goals for his future career, but suddenly his wide-open future felt much smaller. It wasn't until he went to MDA Summer Camp that he realized he could, and should, plan for a future filled with opportunity.
Jason credits his time at MDA Summer Camp with inspiring him to set goals. He shares that his time at Camp pulled him out of his pessimism and gave him hope that his future could be better. He realized that other children were dealing with the same challenges and handling those challenges well. This motivated him to change his mindset. Sharing his experiences with peers empowered Jason to recognize that he could do powerful things with his life. "It really gave me hope. I didn't know what exactly I would want to do with life, or how long it would be, but I knew I wanted to do something good and positive with the time that I did have," Jason says. "And that was, and still is, what ultimately has inspired me to work in public service."
His time at camp was so influential that after spending his teenage years as a camper, Jason returned to MDA Summer Camp as a volunteer counselor and cabin leader for 10 years.
Education and overcoming obstacles
During middle school and high school, Jason did not require mobility devices or physical accommodations. He learned to pace himself and navigate a fine balance between activity and over-exertion. He wore leg braces at night to support his ankle muscles and stretch his heels. His parents encouraged him to pursue goals, praising his intelligence and bright future.
Attending college presented financial challenges, but Jason was determined to get an education. He researched and applied for financial aid, grants, and scholarships to patch together enough financial support to pay his tuition.  He completed his undergraduate studies at Northern Michigan University, earning a Bachelor of Arts in Political Science.
Still able to ambulate without assistance, Jason did not require physical accommodations while pursuing his degree. But he faced a new challenge as an undergraduate, Jason struggled to focus and found it difficult to complete assignments. He adapted by working harder and longer than other students, often taking two to three times longer to complete tasks in comparison to his peers. At the time, he viewed it as another challenge to overcome and leaned on his persistence and determination.
It wasn't until after he graduated that he recognized there was a reason that he found it so challenging to concentrate. As he embarked on the start of his adult career, he had to acknowledge that he was struggling. After seeking medical advice, Jason was diagnosed with attention-deficit/hyperactivity disorder (ADHD). With that diagnosis he also learned that ADHD is often closely associated with muscular dystrophy. Jason shares that appropriate treatment was life changing for him – and allowed him to truly enjoy learning and thrive in both graduate school and his career.
Working with what you have
In his 20s, Jason realized that by staying closely in tune with his muscles, he was able to do more physical activity than he had been able to do when he was younger. Disease progression is unique to each person living with a neuromuscular disease and Jason found that his progression was slower than initial predictions. By carefully balancing, Jason has learned to exercise in a way that builds stamina without feeling as much pain and soreness. Jason shares that he is incredibly fortunate to still have the ability to run; setting a pace for long distance at a reasonable speed and taking breaks has allowed him to maintain abilities that he did not expect to have. He wears leg braces sporadically when he experiences muscle tightness. Jason also experiences chronic muscle fatigue and soreness in his back, making it difficult to sit upright for long periods of time.
Jason did not initially disclose his diagnosis to employers when he entered the job force. He didn't require physical accommodations and, without the need for mobility devices, his disability was not easily recognized by others. Most of the positions that Jason applied for were high-stress roles that required long hours and long physical days. He was concerned that potential employers might doubt his abilities if they were aware of his disability.
After completing his undergrad, Jason worked for multiple members of Congress and began working at the local community college. Jason realized that his future could be much different than what he had been told when he was young. He recognized how fortunate he was to still have the physical abilities that he had. The likelihood of being healthier for longer than he expected sparked an ambition for even bigger career goals.
In 2016, Jason ran for county commissioner and won. He was humbled by his victory and motivated to keep growing and achieving. He started graduate school at the University of Michigan that same year and earned a master's degree in public education. Still serving as county commissioner, Jason oversees policy and budget for the entire county (which houses about 370,000 people) and is responsible for the oversight of public health, mental health, sheriff's office, county municipal services, and a multitude of other entities.
Disclosing on a platform
While working with his local government and members of Congress, Jason recognized that his role as a public servant afforded him the opportunity to raise awareness about muscular dystrophy and the importance of medical research. He wanted to share his diagnosis with his community and empower others. After disclosing to his employers and colleagues, he arranged a press conference with U.S. Representative Debbie Dingell, whom he was working for at the time. He realized that he had the ability to use his position to further his goal of helping others who are living with muscular dystrophy. Congresswoman Dingell's direct influence on federal legislation motivated Jason to use his role as a vehicle for change. After speaking publicly about his diagnosis, Jason met with multiple members of Congress to share his story and advocate for legislative actions that will serve individuals with disabilities.
Living an inspired life
Jason has committed himself to living a purposeful life – rich with achievement and dreams that keep growing. He recently became engaged and has plans to buy a new home with his fiancé. He has reshaped his mindset and his path to success multiple times, always striving toward doing good for others and putting meaning into each moment.
"For me, when I was diagnosed with muscular dystrophy, it was very difficult and felt like the future might be bleak. But I very quickly realized that I could choose to see muscular dystrophy not as a disability, but as an inspiration to live every day as if it was my last and to make the most of every moment," Jason says. "I have found out that to have this gift come to you at 13 years old is pretty special."
Jason also shares that now, more than ever, there is reason to have real hope that there will one day be a cure for muscular dystrophy. He champions for legislature that supports funding for research with the belief and hope that a cure is around the corner.  "That is one of the most important pieces for someone like me, is to have hope that we can achieve our dreams and do what we want to do with our lives," he says.
He also imparted an important caveat to achieving those dreams: success doesn't always look exactly the way that you imagined it, but you can adjust and achieve the version of your dream that feels right for you at each chapter in your life.
For Jason, helping others has created a sense of purpose and meaning in his life. "Every one of us is able to help others, whether we are mobile or otherwise equipped," he says. "Through our words, our actions, living our best life, with hope and optimism, I think can be a signal that it is possible."
(Note: MDA does not endorse political campaigns/candidates, elected officials, or political parties.)
Disclaimer: No content on this site should ever be used as a substitute for direct medical advice from your doctor or other qualified clinician.