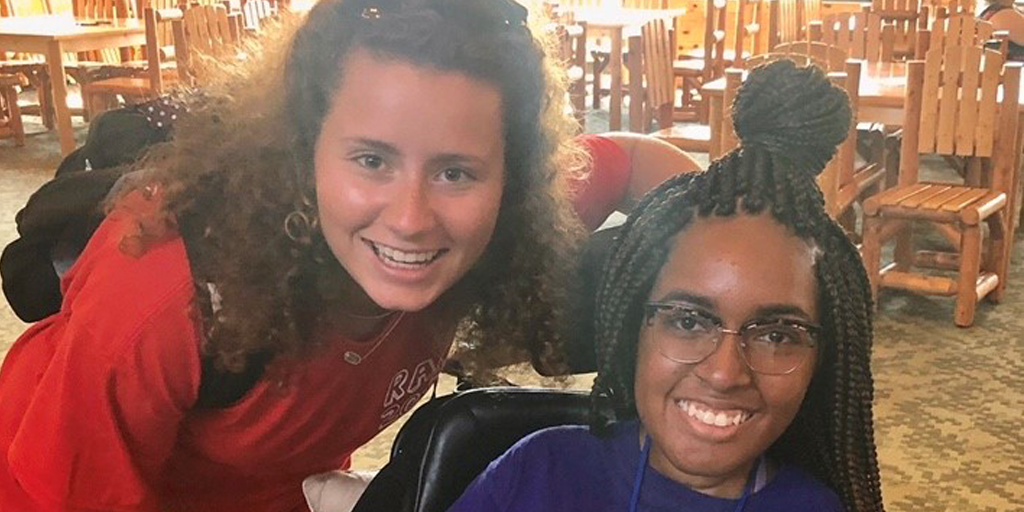 Reporting Back on MDA's First-Ever Virtual Hill Day
By MDA Staff | Tuesday, September 1, 2020
When the COVID-19 pandemic made meeting in person impossible, MDA's Advocacy program needed to shift from in-person to virtual meetings with lawmakers. In early August, volunteers met with their lawmakers virtually — for the first time — to urge elected officials in Washington, DC, to end the process of surprise medical billing, which can be devastating for patients, including those in the neuromuscular disease community.
Gabrielle Runyon participated in MDA's first-ever Virtual Hill Day, and we sat down to talk to her about her experience. Gabrielle, a college student from Louisville, Ky., is a veteran advocate who also participated in MDA's in-person Public Policy & Advocacy Conference last year in Washington, DC.  
Why was it important to you to participate in MDA's first Virtual Hill Day?
MDA has been a big part of my life for quite a while. My mother started taking me to an MDA Care Center to get flu shots when I was 5 or 6 years old because our insurance didn't cover them. I continued going to the Care Center, then at 7, I heard about MDA Summer Camp and I really wanted to go. My mom was afraid to let me go, so it took a year of convincing her. When I turned 8, she said I could attend. All of the paperwork was filled out and I was ready to head to camp, but then it got canceled because of the H1N1 influenza outbreak.
After that I started fundraising so I and other kids could go to camp. In 2016, I became a local MDA Ambassador for the Louisville area, and in 2018 I became one of the MDA State Ambassadors for Kentucky. 
I love participating and advocating whenever I can to help out as much as MDA has helped me.
How did you prepare for the meetings?
We were given materials and information on what we were going to ask the members of Congress, but that was just the start. We had to share how [legislation ending surprise medical billing] would or could affect us, make a personal connection, and tell our story. I feel like this was the hardest part for me, trying to connect my story back to the asks. I remember only so much of my life, so I had to ask my mom for help.
Did you prepare differently knowing the meetings were virtual?
Yes! When we did the in-person meetings last year, I focused  on my facial expressions and watching the body language of who I was talking because I felt like that was a big part of whether or not they would offer support.
How was the experience different when compared to in-person Congressional meetings?
The Virtual Hill Day meetings went a lot faster. Each meeting lasted about 15 minutes, so I was done in about two or three hours. The in-person Congressional meetings last year lasted most of the day. We got there at around 9 a.m. and didn't leave until about 3 p.m. I also felt like the virtual meetings were more impersonal, like most things that are being done virtually nowadays, because you miss out on a lot that you can see in person, but it still got the job done and was effective.
How was the experience the same when compared to in-person Congressional meetings?
Almost everything else was the same. We had training, we had time to practice, and then we went and had the meetings.
How did the Virtual Hill Day go? How were your meetings?
My meetings were good! Everyone seemed receptive of the asks and looking for solutions to solve the problems.
Do you have any advice for people who might be interested in getting involved in MDA's Advocacy program?
Do it afraid! Every time I go to speak, perform, or do an MDA event I get nervous — butterflies in my stomach, nausea, the whole deal. But once I am in the thick of it, it all goes away.
You can join Gabrielle and make sure lawmakers hear your voice and urge lawmakers to end surprise medical bills once and for all. Please take action today! And be sure to follow all of our Advocacy updates, including news on future Virtual Hill Day events, here.
Disclaimer: No content on this site should ever be used as a substitute for direct medical advice from your doctor or other qualified clinician.