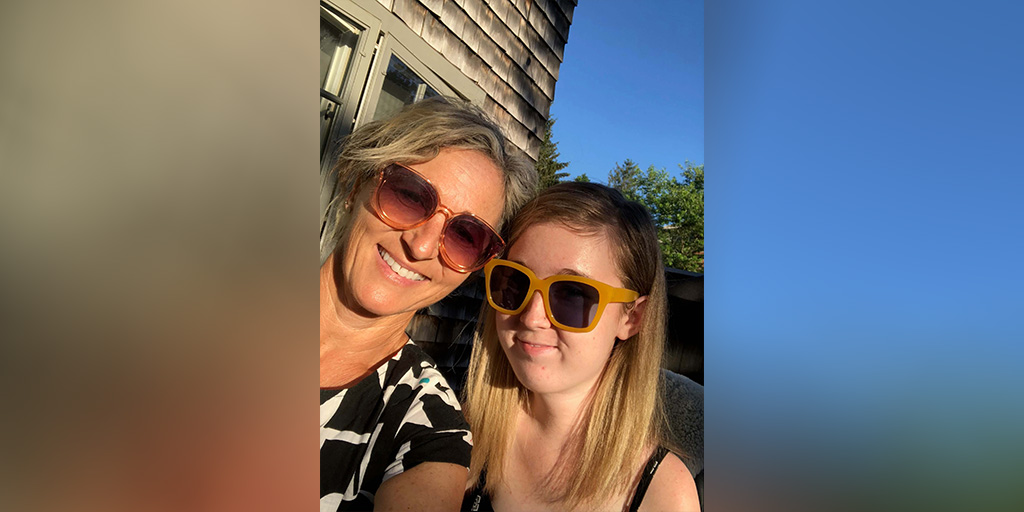 Strengthened by Spinraza, Marley Robinson is Tackling College — and Planning for More
By Chris Anselmo | Thursday, February 28, 2019
Feb. 28 is Rare Disease Day, when the collective rare disease community raises awareness of the conditions with which we live and advocates for access to new novel treatments like Spinraza, the first FDA-approved disease-modifying drug for spinal muscular atrophy (SMA), a rare neuromuscular disease that affects people like 18-year-old Marley Robinson. Spinraza is making her life better. Donate to MDA today to support new treatments for kids and adults like her, who make strides every day to achieve their dreams.
With one semester in the books, 18-year-old Marley Robinson has quickly embraced the excitement and possibilities of college life.
Marley, a former Connecticut MDA state ambassador living with spinal muscular atrophy (SMA) type 2, has big plans for her time at Boston's Northeastern University. Marley was an exceptional student growing up, and her college life hasn't slowed down — she's taken on intensive coursework as a computer science major, learning fundamental skills that she hopes to one day incorporate into a career helping others.
College is not the only change taking place in her life. As Marley adjusts the rigors of a full academic course load, she is also noticing improvements in breathing capacity and strength thanks to Spinraza, the first FDA-approved therapy for SMA.
Growing up with SMA
Marley, who hails from Mystic, Conn., was diagnosed with SMA type 2 when she was 18 months old based on the hunch of a family friend who recognized her symptoms.
"My parents realized I was missing all the milestones that kids were supposed to be having," Marley says. "A family friend who worked with the Birth to Three program was familiar with SMA and thought I might have it. She suggested we go to my pediatrician to get a blood test, and shortly thereafter I was diagnosed with SMA."
At age 2, Marley began to use a power wheelchair, and as she grew, required several spinal surgeries to insert titanium growth rods that helped to straighten her back.
"I had about eight total back surgeries," Marley says. "With SMA, doctors are really worried that your organs and lungs will get crushed and you won't be able to breathe well."
Each surgery required time away from school, however, with the support of her parents, Gabrielle and Karl, Marley was able to excel in her school work and develop interests outside the classroom. One of her early interests was art.
"My mom is an artist, and I've always been influenced by her love for it," she says.
High school years
Upon entering high school, Marley took a liking for the curriculum and excelled in numerous advanced placement classes.
"I took a jewelry and metals class one year and a graphics design class, which was fun," she says. "I also really liked my science, computer science and math classes.
"But I hated history."
Outside of the classroom, Marley was an active participant in extracurricular activities, expanding on her passion for art.
"I was involved with our school's art and literary magazine," Marley says. "I was the art editor my junior year, and senior year, became the editor. I was also involved a lot with the photography club."
Marley also enjoyed her time with the Unified Sports club, which is an inclusive sports program that unites athletes with and without disabilities in sports competitions.
"I was the manager of the unified club at my school," she says. "We had soccer, basketball and volleyball. A lot of kids got involved and we'd go to different schools and compete. I'd make music videos from every season, videotape most of the games and at the end of the year, we'd have a party."
MDA ambassador
One activity in particular that Marley enjoyed was advocacy, and for two years during high school she was the Connecticut MDA state ambassador. The role took her all over the state, visiting with businesses raising money for MDA and speaking at annual events, such as the Fill the Boot Camp event for firefighters at Mohegan Sun Casino and a Harley ride organized by a local law firm.
According to Kevin Cassesse, executive director of the MDA Connecticut office, Marley made a tremendous impact on the organization.
"Marley is amazing," he says. "In her time as state ambassador she brought MD awareness to many different groups of people statewide. She consistently painted the picture of how important our work is at MDA and how it has benefited her life directly."
Life after Spinraza
Shortly before her 17th birthday in May 2017, Marley began to receive injections of Spinraza, the first FDA-approved therapy for SMA, which was approved only a few months prior. After frequent loading dosages, she is now on an every-four-month schedule to receive the treatment.
The impact has been noticeable.
"My breathing has been getting a lot better," Marley says. "When I do pulmonary function tests at my six-month doctor visits, they can see that my breathing has improved a lot, which is amazing." She has also noticed other effects. "I've been getting a bit more movement in my arms, and it's easier to reach for stuff and keep strength in my arms," she says. "And I don't get as tired as I used to get."
Into the Future
At Northeastern, Marley has enjoyed her experience thus far and has made a lot of friends. Her favorite classes to date include the fundamentals of computer science and a film class. Off campus, she has enjoyed area museums, visiting the many historic and unique neighborhoods in Boston, and even the chance to attend an Ed Sheeran concert. Another side benefit of Spinraza: Riding the subway is becoming less jolting. "I've found it's gotten a lot easier riding the T, in that my head doesn't always flop back anymore when we start to move," Marley says. "My neck has been very grateful — no more whiplash!"
She already has her sights on a study abroad.
"I have a couple places in mind that I'd love to visit," Marley says. "I want to go to France. I'm really into French and that type of culture, and I also want to live in Australia. My mother is from there and we've visited a couple times and I loved it. It would really be cool if I could do a co-op there."
Advice for Others
For those living with SMA, Marley has this to say:
"I would say not to focus too much on your disease. It's definitely a giant part of you that'll always be with you, but, rather than be sad or depressed, it's better to look towards the future and think what you are going to do with your life. Have fun, don't really get caught up in your disease, and just do what you want to do.
"There are so many things out there that people with SMA can still do."
Disclaimer: No content on this site should ever be used as a substitute for direct medical advice from your doctor or other qualified clinician.