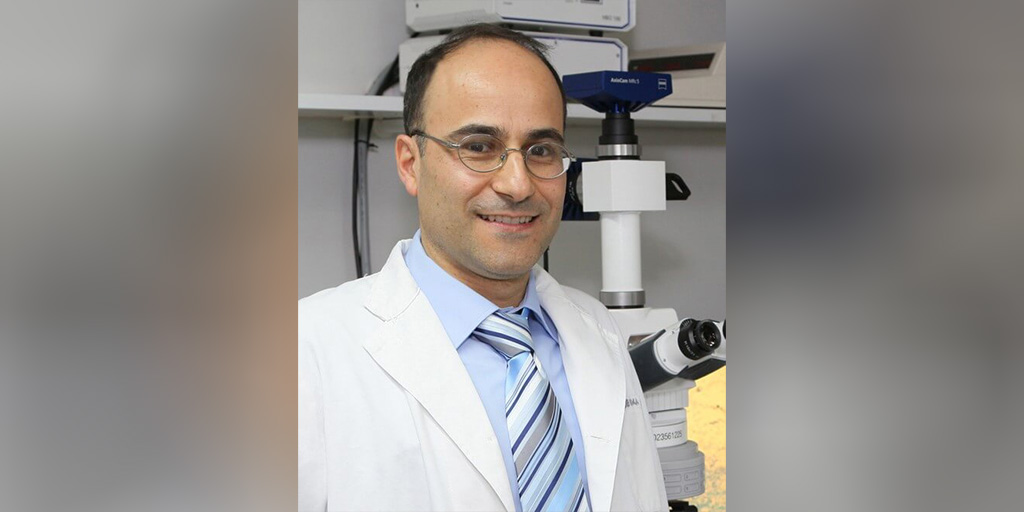 CMTA and MDA Co-Fund Proof-of-Concept Study Using AAV Vector to Deliver Gene Replacement Therapy in X-linked Charcot-Marie-Tooth Disease
By Jeanene Swanson | Friday, March 1, 2019
On Mar. 1, the Charcot-Marie-Tooth Association (CMTA) and the Muscular Dystrophy Association (MDA) announced that they have jointly awarded a research grant totaling $276,430 over three years to Kleopas Kleopa, M.D., professor and senior consulting neurologist at the Cyprus Institute of Neurology and Genetics, Cyprus School of Molecular Medicine, in Nicosia, Cyprus. Dr. Kleopa is a world-renowned expert on gene replacement therapy for CMT1X, the second-most-common form of Charcot-Marie-Tooth disease (CMT).
Mutations in the gene coding for the gap junction beta-1 protein (GJB1), also known as connexin 32 (Cx32), are associated with the X-linked form of CMT (CMT1X), which affects approximately 1 in 25,000 people. Using this grant funding, Dr. Kleopa will perform critical, proof-of-concept studies to test whether delivery of the Cx32 gene using an adeno-associated virus (AAV) vector can improve symptoms in a mouse model of CMT1X as well as determine the optimal route for delivery of the therapy.
AAV vector technology has been shown to be a safe and effective delivery vehicle for "corrective" gene replacement therapy in both preclinical and clinical studies. There have been several successful applications of AAV vector gene replacement therapy for genetic diseases of the nervous system. For example, AveXis, a Novartis company, currently has a Biological License Application (BLA) under review by the Food and Drug Administration (FDA) for their gene replacement therapy for spinal muscular atrophy (SMA), which has shown encouraging results in a Phase 1 clinical trial.
"Gene therapy continues to show promise for the treatment of neuromuscular disease," says Amanda Haidet-Phillips, Ph.D., one of the MDA's scientific portfolio directors. "MDA is hopeful that this new, translational work may pave the way for gene therapy to be developed for CMT and we are grateful for the partnership of the CMTA to help accelerate this important study forward." CMTA CEO Amy Gray says, "The study is yet another step on the road to realizing our hope that in the not-too-distant future, gene therapy for CMT will be a reality beyond the lab."
Advancing gene therapy approaches
With previous MDA-funded support, Dr. Kleopa pioneered a gene therapy approach to treat the X-linked form of CMT, showing that a single spinal injection of the Cx32 gene was associated with production of normal protein in nerves and improvement of peripheral nerve health and motor performance in a mouse model of CMT. In a follow-up study co-funded by the MDA and the CMTA, he examined whether repeated injections in mice led to increased protein levels and tested whether treatment at later stages of the disease led to improvement like that seen for treatment in the early stages.
"All of the inherited neuropathies remain incurable despite the progress made in the last couple of decades in understanding the causes and mechanism of disease," Dr. Kleopa says. "Efforts to develop treatments for some of the best characterized forms are now a priority and will lead the way to finding cures in the near future for other forms as well."
The target cell type for this therapy is the Schwann cell, which generates the insulating myelin sheath around peripheral nerves. The challenge for CMT1X and other demyelinating forms of CMT is optimizing delivery of the gene to Schwann cells. In previous studies, Dr. Kleopa employed a different type of viral vector to deliver the Cx32 gene, but for this new study he will adapt this approach to AAV, which has been more widely used in the nervous system and shown promise in clinical studies for other diseases. The project will test several types of AAV and different injection paradigms to determine the best method to restore the function of Cx32 in Schwann cells. Positive results may help advance development of treatments for other types of CMT affecting Schwann cells, as a similar AAV approach can be applied to CMT1A and other subtypes of CMT1.
"By establishing an effective, clinically applicable gene therapy approach targeting peripheral nerves, we may be able to develop treatments for a number of other similar inherited neuropathies or even for more common acquired neuromuscular disorders such as motor neuron disease and inflammatory neuropathies," Dr. Kleopa says.
Dr. Kleopa recently joined the CMTA's Scientific Advisory Board, along with three other gene therapy experts, reflecting the field's expanding importance in the search for a cure for CMT.
The MDA and the CMTA have been working together since 2016 to advance CMT research, therapy development and clinical care, and to increase understanding about the disease by improving education for children and adults affected by CMT, medical professionals, and the public.
Disclaimer: No content on this site should ever be used as a substitute for direct medical advice from your doctor or other qualified clinician.