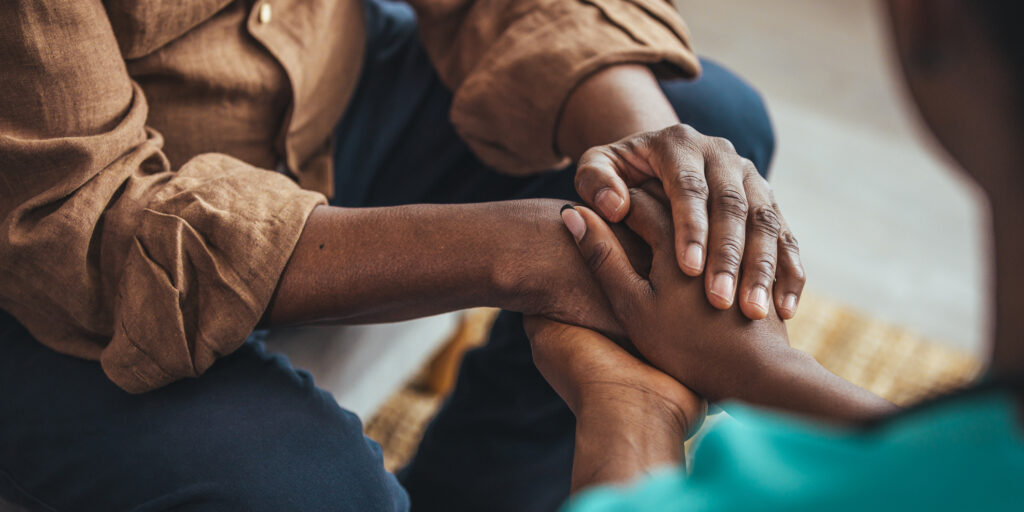 Stress Management Tips for Family Caregivers
By Claire Sykes | Friday, October 28, 2022
As a family caregiver of someone with a neuromuscular disease, it's important to manage stress and avoid burnout. To give the best care to your loved one, make sure to take the best care of yourself.
Health hazards
"A person's disease doesn't stop with them. Family members also are affected by it," says Rebecca Axline, LCSW, a clinical social worker at the MDA and MDA/ALS Care Centers at Houston Methodist Hospital. Concerns about their loved one's safety and health top the list of family members' stressors. In addition, family caregivers often must perform physically taxing caregiving tasks, make difficult medical decisions, and face financial strains. This can lead to feelings of grief, guilt, fear, and isolation.
"Too much stress can cause health problems," says Mary Holt-Paolone, MSRN, a stress-management consultant, and program coordinator and mental health nurse at Temple University Hospital's Neurodegenerative Disease Center in Philadelphia. "A continually high level of the stress hormone, cortisol, flowing through the body can contribute to high blood pressure, heart arrhythmias, increased blood sugar, insomnia, depression, and concentration and appetite issues."
Chronic stress overload often leads to burnout. The American Psychological Association defines burnout as "physical, emotional, or mental exhaustion accompanied by decreased motivation, lowered performance, and negative attitudes toward oneself and others."
Affirming self-care
This probably is not the first time you've heard about the negative health effects of stress, and you know you should take better care of yourself, but who has the time? And, let's face it, a lot of self-care advice sounds expensive. Mary says many family caregivers hold back from practicing self-care because of these barriers and "cultural views that self-care is selfish."
However, remember that you also are worthy of generosity and care. Taking time to care for yourself is not selfish — it's necessary. Don't wait until you reach crisis-level to take care of yourself. Your own health is easier to manage and maintain before you hit that wall.
Start with these 10 guidelines to keep stress under control.
10 tips to tackle stress:
Ask for and accept help. People want to be there for you, so let them. Whether it's an empathetic ear or a helping hand, receiving from others also is a gift to them.
Seek support. "Find someone who understands what you're going through and/or who's naturally supportive," Mary says. That someone could be a therapist or counselor.
Educate yourself. Talk with healthcare providers and others to learn as much as possible about the needs of the person you're caring for and what assistive products or services might be available.
Rely on resources. Look for articles, webinars, and videos on issues you're struggling with or want to know more about. The MDA Resource Center is a great place to start.
Check in regularly. Rebecca encourages talking with your partner and/or family regularly to discuss the care your loved one needs and make sure everyone is aware of any changes. If it's an option, work with other family members and relatives to come up with a plan to share in caregiving or household responsibilities. Get creative.
Take breaks. Mary calls them "mindful pauses." She says, "Every day, stop and take a deep breath and name one thing you're grateful for."
Have some fun. Watch a comedy, listen to music, read a book, or garden. "Enjoyment releases endorphins and oxytocin in the brain, which are healing for the body," Mary says.
Keep connected. Say yes to social invites, and plan fun family time and dates with your partner.
Practice healthy habits. Try to eat a wholesome diet and get enough exercise and sleep, all of which help reduce stress. Again, the better you feel, the better equipped you will be as a caregiver.
Embrace your emotions. "Caregiving is profound and gracious work, and it's gut-wrenching and hard. It's OK to feel whatever you feel," Mary says. For some, journaling can be an effective tool here.
Start anew
Taking steps to manage your stress on a regular basis can help family caregivers avoid burnout. Even if you do feel burned out, Rebecca says, "From the fire and ash can come new, beautiful growth. There's resilience and learning when you realize you can help yourself and receive it from others."
---
Next Steps and Useful Resources
Disclaimer: No content on this site should ever be used as a substitute for direct medical advice from your doctor or other qualified clinician.