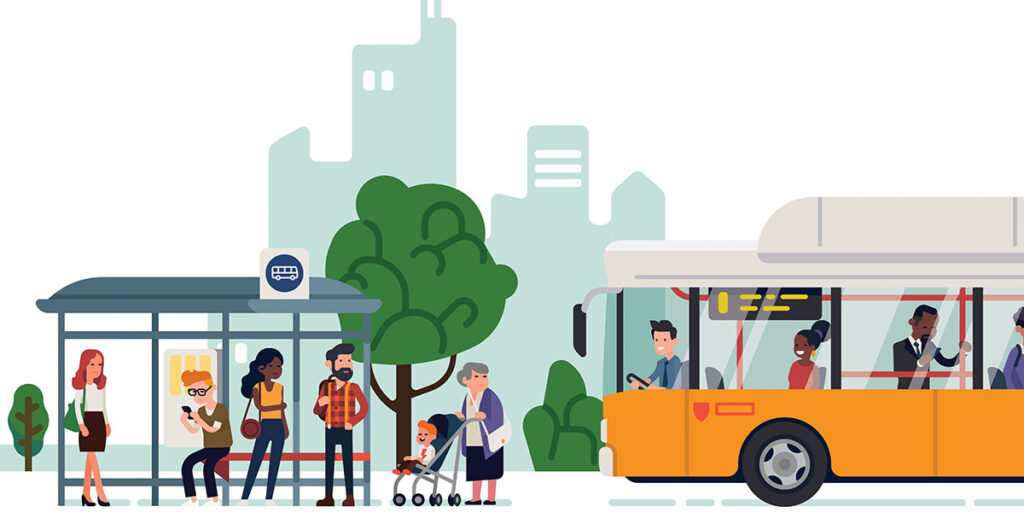 The Good and Bad of Using Public Transit With a Disability
By Matt Alderton | Thursday, February 16, 2023
Elizabeth Serrano, who lives with spinal muscular atrophy (SMA), gets around well in her power wheelchair. But when she needs to go farther than her wheelchair can take her, it can be a struggle.
Her parents used to drive her to work and social activities in her accessible van. "I still have a van, but my father passed away and my mother can't drive anymore," says Elizabeth, 62, of Levittown, Toa Baja, Puerto Rico. "Now I have to pay someone to drive me around."
But private chauffeurs are expensive. And since the start of the COVID-19 pandemic in 2020, they've been difficult to find. Increasingly, Elizabeth relies on public transit. In doing so, she's discovered an inconsistent system that expands mobility in some respects but limits it in others.
"It's OK," she says. "But it could be a lot better."
Like Elizabeth, most people with limited mobility would prefer to get around in their own accessible vehicle. But these aren't available to everyone. If you don't have one, it's possible to get where you want to go, when you want to go there by familiarizing yourself with public transit options — and by lobbying for system improvements where they are needed.
Options and obstacles
Title II of the Americans with Disabilities Act (ADA) is supposed to protect people with disabilities from discrimination by guaranteeing equal access to public accommodations, including public transit systems.
But the law isn't well understood or enforced, which means people with disabilities must be their own advocates, suggests Stephen Coleman Kenny, a policy associate at Transportation for America, a nonprofit that advocates for safe, affordable, and accessible transportation systems.
That starts with understanding what accessible transportation looks like.
Depending on where they live, citizens with disabilities may have any of three options: rail, bus, and paratransit. To be accessible to people who use wheelchairs and other mobility aids, train stations, trains, and buses must have features like working elevators and ramps, and designated priority seating and wheelchair securement areas on vehicles.
But that's just the start. Unfortunately, disabled riders in many places can't reach accessible trains and buses due to impassable roads and sidewalks.
"It's great if you have an ADA-compliant transit station a mile from your house, but how are you going to get there if the sidewalks along the way lack curb cuts; are narrow, sloped, obstructed, or poorly managed; or if you get stranded in an intersection because the pedestrian signals are timed for able-bodied people?" Stephen asks.
That's where paratransit comes in. Mandated by the ADA, it provides door-to-door service for riders with disabilities who are unable to access fixed-route trains and buses.
But it, too, has limitations, according to Elizabeth, who is a regular user of Llame y Viaje (Spanish for "Call and Ride") a paratransit service operated by the Puerto Rico Metropolitan Bus Authority. For example, the service only operates within three-quarters of a mile of the regular bus routes in eight of Puerto Rico's municipalities. What's more, it doesn't operate on Sundays or in the evenings past 8 p.m., it requires reservations at least 24 hours in advance, and it often runs hours behind schedule. To top it off, the fare is higher than regular public transit.
"Paratransit is required for every transit provider in the country — but what's not required is to provide good or affordable service," Stephen says. "These systems are often bare-bones and expensive for users. We see a lot of issues with them."
Issues can be especially apparent in rural communities. Although bus and paratransit service are available in many of them, routes and schedules tend to be limited, with fewer and less frequent stops.
"Some of the lowest rates of car ownership are in rural parts of the country," Stephen continues. "There are hundreds of rural transit agencies across the country doing great if sometimes expensive work to provide service, but there are still a lot of people in these communities that are isolated from society because they don't have access to good transit service. And that's a real problem."
Some rural and urban transit agencies are partnering with private companies like Uber and Lyft to fill gaps in their service. But those companies say they're exempt from the ADA and, as a result, don't always have accessible vehicles available for passengers with disabilities.
Accessibility check
Many transit systems were designed before the ADA was signed into law, and they may have "legacy" rail stations and vehicles that have not been updated. In fact, the Federal Transit Administration reports that about 25% of rail stations in the United States are not fully accessible.
Before taking a train or bus, find out if the accessibility features you need are available along your route. Go to your transportation system's website or call their customer service line to find out if they have these features.
Trains:
Working elevators between street level and train platforms
Gap fillers, bridge plates, or ramps to span the gap between platforms and trains
Priority seating areas, with emergency call buttons within this area
Buses:
Ramps for wheelchair entry
Low-entry design with step-free access to the seating area
Priority seating and wheelchair securement areas
Advocating for change
Despite deficiencies in public transit systems, improvements could be on the horizon thanks to President Biden's Bipartisan Infrastructure Law, which authorizes up to $109 billion for public transportation — the largest federal investment in public transportation in the nation's history. As transit agencies determine how to spend that money, now is a unique opportunity for Americans with disabilities to advocate for investments that would improve accessibility.
"The first step is to find out who represents you at the federal, state, and local levels," advises Mark Fisher, director of advocacy engagement at MDA. "Next, I'd call the representative's office, introduce yourself and ask them to have a meeting. The good news is many of these meetings can be done virtually or in person, so connecting with your lawmakers is easier than ever. During the meeting, share your experience and challenges when trying to access public transportation and urge them to take action to fix this problem."
While state and federal lawmakers can be powerful allies, when it comes to addressing specific problems, Stephen encourages people to contact their local policymakers, who are typically in the best position to help.
Progress may be slow, but even small victories can make a big difference.
Matt Alderton is a Chicago-based freelance writer who frequently covers health and transportation.
---
Transit Resources
The following organizations can help you learn more about ADA requirements in public transportation and how to advocate for accessibility improvements.
ADA National Network: Provides information, guidance, and training on how to implement the ADA.
Federal Transit Administration (FTA): Provides financial and technical assistance to local public transit systems, oversees public transit safety measures, and supports research of public transit technology.
National Aging and Disability Transportation Center (NADTC): Promotes transportation options that meet the needs of older adults, people with disabilities, and caregivers.
Shared-Use Mobility Center (SUMC): Is dedicated to achieving equitable, affordable, and environmentally sound mobility across the United States.
Transportation for America: Promotes safe, affordable, and convenient transportation for people of all means and abilities.
Disclaimer: No content on this site should ever be used as a substitute for direct medical advice from your doctor or other qualified clinician.