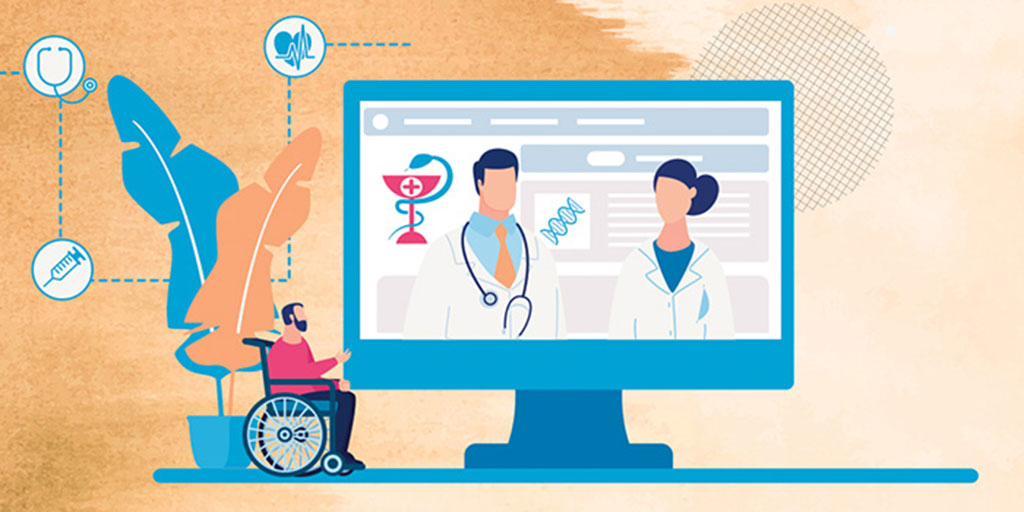 By Donna Albrecht | Friday, December 4, 2020
As the novel coronavirus pandemic has called for vigilance in health safety measures such as social distancing — especially for people with neuromuscular disease who are at higher risk for severe illness related to COVID-19 — many of us have had to rethink how we do what we need to do. We've adjusted how we see our families and friends, how we get food and medicine, and how we continue care with therapists and physicians who, themselves, may work in high-risk locations.
MDA Care Centers around the country pivoted swiftly this year to help individuals and families safely maintain their health and their connection with their care teams. And the innovative ways Care Center providers are bringing care into the home may even offer a glimpse at the future of healthcare.
The growth of telemedicine
Telemedicine was used for a small percentage of medical visits before the novel coronavirus outbreak, but widespread use was limited by state and federal rules, including aspects of the Health Insurance Portability and Accountability Act of 1996 (HIPAA), which protects patient privacy, and a restriction from the Centers for Medicare & Medicaid Services (CMS) and other insurers limiting reimbursement to practitioners for this type of visit. In 2020, providers pushed for those restrictions to be loosened, and government responded.
Freer to practice virtually, healthcare providers were able to offer online visits to patients for a wide variety of services.
This was a great development for many people living with neuromuscular disease, especially those who have to travel long distances to see their specialists and whose mobility challenges can make such visits a hassle. "Many of our patients have said they want to continue telemedicine visits after the pandemic to avoid the stresses involved with coming into clinic," says Catherine Lomen-Hoerth, MD, PhD, a neurologist at the MDA Care Center at the University of San Francisco.
From the comfort of their homes, individuals can use any device with a camera and cell service or internet access for a telemedicine visit. Different providers and institutions have set up different methods of connecting over videoconferencing platforms, such as Zoom. Generally, the patient follows a link that allows them to sign into a virtual exam room. That virtual exam room can only be accessed by the patient and the provider or providers who are part of the visit. For a multidisciplinary care visit, the patient stays in their virtual room, and the various providers circulate through, just as they would in an in-person clinic visit.
Home sweet health center
Healthcare providers of all types are using telehealth in creative ways to help their patients maintain their health regimens while minimizing in-person visits. In some cases, working with people in their home environments even offers advantages.
Matthew J. Caraher, PT, DPT, is program director for the PT Neurologic Residency Program and lead physical therapist in the Neuromuscular Division in the departments of Physical Therapy and Neurology at the University of Miami Miller School of Medicine. When in-person physical therapy sessions aren't advisable, he and his colleagues find creative workarounds to keep their patients moving.
"I've had multiple sessions with patients and family members to teach stretching and exercise examples," he says. "I usually will demonstrate techniques myself or share my screen on Zoom to give a more complete picture of how to perform the exercise."
Many providers note that seeing a person in their home environment can give them additional insights that inform their care recommendations. Darin Spurlock, RDN/LDN, a dietitian at the ALS Center of Excellence at the University of Miami, says that people tend to recall their food choices and eating habits better when reporting from home. In addition, "with telemedicine, we get to see how the environment may help or hinder the patient in maintaining weight," he says.
Matthew, the physical therapist, asks clients to show him particular spots or tasks in the home that give them trouble and offers problem-solving strategies.
Matthew also has noticed an unexpected benefit when people with neuromuscular diseases maintain their own health regimens. "It has become empowering to put the responsibility of care on the patient," he says. "When we're not physically there to assist, they realize the importance of the programs that we design to be performed outside of our sessions. I've noticed an increase in confidence and independence in many patients."
Some drawbacks
While virtual visits are working well for established patients, most providers prefer to see new patients in person to make initial assessments and order tests that will help determine a diagnosis. In addition, there currently is no way to perform respiratory assessments via video.
Individuals and their care providers have to weigh the risk of COVID-19 exposure against any delay in diagnosis or the implementation of a treatment plan.
"I think the biggest issue in delaying any diagnosis is that it delays the time it takes to get the actual directed treatment for that condition," says Jinsy Andrews, MD, director of neuromuscular clinical trials at Columbia University. "From the patient and caregiver perspective, you know they're looking for answers. The downside of not getting the diagnostic confirmation is that they live in this world of uncertainty for a longer period of time, and that has intangible effects on the family and the person living with the disease."
Fortunately, genetic testing labs are also recognizing the need to work with people in their homes. After assessing a patient, a provider may be able to have a genetic testing kit sent to their home with instructions on how to collect the sample (often a cheek swab) and mail it back to the lab. While genetic test results must be communicated by a physician or genetic counselor, often that can be done via telemedicine.
A way forward
Although there are certain things that cannot be accomplished without an in-person visit, the dedicated providers who are currently delivering care by any means available to people living with neuromuscular disease believe that telemedicine offers great advantages, and they would like to see it continue once the pandemic is past.
"I'm very hopeful that this experience will cause permanent changes," Dr. Lomen-Hoerth says. "I'm glad that MDA and their advocacy group are advocating on behalf of patients and providers so that these guidelines can continue."
Myrna Traylor is a writer and editor for Quest.
Protecting Privacy
While HIPAA requirements are relaxed, protecting personal health information is still important. Providers using telemedicine have achieved HIPAA compliance by using teleconferencing features that allow them to control when patients are admitted to virtual exam rooms and restrict them from accessing other virtual rooms. Support staff contact patients to make sure they have the correct link for their visit and troubleshoot any problems with logging on.
Telemedicine or Teleheath?
According to the Telehealth Research Incubator at the University of Michigan, "telemedicine" describes the use of technology, such as a phone, tablet, or computer, to conduct a billable clinical service. (These are also called televisits, e-visits, or virtual visits.) Sometimes the term "telehealth" is used interchangeably with telemedicine, but experts use it to describe broader healthcare activities, including education, done via technology.
How MDA Care Centers Keep Caring
Healthcare organizations across the globe have been affected by the novel coronavirus pandemic. The institutions in which MDA Care Centers operate are no exception.
MDA Care Centers offer care for individuals living with muscular dystrophy, ALS, and other neuromuscular diseases at more than 150 of the top healthcare institutions across the United States. In response to COVID-19, we quickly adjusted our policies to allow MDA funds to be applied to expand and increase the use of telemedicine in Care Centers. We also helped clinicians share telemedicine best practices, coordinated with clinical leaders to develop and distribute care guidelines for individuals living with neuromuscular disease during the pandemic, and engaged with the US Food and Drug Administration (FDA) on the impact of COVID-19 on clinical trials.
Throughout the pandemic, MDA has maintained funding across the MDA Care Center network. We have prioritized this funding because we know that the Care Center network is essential for tens of thousands of individuals living with neuromuscular diseases to access expert medical care — and there has never been a time that access to expert care has been more important.
Find an MDA Care Center
Go to mda.org and type your state or ZIP code in the "Find MDA in Your Community" box. You can also contact the MDA Resource Center at 833-ASK-MDA1 or resourcecenter@mdausa.org.
Disclaimer: No content on this site should ever be used as a substitute for direct medical advice from your doctor or other qualified clinician.