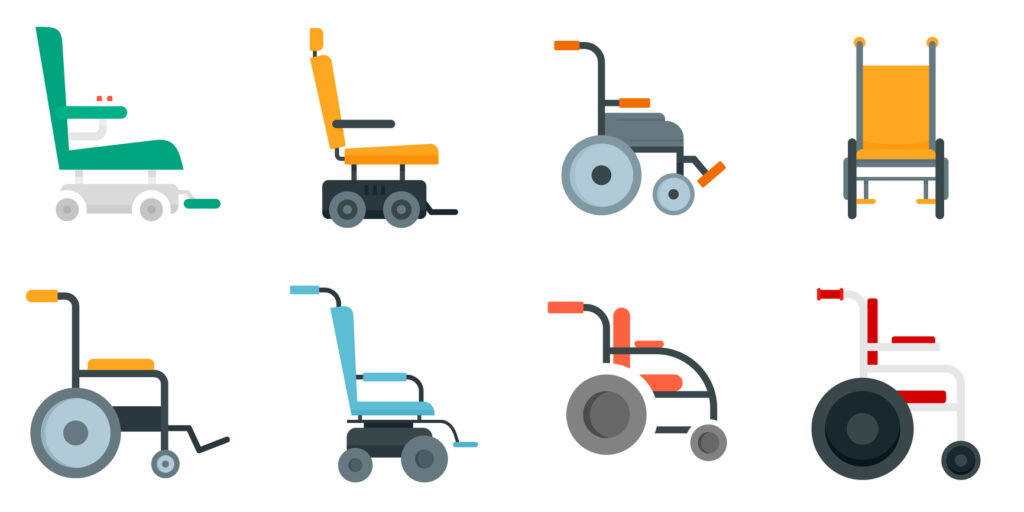 To Tilt or Not to Tilt: The Benefits of Tilt in Space Wheelchairs
By Joanna Buoniconti (Updated Version) | Tuesday, January 24, 2023
A wheelchair with the power tilt (tilt-in-space) feature allows the whole chair to tilt up to 30-60 degrees, depending on the model, while maintaining your hip and knee angles at 90 degrees. In most cases, this is done with the touch of a button, allowing you to move your body independently.
Let's look at whether tilting is beneficial to power wheelchair users, particularly those with neuromuscular diseases. If so, when should those of us with progressive diseases start thinking about upgrading to a tilt-in-space wheelchair?
Is tilting for me?
According to Penny Powers, who has been a physical therapist and seating and mobility specialist for 47 years, almost everyone with muscular dystrophy could benefit from a tilt-in-space wheelchair at some point.
"Individuals should consider options such as tilt, recline, and elevating leg rests to assist in effective postural alignment, skin protection, and energy conservation," says Penny, who has worked with many individuals with amyotrophic lateral sclerosis (ALS), muscular dystrophy, and other neuromuscular diseases.
Sometimes you may need a combination of tilt and recline. Reclining opens up the angle between the chair's seat and back to raise your legs higher than your heart, reducing edema (swelling caused by fluid accumulation) of your lower extremities. You can use elevating leg rests for severe edema problems.
"There are so many benefits to having a tilt feature on a wheelchair," says Vern Nielsen, director of mobility and complex rehab at MedSupply Mobility Solutions, who has been working in the durable medical equipment industry for almost 30 years. "A nondisabled person is consistently shifting their position in a chair. Most people don't realize how much we need to move or shift our weight to maintain posture and comfort."
3 signs it's time to switch to a tilting wheelchair
Pain and discomfort are signs that you may need an evaluation to determine whether a different seating system is necessary. Having these evaluations done by a physical therapist (PT) or occupational therapist (OT) trained in seating and mobility services is of the utmost importance, Penny says, because the point at which an individual will require a tilt-in-space wheelchair is highly variable given the differences in disease progression.
It's time to schedule an evaluation when you experience any of these:
1. Pain in the rear
If you use a wheelchair because of a neuromuscular disease, you probably have normal sensation in your lower body and can feel just how uncomfortable it is to sit upright for an extended period of time.
You might consider a tilt-in-space wheelchair if you've started to have discomfort and you lack the strength to move yourself into a more comfortable position. The beauty of the power tilt feature is that you can change your position independently as you need to throughout the day.
"This is critical for those individuals who are limited in their ability to change positions and decrease the pressure on the bony prominences of the pelvis and buttocks, which can lead to pressure injuries," Penny says.
Not adjusting your position can cause painful and even deadly decubitus ulcers (pressure sores). Tilting helps prevent pressure sores by temporarily shifting the weight from your buttocks to your back.
2. Your spine makes you whine
A tilt-in-space system also can help relieve pain and discomfort caused by scoliosis (curvature of the spine), which is common in many neuromuscular conditions.
Sitting for long periods of time causes your spine to collapse, affecting your respiratory system and all your organs.
In addition, as your muscles atrophy, weaken, and tire more quickly, you'll have a tendency to sit on your tailbone, or "sacral sit," which is poor posture. Excessive sacral sitting causes pain in the spinal lumbar region and restricts blood circulation, leading to pressure sores.
Tilting allows you to expand your trunk, which improves breathing capacity, blood circulation, and organ function.
3. Fighting fatigue
If your body has some weakness from a neuromuscular disease, you probably experience fatigue.
"The tilt-in-space feature decreases the effects of gravity throughout the body, which allows the individual to use less energy to sit upright," Penny says. This leaves you with more energy to participate in tasks of daily living and activities you enjoy.
Tilting also combats the effects of neck muscle weakness by giving your neck a break from holding itself up. It helps with lower extremity positioning, benefits upper body support, and reduces swelling in feet, ankles, and calves.
Get the right stuff
Your rehab team will decide whether you'd benefit from a tilt-in-space wheelchair. The rehab team consists of your doctor and PT or OT. If you see a respiratory therapist or speech therapist, they may join the rehab team.
Of course, you and your caregivers are also important players on the rehab team.
Next, your medical seating and mobility company will evaluate your existing wheelchair and determine whether your power base can accommodate the power tilt feature. If your current seating system can be adapted, you're looking at $6,000 to $10,000 for the power positioning system.
Companies that design and manufacture power positioning systems that fit most power bases include Motion Concepts, Falcon Rehabilitation Products, and Amylior (formerly Amysystems).
If you're in the market for a new wheelchair, it might be worth getting a whole new seating system. Several manufacturers offer wheelchairs with seat positioning functions, which cost anywhere from $5,000 to $40,000, depending on the complexity of the control system.
If you can't drive your power wheelchair using a standard joystick or use a toggle switch to activate the tilt feature, there are many other systems available for your level of movement.
Wheelchair manufacturers such as Permobil, 21st Century Scientific, Sunrise Medical (which owns Quickie Designs), Quantum Rehab, and Invacare make their own tilt-in-space systems, but in most cases, systems from other manufacturers can be added to their bases to suit your needs.
A power wheelchair with even more options, such as power tilt and recline, power seat elevation, power elevating leg rests, and specialty drive control could cost more than $40,000.
Manual chairs, too
Some people may prefer a manual tilt-in-space system. With a manual tilt, you generally don't tilt yourself back independently. Instead, someone must press two triggers on the push handles to tilt you back.
You can also get a manual wheelchair with either a power or manual tilt feature. Manual wheelchairs with the tilt-in-space feature cost an average of $3,000, according to Vern of MedSupply.
Manual wheelchairs with tilt are offered by Ki Mobility, Quickie Designs, Invacare, Freedom Designs, 21st Century Scientific, and LaBac Systems by Everest & Jennings.
Deming Designs can adapt its all-terrain wheelchairs to accommodate the tilt-in-space or recline feature. This allows you more positions while enjoying the beach, snow, or trails.
If you need a compact system, Convaid offers folding strollers that tilt or recline for children and adults.
With such a wide variety of manufacturers and products available, there are options to accommodate any level of mobility. It's important to work with your rehab team and qualified seating and mobility specialists to find the option that works best for you.
---
Next Steps and Useful Resources
Disclaimer: No content on this site should ever be used as a substitute for direct medical advice from your doctor or other qualified clinician.