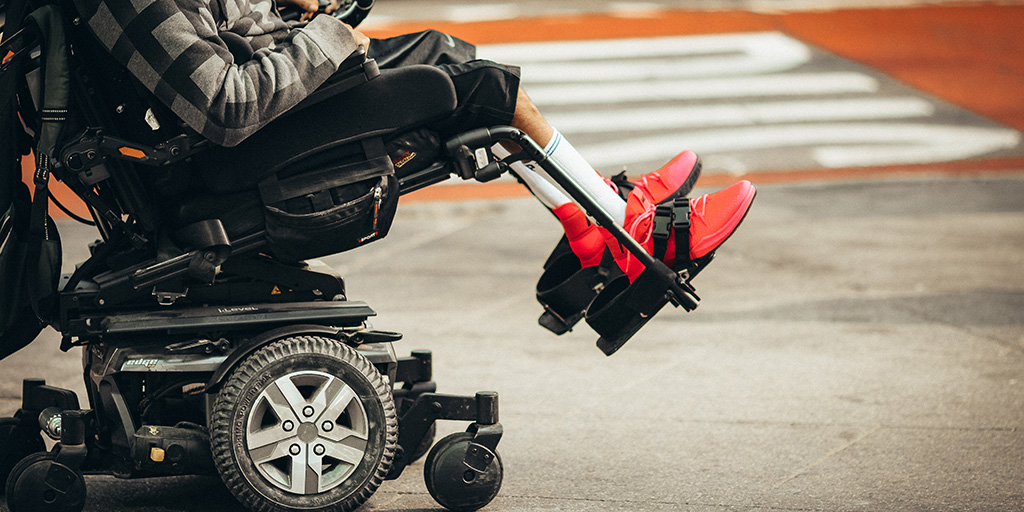 To Tilt or Not to Tilt The Benefits of Tilt in Space
By MDA Staff | Monday, February 28, 2005
A wheelchair with the power tilt (tilt-in-space) feature allows the whole chair to tilt up to 30 or 60 degrees, depending on the model, while maintaining your hip and knee angles at 90 degrees. In most cases, this is done with the touch of a button, allowing you to move your body independently.
Let's take a look at whether tilting is beneficial to the wheelchair user, particularly one with a neuromuscular disease. If so, when should those of us with progressive diseases start thinking about upgrading to a tilt-in-space wheelchair?
Is tilting for me?
Retired Certified Rehabilitation Technology Supplier (CRTS) Wayne Bellis of Gig Harbor, Wash., says that almost everyone with muscular dystrophy could benefit from a tilt-in-space wheelchair at one time or another.
"With Duchenne muscular dystrophy (DMD) patients, if a tilt isn't needed now, it will most likely be needed in the future," says Bellis, who has worked with people in both California and Washington who have muscular dystrophy and related neuromuscular diseases. Bellis, 41, recently received a diagnosis of amyotrophic lateral sclerosis (Lou Gehrig's disease).
Sometimes you may need a combination tilt and recline. Reclining opens up the angle between the seat and the back to raise your legs higher than the heart, reducing edema (swelling caused by fluid accumulation) of your lower extremities. You can use elevating legrests for severe edema problems.
How do I know when it's time to switch?
Pain and discomfort are signs that you need an evaluation to determine whether a tilt-in-space chair is necessary, says Susan Johnson Taylor, an occupational therapist (OT) and seating and mobility specialist at the Rehab Institute of Chicago.
"Whenever I'm evaluating anybody and one of their major complaints is that they're very uncomfortable and can't seem to make it through the day, or they are just completely fatigued, I start talking with them about ways that mechanically we might be able to help them change position throughout the day," Taylor says.
She adds that "it's kind of silly to expect someone in a wheelchair to sit still all day, when no one else does that."
Pain in the Rear
If you use a wheelchair because of a neuromuscular disease, then you probably have normal sensation in your lower body and "can feel just how uncomfortable you are" from long-term sitting, says Taylor, who's been an OT specializing in seating and mobility for 25 years.
You might consider a tilt-in-space power chair if you've started to have discomfort and you lack the musculature in your extremities to independently move yourself into a more comfortable position. The beauty of the tilt feature is that you can change your position as you need to throughout the day.
Not adjusting your position can cause painful and even deadly decubitus ulcers (pressure sores). Tilting helps prevent pressure sores by temporarily shifting the weight from your buttocks to your back.
"It's very important to do everything possible to prevent these wounds from developing by providing appropriate seating, positioning and pressure relief," Bellis says. "Once the skin develops an ulcer, the ulcerated area is at risk for continued breakdown and infection."
When your spine makes you whine
A tilt-in-space system can also help to relieve pain and discomfort caused by scoliosis (curvature of the spine), which is common in many neuromuscular conditions.
"When you're sitting in a completely upright position all day long against gravity, and gravity is pulling down on your spine and it's already curving, obviously that can be very uncomfortable to a lot of the folks that I see," Taylor says.
Sitting for long periods of time causes your spine to collapse, affecting your respiratory system and all of your organs. Expanding your trunk improves breathing capacity, blood circulation and organ function.
Fighting Fatigue
If your body has some weakness from a neuromuscular disease, you probably experience fatigue, Bellis says.
"Gravity really works against our bodies when seated in a chair without tilt capability," he says. "A tilt does assist our bodies in reducing the amount of effort it takes to remain upright in a wheelchair."
As your muscles atrophy, weaken and fatigue, you'll have a tendency to sit on your tailbone or to "sacral sit," which is extremely poor posture. Excessive sacral sitting causes pain in the spinal lumbar region and restricts blood circulation, leading to pressure sores.
Tilting also combats the effects of neck muscle weakness, allowing your neck a break from holding itself up. It helps with lower extremity positioning, benefits upper body support and reduces swelling in feet, ankles and calves.
Getting the Right Stuff
"It's my job as a CRTS to investigate and know general progression of a diagnosis, and we must build in adaptations for the chair to accommodate the client's changing needs," says Bellis, who now volunteers his services at the MDA clinic at St. Peter's Hospital in Olympia, Wash.
"The most difficult thing for me to see is a client that other companies have assessed for equipment that's inappropriate for their diagnosis or the progression of their diagnosis."
Your rehab team will decide whether you'd benefit from a tilt-in-space chair. The rehab team consists of your physician, CRTS and physical therapist or OT. If you also see a respiratory therapist or speech therapist, he or she may join the rehab team.
Bellis stresses that, of course, you and your care providers are important players on the rehab team.
Next, the CRTS will evaluate your existing chair and determine whether your power base can accommodate the power tilt feature. If it can be adapted, you're looking at $4,500 to $11,000 for the power seating system.
Companies that design and manufacture power positioning systems that fit most power bases include Motion Concepts, Accelerated Rehab Designs, Position Dynamics, Falcon Rehabilitation Products and Amysystems.
If your chair can't be adapted, you may have to purchase a new chair that comes with a power tilt, which costs anywhere from $10,000 to $30,000, depending on the complexity of the control system, Bellis says.
If you can't drive your power chair using a standard joystick and use a toggle switch to activate the tilt feature, there are many other systems available suited to your level of movement.
Wheelchair manufacturers such as Permobil, 21st Century Scientific, Sunrise Medical (which owns Quickie Designs), Quantum Rehab and Invacare make their own tilt-in-space systems, but in most cases, systems from other manufacturers can be added to their bases to suit your needs.
A power chair with even more options such as power tilt and recline, power seat elevation, power elevating legrests and specialty drive control could cost more than $40,000.
Manual chairs, too
Sometimes you may prefer a manual tilt-in-space system. Most of the time with a manual tilt, you don't tilt yourself back independently. Instead, someone must press two triggers on the push handles to tilt you back.
You can also get a manual wheelchair with either a power or manual tilt feature. Manual wheelchairs with the tilt-in-space feature cost from $2,200 to more than $4,000.
Manual chairs with tilt are offered by Product Design Group, Quickie Designs, Invacare, Freedom Designs, 21st Century Scientific and LaBac Systems by Everest & Jennings.
Deming Designs can adapt its all-terrain wheelchairs to accommodate the tilt-in-space or recline feature. This allows you more positions while enjoying the beach, snow or trails.
If you need a compact system, Convaid offers folding strollers that tilt or recline for children and adults.
"There's a wide variety of manufacturers and products that have dozens if not hundreds of options that can accommodate almost anyone's mobility, seating and positioning needs no matter how severe," Bellis says.
"I can't stress enough how important it is to seek out the most qualified individuals that are part of the assessment team."
Remember that MDA provides financial help with the purchase and repair of wheelchairs.
Disclaimer: No content on this site should ever be used as a substitute for direct medical advice from your doctor or other qualified clinician.