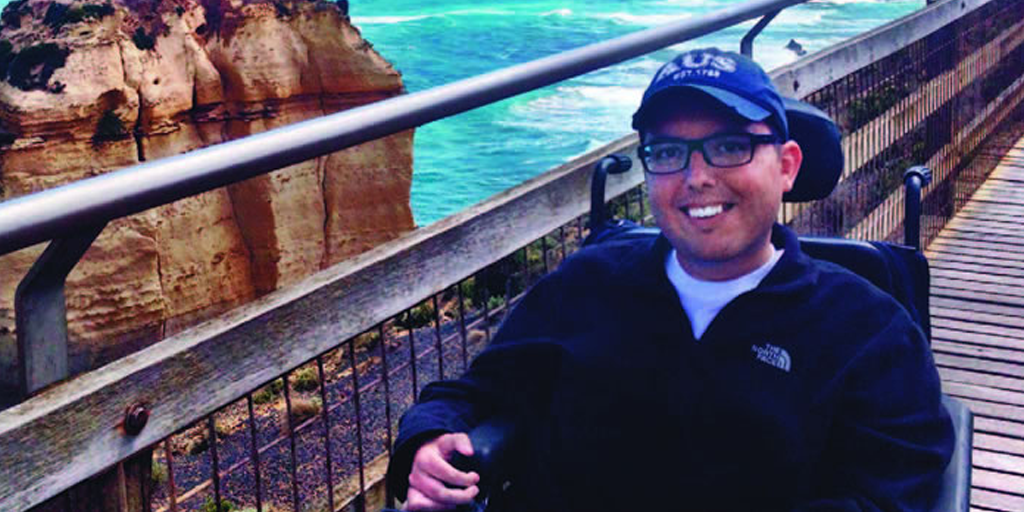 The Ups and Downs of Accessible Air Travel
By MDA Staff | Monday, July 15, 2019
Cory Lee, who lives with spinal muscular atrophy (SMA), has explored 32 countries in the past five years. While traversing the globe in his 300-pound power wheelchair, Lee writes about accessible travel on his blog curbfreewithcorylee.com, which has garnered thousands of followers. The No. 1 topic people ask him about is air travel.
For passengers with neuromuscular diseases — especially those who use wheelchairs — air travel requires knowledge and preparation. Lee, who wrote a book on the subject, "Air Travel for Wheelchair Users," emphasizes that travelers with disabilities should be familiar with the Air Carrier Access Act (ACAA).
Passed in 1986, the ACAA prohibits discrimination on the basis of disability and requires airlines to provide certain accessible facilities and accommodations. The ACAA applies to all U.S. airlines and flights on foreign carriers to or from the United States.
"Knowing the rules and regulations gave me more confidence about flying," Lee says.
Being familiar with airport procedures and airline policies is also vital for a smooth flight.
Traveling with Equipment
The ACAA requires newer airplanes to have space in the cabin to store a folded wheelchair or other compact mobility equipment. A power wheelchair or other bulky equipment will fly in the baggage compartment. Lee removes the headrest and seat cushion from his power wheelchair and carries them onto the plane for safekeeping.
"Know the dimensions of the plane's cargo hold in advance," advises John Morris, the founder of WheelchairTravel.org. This helps you determine if your wheelchair will have to be disassembled, which the ACAA requires airline staff to assist with at the airport. Morris, a triple amputee who uses a power wheelchair, provides a list of airplanes and their cargo hold dimensions on his website.
It's a good idea to ask your wheelchair manufacturer how to properly disassemble or fold the seatback for storage during flight. Attach written instructions to your chair before you check it. "Otherwise, your chair will be loaded on its side, which is the No. 1 way it is broken and damaged," Morris says.
Always carefully inspect your equipment upon landing. If it is damaged, immediately report it to the airline and the U.S. Department of Transportation. (See "Informed Consumers.")
Getting Onboard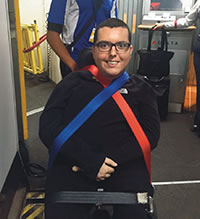 One of the most stressful aspects of flying is boarding the plane. The ACAA states that passengers with disabilities who need assistance or extra time to board should go before all other passengers, but Morris sees this regulation violated often. Speak with a gate agent before boarding starts to make sure you can pre-board.
Airlines are required to provide assistance with boarding for those who need it. If you cannot walk to your seat, airline staff will roll you to your seat in a narrow, high-backed wheelchair and assist with a transfer. Select a roomier bulkhead seat for easier transfers or confirm that your row has armrests that can be raised.
Bathroom Concerns
Perhaps the biggest obstacle to air travel is knowing what to do when nature calls at 30,000 feet. Only wide-body aircraft (those with two aisles) are required to have accessible lavatories. However, the ACAA does require most flights to have a wheelchair on board to help a passenger reach the lavatory if the passenger requests it at least 48 hours in advance.
The World Awaits
While long security lines and cramped airplane seats may be unavoidable, a little knowledge and advance planning can ensure that accessibility issues don't keep you grounded.
"It's too bad that people who are capable of traveling are staying home because they are afraid of the experience they might have with air travel," Morris says. "Air travel is a barrier that can be overcome. The world is waiting for you."
Traveler Resource
MDA's Accessible Air Travel Resource Center helps you find important information about airports, airlines and your rights as a traveler. Visit cqrcengage.com/mda/accessibleairtravel.
Ready for Take-Off
When planning your travel, follow these tips for a smooth flight:
Before you purchase a ticket, review the airline's accessibility services and policies on its website.
At least 48 hours before departing, call your airline's disability assistance phone line and request the specific assistance you will need.
Build extra time into your flight plan, especially if you are catching a connecting flight, using large and busy airports, or traveling internationally. Remember, wheelchair users are the last passengers to exit the plane.
Review the Transportation Security Administration (TSA) screening process at tsa.gov/travel/passengersupport. For questions, call TSA (855-787-2227) at least 72 hours before flying.
Informed Consumers
In December 2018, a new law, championed by MDA, went into effect requiring airlines to report to the U.S. Department of Transportation (DOT) how many wheelchairs and motorized scooters they break, lose or damage each month. This rule gives airline consumers more information to compare airlines and make informed decisions about their equipment.
Find information about mishandled equipment, as well as flight delays and consumer complaints, in the DOT's Air Travel Consumer Reports at transportation.gov/individuals/aviation-consumer-protection/air-travel-consumer-reports.
To learn more about consumer rights and how to file a complaint, visit transportation.gov/airconsumer.
Barbara Twardowski lives with Charcot-Marie-Tooth disease (CMT) and uses a power wheelchair. Jim, her husband, is a registered nurse. The couple writes about accessible travel, health and lifestyle.
Disclaimer: No content on this site should ever be used as a substitute for direct medical advice from your doctor or other qualified clinician.